Search this site
Copyright © All World Vacation Station



| | |
| --- | --- |
| FLORIDA TRAVEL GUIDE - UNITED STATES OF AMERICA | |

Discover the Florida Frontier for an Authentic Cowboy Experience
Enjoying Charter Fishing in Florida
Florida Golf Vacations
Vacationing in Clearwater
Visit to Kennedy Space Center, See a Space Shuttle Launch
Want to See a Space Shuttle Launch - Better Hurry, Only Five Missions to Go
Tampa is a Gulf Coast city in the U.S. state of Florida. It serves as the county seat for Hillsborough County. Tampa is located on the west coast of Florida.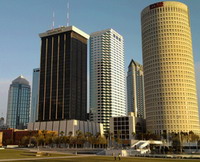 The current location of Tampa was once inhabited by various indigenous cultures, most recently the Tocobaga. It was spotted by Spanish explorers in the early 1500s, but there was no permanent American or European settlements in the area until 1824, when the US Army established a frontier outpost called Fort Brooke at the site of today's Tampa Convention Center. The village of Tampa began as a small group of pioneers who settled near the fort for protection from the Seminole population in the area.
Today, Tampa is a part of the metropolitan area most commonly referred to as the Tampa Bay Area. For U.S. Census purposes, Tampa is part of the Tampa-St. Petersburg-Clearwater, Florida MSA. The four-county area is composed of roughly 2.7 million residents, making it the second largest metropolitan statistical area (MSA) in the state, and the fourth largest in the Southeastern United States, behind Miami, Washington, D.C., and Atlanta.[10] The Greater Tampa Bay area has just over 4 million residents and generally includes the Tampa and Sarasota metro areas.
Tampa has a number of sports teams, such as the Tampa Bay Buccaneers in the NFL, the Tampa Bay Lightning in the National Hockey League, and the Tampa Bay Rays in Major League Baseball. It also has many tourist attractions.
In 2008, Tampa was ranked as the 5th best outdoor city by Forbes. A 2004 survey by the NYU newspaper Washington Square News ranked Tampa as a top city for "twenty-somethings".
Busch Gardens is the name of two amusement parks in the United States, and a planned amusement park in Dubai, owned and operated by SeaWorld Parks & Entertainment, a division of Blackstone Group. One of the parks is in Williamsburg, Virginia, and the other is in Tampa, Florida. There was also previously a Busch Gardens park in Pasadena, California (1905–1937), Van Nuys, Los Angeles, California from (1964–1979) and Houston, Texas (1971–1973). Busch Gardens parks were initially developed as marketing vehicles for Anheuser-Busch and featured hospitality houses with samples of Anheuser-Busch products. They also included stables that housed many of the company's Clydesdale horses, which have been associated with Anheuser-Busch since 1933. Eventually, rides and attractions were added to the parks and overtime were developed into full theme parks while still promoting Anheuser-Busch. Busch Entertainment Corporation, now called SeaWorld Parks & Entertainment, was created as a subsidiary of Anheuser-Busch Companies to run the various parks in 1959.

| | |
| --- | --- |
| TAMPA HOTELS, FLORIDA, USA | |
Search for more Tampa Hotels
Best Western Bay Harbor Hotel, Tampa
Located less than one mile from the beach, the Bay Harbor Hotel in Tampa, Fla., is four miles from Rocky Point Golf Course and the shops of Westshore Plaza. Visitors are within nine miles of the Tampa Museum of Art and the Tampa Convention Center. The hotel is three miles from Tampa International Airport and complimentary shuttle service to the airport and area shops is available. The impressive marble lobby of the Bay Harbor Hotel features colorful artwork and seating areas ideal for relaxation. Leafy potted plants decorate the molded columns. Crabby Bill's Beach Club serves seafood in a casual environment for breakfast, lunch and dinner.

Chase Suite Hotel Tampa
Chase Suite Hotel Tampa is located in Tampa, Fla. Nearby attractions include Busch Gardens, Lowry Park Zoo, Adventure Island, International Plaza, Raymond James Stadium, and Florida Aquarium. The hotel offers an outdoor pool and spa tub, as well as manager's receptions and complimentary breakfasts. Chase Suite Hotel Tampa also features a private fishing dock overlooking Old Tampa Bay, sports court, and barbecue area. Transportation to Tampa International Airport is complimentary. Suites provide refrigerators, microwave ovens, stoves, dishwashers, coffeemakers, cookware, dinnerware, and utensils. Other amenities include high-speed Internet access (fees apply) and cable television.

Hilton Garden Inn Tampa North Busch Gardens
Positioned in the northern Tampa (Fla.) suburb of Temple Terrace, the Hilton Garden Inn Tampa North is located within a nature preserve, 16.5 miles from downtown Tampa. Casual American fare is served for all three meals six days a week at the Great American Grill. Breakfast is served on Sundays. The hotel lobby bar prepares cocktails each evening by a double-sided fireplace. The hotel features a 24-hour including complimentary high-speed Internet access. Conference rooms are offered and event catering is available. The hotel boasts a landscaped sundeck, surrounded by an outdoor pool and spa tub. The on-site fitness room overlooks the pool area.

Hilton Tampa Airport Westshore
The Hilton Tampa Airport Westshore (Fla.) is located in the Westshore Business District of Tampa, Fla., across the street from the shops at International Plaza, one mile of Raymond James Stadium and two miles from the Tampa International Airport. The hotel offers complimentary scheduled transportation to and from the airport and within a three-mile radius of the hotel. Daily buffet-style breakfasts and lunches and a la carte selection for all three meals are served at the Key West-style Hemingway's Restaurant. The Bay Breeze Lounge offers cocktails and light snacks from a lobby bar overlooking the outdoor patio and pool.

Howard Johnson Plaza Tampa
Located in downtown Tampa, Howard Johnson Plaza is adjacent to the Tampa Bay Performing Arts Center and less than a mile from the convention center. Busch Gardens is about 6 miles away. This Tampa hotel features an outdoor pool and a fitness center. The on-site Waterworks Lounge and Restaurant serves breakfast, lunch, dinner, and evening cocktails. Complimentary transportation is available to attractions within a 2-mile radius. Guestrooms offer complimentary wireless Internet access; local calls are also free. TVs include premium cable channels. Microwave ovens and compact refrigerators are available upon request. Pets are permitted for a surcharge.
La Quinta Inn Tampa Airport
The La Quinta Inn Tampa Airport (Fla.) is located across the street from International Mall and one-half mile from the Tampa International Airport. The hotel provides complimentary airport transportation. The La Quinta Inn Tampa Airport serves complimentary continental breakfasts featuring fresh fruit, pastries and coffee each morning. The hotel offers a discount to the restaurant on the hotel premises. Meeting space and business services are available. The hotel hosts an outdoor pool. Guestrooms are equipped with complimentary high-speed Internet access, desks and cable television.
Browse the full list of Tampa Hotels
Do you have quality vacation lodging in Florida?
Why not join us?