Search this site
Area Attractions:
Walking Stick Golf Course
Buckingham Square Shopping Center
Fitzsimons Golf Course
Walking Stick Golf Course
Pueblo Lake
Pueblo Zoo
State Fair Grounds
B-52 Museum
Pikes Peak Int'L Raceway
Colorado Springs
San Esabel Forrest
Royal Gorge
Monarch Ski Resort
Riverwalk
Cripple Creek Casino

Copyright © All World Vacation Station



| | |
| --- | --- |
| COLORADO TRAVEL GUIDE - UNITED STATES OF AMERICA | |


Winter Activities in Breckenridge Colorado
Aspen Colorado - A Travelers Guide
Family Adventure in Keystone, Colorado
Looking for Denver Restaurants?
Pueblo is a Home Rule Municipality that is the county seat and the most populous city of Pueblo County, Colorado, United States.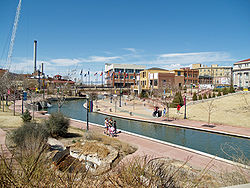 Pueblo is situated at the confluence of the Arkansas River and Fountain Creek 103 miles (166 km) south of the Colorado State Capitol in Denver. The area is considered to be semi-arid with approximately 14 inches (355.60 mm) of precipitation annually; however with its location in the "banana belt," Pueblo tends to get less snow than the other major cities in Colorado. Pueblo is the heart of the Pueblo Metropolitan Statistical Area and an important part of the Front Range Urban Corridor. Pueblo is one of the largest steel-producing cities in the United States; because of this Pueblo is referred to as the "Steel City." Until 1960 Pueblo was the second largest city in Colorado, and earned the title of "Second City." Many consider Pueblo to be the economic hub of southeastern Colorado. The Historic Arkansas River Project (HARP) is a beautiful river walk that graces the Union Avenue Historic Commercial District, and shows the history of the Pueblo Flood.
Pueblo is the hometown of Damon Runyon, who mentioned Pueblo in many of his newspaper columns (notably his "Our Old Man" pieces). Pueblo is also the home of Dutch Clark, the first man from Colorado in the NFL hall of fame. Pueblo's largest football stadium is named after him. The oldest high school rivalry west of the Mississippi takes place at this stadium
Pueblo is the home to Colorado's largest single event, the Colorado State Fair, held annually in the late summer, and the largest parade, the state fair parade, as well as an annual Chili Festival.
The National Street Rod Association's Rocky Mountain Street Rod Nationals have been held in Pueblo for 23 years, and this is the region's largest and premier street rod event.
Pueblo's newest event is the Wild West Fest sponsored by the Professional Bull Riders. It will be held in Pueblo during the spring and the main event will be a PBR rodeo held at the state fair events center and shown all over the world. Also, Pueblo is home to the PBR team finals held at the state fair events center during the Colorado state fair and shown all over the world. In 2008 the PBR moved their corporate headquarters to Pueblo.

| | |
| --- | --- |
| PUEBLO, COLORADO, USA - HOTELS & LODGES | |

Search for more Pueblo, Co hotels
Comfort Inn Pueblo
Pueblo CO hotel, The Comfort Inn. A Pueblo Colorado hotel near Colorado State University-Pueblo. The Comfort Inn® hotel is conveniently located three miles from Colorado State University-Pueblo and Walking Stick Golf Course. This Pueblo, CO hotel is near popular attractions like the Royal Gorge Bridge and Park, Pueblo Zoo, Lake Pueblo State Park and the Pueblo Mall. Visit the Pueblo Weisbrod Aircraft Museum, a memorial to the B-24 training base of World War II. Stroll the Historic Arkansas Riverwalk of Pueblo, which is a 26-acre waterfront park located in the heart of historic downtown Pueblo.
Days Inn Pueblo
Located eight miles from Lake Pueblo State Park, the Pueblo Days Inn (Colo.) is within eight miles of the Rock Canyon Water Slide, nine miles from Thunderbird Lake and 24 miles from the Union Avenue Historic District. Pueblo Memorial Airport is eight miles from the property. Complimentary continental breakfasts are served, daily. The Pueblo-Days Inn features 24-hour front desk. Photocopy and fax services are available on site. Laundry/valet services are provided. Guestrooms include cable television and complimentary newspapers. A suite is available with a heart-shaped spa tub.
La Quinta Inn and Suites Pueblo
The La Quinta Inn and Suites Denver Airport is a wonderful hotel located six miles from the Denver International Airport and is convenient to downtown Denver. This La Quinta Inn and Suites offers guests a beautiful setting with mountain views. The hotel is convenient to the Fitzsimons Golf Course, Century Movie Theatres, Buckingham Square Shopping Center and the Aurora Conference and Event Center. The hotel offers guests a clean, comfortable room at a price that will allow you to enjoy the rest of your trip. Experience world-class service at this property that offers complimentary breakfast featuring Maxwell House coffee, Otis Spunkmeyer pastries, among other things.
Marriott Pueblo Convention Center
Whether you are traveling for business, pleasure, or planning a meeting, the Pueblo Marriott focuses on what it takes to make your trip successful. The Pueblo Marriott adjoins the Pueblo Convention Center, offering 21,400 square feet of meeting space. Both are ideally located in the heart of historic downtown Pueblo and border Pueblo's Historic Riverwalk. Enjoy a meal in Charlie B's Restaurant and Lobby Bar or spend some leisure time in the Marriott's indoor heated pool, whirlpool, or health club. The guest rooms are well appointed and equipped with a work desk with lamp and high-speed Internet access.
Ramada Pueblo
The Ramada Pueblo is a superior tourist class hotel, located 10 miles from the Pueblo Memorial Airport and 3 miles from downtown. The hotel is convenient to the B-24 Aircraft Museum, The Pueblo Zoo, and Historic Arkansas Riverwalk of Pueblo. The hotel's convenient location will appeal to both the business and leisure traveler. Whatever brings you to this city, the hotel will provide you with a cozy home away from home. Attractive and comfortable guest rooms are carefully detailed and include all of the modern amenities that guests have come to expect. At the hotel, you will find clean and fresh rooms, along with cost and time saving services and facilities.
Sleep Inn Pueblo
Located one mile from the Walking Stick Golf Course and four miles from the historic Arkansas Riverwalk is the Sleep Inn Pueblo in Pueblo, Colo. A trail for walking, hiking and jogging is five miles away and the Colorado State Fairgrounds are six miles from the property. Complimentary continental breakfasts are offered each morning, and coffee is provided in the lobby. For business needs, business services, complimentary newspapers and wireless Internet access are available. Recreational amenities include an indoor pool and a spa tub. The 71 guestrooms contain maple-stained furnishings, cream walls and bedspreads in shades of sienna, teal and royal blue.
Wingate By Wyndham - Pueblo
Located in southern Colorado at the convergence of two major highways, Pueblo is a city rich in history and alive with growth. The Wingate by Wyndham - Pueblo is conveniently accessible off Interstate 25 at Exit 102, and close to shopping, dining and nearby golf courses. Several restaurants are within walking distance, including Breakfast Area, Cactus Flower, Cracker Barrel, and IHOP, to name but a few. For guests' business needs, the hotel accommodates 875 square feet of meeting space with a meeting room seating 50 people in theater style and a board room for 10 people, with high-speed Internet access available throughout the space.
Continue browsing hotels in Pueblo, Co and surrounding areas
Do you have quality vacation lodging in Colorado?
Why not Join Us?