Winter Activities in Breckenridge Colorado
Aspen Colorado - A Travelers Guide
Looking for Denver Restaurants?
The City of Glenwood Springs is a Home Rule Municipality that is the county seat and the most populous city of Garfield County, Colorado, United States. The United States Census Bureau estimated that the city population was 8,564 in 2005. Glenwood Springs is home to one of the campuses in the Colorado Mountain College system.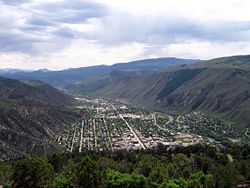 Amtrak services regularly stop at Glenwood Springs. The California Zephyr operates daily in both directions between Chicago and Emeryville, California (across the bay from San Francisco).
Amtrak takes an extremely scenic route through the mountains between Denver and Glenwood Springs. Much of the route follows the Colorado River and is away from roads and major development. Part of the route near Glenwood Springs was used for locations in the 1995 action movie Under Siege 2: Dark Territory, starring Steven Segal.
Skiing
Glenwood Springs lies about 45 miles north of Aspen and 60 miles west of Vail. There are 6 world class ski resorts in this triangle: Aspen Mountain, Snowmass, Aspen Highlands and Buttermilk in the Aspen area and Beaver Creek and Vail Mountain in the Vail area. There is also a family ski resort 10 miles from town, Sunlight Mountain, to which the locals are very loyal.
Rafting/Kayaking/Fishing
Two rivers, the Colorado River and Roaring Fork River, converge in Glenwood Springs. Both are used extensively for recreation by locals, visitors and commercial outfitters.
Mountain Biking
There are quite a few noted mountain bike trails in the Roaring Fork Valley, all requiring fitness and stamina. The favored routes for locals are the Forest Hollow Trail that winds along the rim above Glenwood Canyon and the Scout Trail, an extreme drop from the canyon rim into downtown Glenwood. Red Mountain, aka the Jeannie Golay Trail, is a straight up- straight down dirt road that locals use for training and exercise.
Bike Trails
The 16 mile long recreation trail through Glewood Canyon is sandwiched between the canyon walls and the Colorado River. It is suitable for families and recreational riders, with several access points and rest areas along the way. Bike rentals and shuttles are available at several outfitters in town. There is also a paved loop along the Roaring Fork River that takes you from one end of town to the other and back again.