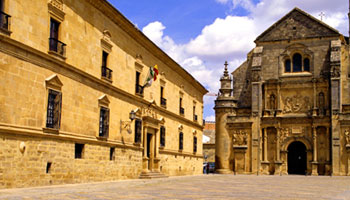 16TH CENTURY RENAISSANCE PALACE
This Parador rises up in the most Renaissance square of the aristocratic and monumental town of Úbeda, next to some of the most beautiful buildings, in a former palace built in the 16th century and altered in the 17th, which belonged to the dean of the Sacred chapel of El Salvador. The façade of the Parador conceals a very beautiful inner courtyard with a double gallery whose upper part is glazed.

Its friendly and comfortable bedrooms stand out for the height of their ceilings. Worthy of note are the six which look onto the square and the suite, located in the opposite corner, from which a wide panoramic view of the Vázquez de Molina square can be enjoyed.

Andalusian details and dishes adorn the space occupied by the dining room, which offers good peppers stuffed with partridge, bull's tail in red wine from La Loma and stewed kid with pine nuts.

Hotel Facilities:

Cocktail bar
Currency exchange
Restaurant

Room Facilities:

Air conditioning
Cable / Satellite TV
Heating
Mini bar
Private bathroom / Ensuite
Telephone
Additional Information:

Distance to airport: 130km
Distance to railway station: 110km

Distances to nearest paradors

Jaén: 57 Km.
Cazorla: 70 Km.
Córdoba: 144 Km.
Manzanares: 161 Km.
Almagro: 165 Km.
Granada: 174 Km

Places to visit:

Úbeda. Squares, chapel of El Salvador, Vázquez de Molina palace, Santiago hospital
Baeza (8 km). Squares
Jimena (28 km). La Graja Cave
Linares (27 km). Ruins of Cástulo
Andújar (63 km). House of Don Gome's children
Jaén (57 km)
Guided tours of Cazorla Natural Park.(70 km)

Typical festivals

San Miguel Fair from 28 September to 4 October, Úbeda
San Agustín Fair from 28 August to 4 September , Linares, 25 km.
International Festival of Music and Dance May/June, Úbeda

How to get there:

The Parador is located in the Vázquez de Molina square, in the old quarter of the town, next to the sacred chapel of El Salvador, the Marqués de Mancera palace and the Vázquez Molina palace, now the Town Hall. Úbeda is 39 km from Bailén along the N-322, 210 km from Albacete along the N-322, 57 km from Jaén on the N-321 and 330 km from Madrid, with access from the N-IV through Bailén.


Click above to view map