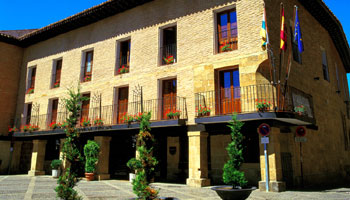 FORMER HOSPITAL ON THE PILGRIMS' ROAD TO SANTIAGO
The Parador occupies a 12th c. former hospital, next to the cathedral, built by Saint Dominic to give shelter to the pilgrims on the Road to Santiago. In a regal and elegant style, it has majestic living rooms and a lobby with Gothic arches and wooden coffered ceilings.

Noble materials and bright colours - blues and whites - lead to comfortable bedrooms, decorated with exquisite taste; some have four poster beds. A warm, harmonious and balanced environment, also suitable for social functions and meetings.

In the restaurant, the Piquillo peppers are the best choice here, especially if they are stuffed. The vegetable soup reminds us of the many orchards in the region. Of course, everything accompanied by the superb Rioja wines.


Hotel Facilities:

Banquet facilities
Cocktail bar
Conference facilities
Currency exchange
Disabled facilities
Gymnasium
Parking facilities
Restaurant
Safe deposit box
Sauna

Room Facilities:

Air conditioning
Cable / Satellite TV
Mini bar
Private bathroom / Ensuite
Telephone

Additional Information:

Distance to airport: 90 km
Distance to railway station: 0.5 km.

Distances to nearest paradors

Argómaniz: 75 Km.
Calahorra: 95 Km.
Lerma: 104 Km.
Olite: 130 Km.
Soria: 151 Km.
Limpias: 156 Km.
Sos del Rey Católico: 192 Km.

Activities Places to visit:

Santo Domingo de la Calzada. Cathedral. Cistercian Monastery, Pilgrims Hostal
San Millán de la Cogolla (Birthplace of the Castilian language) (20 km). Wine Routes, Monasteries Route, Cañas, Briones, Tricio
Vineyards of Haro (14 km)
La Guardia, Nájera and Ezcaray

Typical festivals

Procesión de las Doncellas (Procession) 11 May, Santo Domingo
Danza de los zancos (Dance) 22 July, Anguiano, 40 km.
Procesión del Santo (Procession) 12 Mayo, Santo Domingo

How to get there:

The Parador can be found in the old quarter of the town, in the Plaza del Santo, next to the cathedral. Santo Domingo de la Calzada is 46 km from Logroño and 68 km from Burgos along the N-120, and 18 km from Haro, with a junction for the A-68 motorway to Zaragoza and Bilbao/Bilbo.


Click above to view map