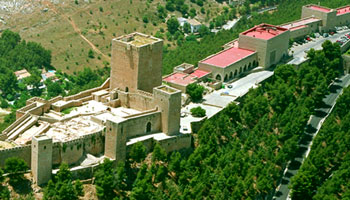 EXCEPTIONAL 13TH C. ARABIC FORTRESS
The privileged location of the Parador on Santa Catalina Hill offers it the character of defensive bastion of the Jaén horizon. Origin and destination to discover the charm of the Andalusian Renaissance, the hotel has a refreshing swimming pool which, along with the exterior stone, offers protection from the burning sun which inundates the surroundings.

The monumental appearance is maintained on the inside, where the impressive 20 m. high crossed arches of the main living room, the dining room, with a marked Arabic character, and the comfortable and friendly bedrooms with magnificent panoramic views stand out.


The ensemble, decorated in soft shades, is complemented by a varied gastronomic display: 'ajo blanco' (cold garlic and almond soup), partridge salad, 'pipirrana' (tomato and cucumber salad) Jaén-style spinach (with egg).

Hotel Facilities:

Cocktail bar
Currency exchange
Parking facilities
Restaurant

Room Facilities:

Air conditioning
Cable / Satellite TV
Mini bar
Telephone
Activities: Additional Information:

Distance to railway station: 4km

Distances to nearest paradors

Ubeda: 57 Km.
Córdoba: 104 Km.
Cazorla: 138 Km.
Manzanares: 159 Km.
Almagro: 165 Km

Places to visit:

Jaén (5 km). Alí Baths, Cathedral, palaces, Sierra Magina Nature Reserve, Ibero Museum (unique in the world)
Baeza (49 km). Former University, Cathedral
Úbeda (57 km). Santa María de los Reales Alcázares Temple

Typical festivals

Local festivities 18 October, Jaén, 4 km.
Holy Week first week of April, Jaén, 4 km.
Santa Catalina de Alejandría festivities 25 November, next to the Parador.

How to get there:

The Parador is located on the top of the Cerro de Santa Catalina, just 5 km from the capital; the main accesses are by the N-323 main road from Bailén-Motril and the N-324 from Córdoba.


Click above to view map