---
Welcome to Son Lladó, a farm from the XVII century in active use, with 3 apartments for tourist rental.
Agroturisme Son Lladó

Camí des Palmer (PMV 603-1)
km. 2.300
07630 CAMPOS
(Mallorca), Balearic Islands

Contact:

Anne


Rates:

Come join us and succumb to the traditions of Mallorca life style, allowing you to experience why Mallorca is known as "the island of tranquillity" (Isla de la Calma).

The farm is run by the original owners who also personally take care of your stay, making it as enjoyable as possible. At Son Lladó, our main objective is the maximum satisfaction of our guests. In order to make your dream holidays come true, all our services and experience are at your disposition.

At Son Lladó, you will find the tranquillity you desire, breath the fresh air of the country side and relax in the rural surrounding of a friendly and comfortable farm house. We can offer you our 28 acres of farm land and a series of varied and enjoyable activities.

The farmhouse was constructed during the 17th century and continues to maintain the original charm and character of its period: stone walls, ornamented arched ceilings and a large variety of internal decorations that provide it with its own identity and unmistakable style.

Shared services are located in the main building called "The Peasant's House" [Casa de Pagès]: the reception, the lounge, the sitting room with fireplace and the dining room where you can try out the original and typical Mallorca home-cooked dinners.

Adjacent to "The Peasant's House", there is an outside fireplace with 3 wood ovens that are actively and regularly used to prepare the meals for the guests.

During summer time, dinner and breakfast are served in an open-air covered terrace, next to the swimming pool. It has been restored from the old cow house and has splendid views on the gardens.

Close to the main building, you will find the vegetable gardens and the small animals courts (horse, donkeys, chickens, pigs and sheep) that are also worth visiting, particularly for small children.

Finally, Son Lladó has covered parking for our guests, where once the farming machines and tractors were placed.

Accommodation:

We can offer you three spacious apartments, up to 5 persons occupancy. The apartments originate from the restored farm's old stable, the granary and the cow house. They are located well apart from each other to guarantee you privacy and silence.

Volta Apartment

All apartments have their own style and internal decoration based on the original building materials, thus trying to preserve the original charm and design of the building.

All apartments consist of a separate bedroom, a main living/eating room, a fully-furnished bathroom, kitchen and a private terrace.

All apartments are fully equipped with radiator heaters in all rooms, satellite TV and refrigerator, telephone and the possibility to connect to the Internet.

Bovera Apartment

Accommodation is possible with a full complement of food services: accommodation only, half board or with only breakfast or dinner.

In an effort to maximally use the typical products of the island Son Lladó offers you a wide variety of home-cooked dishes of the famous Mediterranean Cuisine, all prepared with the original ingredients from our own vegetable gardens. Dishes will vary every season, according to the harvest time of the vegetables. All ingredients are ecological, as no chemical products are used to grow the vegetables or to feed the small animals used for cooking.

PAÏSSA APARTMENT
Activities:
At Son Lladó a varied series of services and entertaining activities are available:
Pick-up/drop-off service from/to the airport
Free use of bicycles during your stay
Horse cart rides on the farm land (an activity that is particularly enjoyed by small children).
The farm is surrounded by small asphalt roads, ideally suited for cycling and roller skating. Some of the local cycling routes are located close by. A large number of historical and archeological sites (roman and prehistorical ruins, roads, monasteries) can be visited within walking/driving distance of Son Lladó. Your hosts can refer you to good restaurants, visiting places and beaches in the area.

Location:
Son Lladó is a typical Mallorca farm of 28 acres located nearly the agricultural village of Campos in the south-east part of the island of Mallorca. It is surrounded by privileged rural landscape, within 5 minutes distance of the bird reserve of "Es Salobrar" and the nature reserve of "Es Trenc" with 8 km of beautiful virgin beach.
Site

Distance
( in Km)

Airport

32

Palma (capital city)

37

Campos (nearest village)

4

Sa Rápita (nearest harbour)

8

Es Trenc Beach

5

Golf course (Son Antem)

20

Colonia Sant Jordi (Boat trips to Cabrera Island)

9
Rates 2009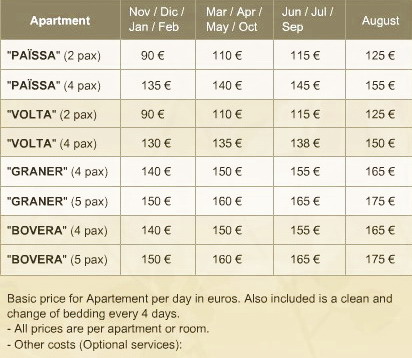 * CLEANING SERVICE ............................. 5,- eur/per./day
* BREAKFAST ............................ 10 eur/per./day (adult)
* DINNER (MENÚ)........................ 30,- eur/per./day (adult)
* DINNER (MENÚ INFANTIL)..................... 15,- eur/per./day
* EXTRA BED...........................................12 eur/per./day
* COT ....................................................... free service
Prices do not include 8% VAT
Reservation policy: 25% deposit required
Cancellation Policy: Deposit will be returned if cancelled before 30 days prior to arrival
Amex, Visa, Mastercard accepted.
Contact:
Anne