Over-worked? Exhausted? Burnt-out? Haven't seen the sun for 10 months? Need a break? Planning a holiday in Paradise? Want to make a (positive) impact on the local villagers without really going out of your way? "That's me!" Interested in community tourism? If so, read on.

Well, there is no better place than the South Pacific or South Seas (or South Seize as some like to spell it, the place where everything has seized, even time). And the Samoan Islands are just one big playground. Here, everybody is on holidays!! And many visitors arrive knowing very little about Samoa and the holiday that they are about to embark on. Foolhardy or not, they just booked and came (wow, with that attitude, you are in for some holiday!!).

SAMOA? Non-touristic; uncommercialized; ultra-friendly people; with a memorable, relaxing, exciting and traditional experience to be had by all out in the rural villages. There is no other place in the world where you can have such a Samoan experience. Live on a white sandy beach in your own grass castle or fale (pronounced: far-lay), with all the basic needs in life, and not much more. Just the sun, the surf, the sand and all the tranquility that you need. And a few Samoans to add to the flavour of your holiday.

ALL PSYCHED UP? Emotionally, you are on holidays. But, morally, you are hard at work (most of the time without really knowing about it). Yes, your tourist dollars are going towards helping rural villagers pay for their school fees, build a new rainwater tank, put shelving in the nearby school libraries, employing local workers, creating markets for local produce, etc. And if you stay too long, chances are that you will get adopted by the local villagers (ever read Typee by Herman Merville?) or you will become the subject of yet another anthropological enquiry (ever read Coming of Age in Samoa by Margaret Mead?).

HOW TO GO ABOUT IT? Just commit yourself. Book an Air New Zealand flight across the Pacific (Samoa is a free stopover) and plan an ecotour for 7 days to 5 islands and you will see how your holiday time can be spent bringing joy to so many Samoans. Community tourism is all the rage at present in Samoa. And Ecotour Samoa can help you get there with very little effort.

ON A TIGHT BUDGET? Put $USD20 aside per day, including your meals and accommodation.

UP-MARKET ECO-TRAVELLER? Then, choose all the support you may need to make your holiday compact, comfortable and enriching: from $USD137-210 per person per day all inclusive of ground/sea transport, guides, food, accommodation, village fees, etc.

ECOTOURISM? Not that much different from resort tourism, just that the resorts are all locally-owned by Samoans, often very tiny traditional resorts, often in remote villages, and, well, the villagers have the final say as to how they want you to do tourism best (i.e. on their terms). And there's nothing wrong with that.

TOPOGRAPHY: 10 volcanic islands, 300 volcanic craters, 300 volcanic lavatube caves, 300 beaches, 6000 foot mountains, 330 villages all with a very traditional lifestyle.

CONVINCED? If so, you can book your ecotour (holidays@ecotoursamoa.com) and immediately get involved in helping to protect these beauuuutiful islands. Just by visiting customary-owned conservation areas, marine reserves, rainforest preserves, etc, you are helping local villagers to protect their natural resources.

BE OUTLANDISH: demand authenticity, demand local products, even learn to speak a few words of Samoan. Samoans love visitors or palagis (par-lung-ees) who try to be Samoan. Wear a lavalava wrap-around. Weave a coconut leaf hat. Plait a floral lei or ula. Sing and dance the local way - chances are you will bring a lot of happiness into the world (and who cares if the rest of the world is laughing at you???).

DE-BRIEFING: Just as you plan to leave, you are reminded of all the help that you have provided. You are thanked for your generosity. Your concern for Samoa and Samoans is highly appreciated. Chances are that you have made some life-long friends (well, that can be a bonus or a burden in Samoa). You will leave Samoa re-vitalized, replenished with unforgettable memories. And, if not, a full money-back guarantee is offered to all Ecotour Samoa visitors.

TAKE-HOME MESSAGES: "Not only am I in favour of Pro-Poor Tourism, but I encourage all other travellers to find similar travel products that help some of the poorer people in this world."

"Ecotour Samoa offers a range of adventure, culture and nature ecotours to suit your budget, level of fitness, as well as your level of commitment."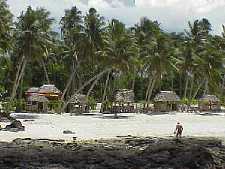 BEACH FALE ACCOMMODATION -
Live like a Samoan on a comfortable mattress under a mosquito net, next to the beach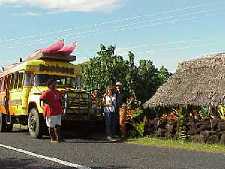 SUPPORT VEHICLE COMPLETE WITH SEA KAYAKS -
Sometimes the only way possible to explore the remote highlights
Funealii Sooaemalelagi and Steve Brown PhD
Directors: Ecotour Samoa