Funealii Lumaava Sooaemalelagi and Steve Brown PhD
Directors Eco-Tour Samoa
Managers Rainforest Ecolodge (Vailele-Uta village)
PO Box 4609, Matautu-uta, SAMOA
Phone (685)22144
Fax 22144 or 26941
Mobile phones:71414 & 71415
Email:
enquiries@ecotoursamoa.com
or ecotour@samoa.net
(alternate email: islandhopper@samoa.net)


---
READ ARTICLE ON SAMOA
---
VIEW OUR WEB SITE
---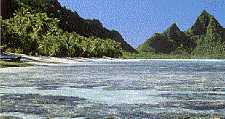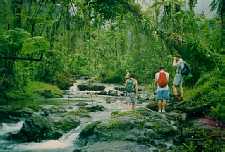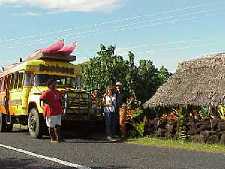 Located in the centre of the South Pacific, ECO-TOUR SAMOA and the RAINFOREST ECOLODGE offer you a comprehensive ecotourism experience in SAMOA, AMERICAN SAMOA AND THE TOKELAU ATOLLS.
Samoa is the Outer Islands of Fiji - travellers on Air New Zealand have a FREE stopover in Samoa on trans-Pacific flights.



We offer:
Traditional beach fale (far-lay) resorts (thatch-roofed) located on 4 different islands in Samoa. Priced at $US137 per day per person retail includes all food and accommodation, transport and relevant activities, plus your own guide to get you safely to each location. This Samoan Safari Ecotour is a 7-Day insight into the Samoan culture, living in traditional villages, sea kayaking, wildlife viewing, snorkling (Scuba extra).
Includes food...
Price: US$137 per person per day

Adventure Holidays. Design your own 7-Day Adventure Holidays including a mixture of sea kayaking, exploring off-shore islands, lava tube caving, coastal treking, cloud forest explorations at 6000 feet, cross-island walks, crater lake swims, climbing volcanic craters (300 to choose from) not to mention the adventures offered by the Samoan people themselves (4 days of full-body tattooing, underwater spearfishing at night, outrigger canoe treks, visit remote archaeological sites/fortresses, etc.).
Price: US$210 per person, per day.

SPECIAL OFFERS FOR BUDGET TRAVELLERS
(1) US$20 pp/pd Bed & Breakfast at the Rainforest Ecolodge
(2) US$20 pp/pd overnight village stays (including 2 meals)
(3) US$20 pp/pd eco-volunteers (large range of projects to choose from)

MISSION STATEMENT: To offer like-minded visitors the
opportunity to build sustainable communities irrespective of your time and budget constraints.

Members of The Ecotourism Society and the O Le Siosiomaga Society Inc (our local Environment Society)


KIDS SPONSOR NEEDED

The children of Samoa would appreciate an Environmental Camp For Kids with over 100 different environmental projects available. Chief Manu from Manunu Village has put aside the land and resources needed.

But a SPONSORSHIP of US$30,000 is needed to launch all the programmes. CLICK HERE FOR MORE INFORMATION.

This KIDS CAMP project is managed jointly by Eco-Tour Samoa and the Manunu Village. Eco-Tour Samoa provides free transport for school groups.

Officially opened on 22nd APRIL 2000 as part of the EARTH DAY 2000 CELEBRATIONS. Please view http://www.earthday.net for more details.

COME AND VOLUNTEER AT THE KIDS CAMP
WHILE IN SAMOA.