Best of Oslo, Norway: Top 10 Attractions
Car Hire Norway - take to the roads & explore!
Essential Haugesund area tourist visitor and hotel guide
Explore The Northern Lights On Cheap Cruises
Norway Fjord Drive Not Cruise
Stavanger Hotels and Things to Do
Things to do in Bergen
Uniquely surprising weather of Norway
Essential Haugesund area tourist visitor and hotel guide by Eric OM
Haugesund Featured Hotels
Most tourists and vacationers love quaint, picturesque little towns - like Haugesund in Norway. Haugesund is surrounded by mountains and seas with sprawling rivers. This Norwegian municipality in Rogaland will captivate those who are in for a change of scenery. The town offers numerous attractions. Whether it be wining, dining, beach-hopping, shopping or cultural, the historic Haugesund is the best place to be in Northern Europe.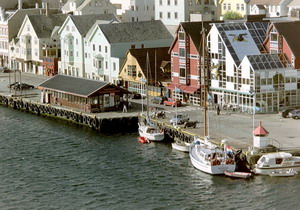 For shopaholics,Haugesund, this little Norwegian town has many lively shops. Products such as knitted clothing, textile, handmade candles and salmon are Haugesund's best; a tourist shouldn't go here without buying them. Their local salmon has a very unique taste one cannot find anywhere else.
Nature-lovers too will enjoy Haugesund's natural attractions. The town has soft, white, long beaches located in Karmøy and overlooking the beautiful North Sea. One can also climb and look down the 612 meter drop known from the Langfossen Waterfall.
There are also numerous mountain range attractions nearby, such as the Steinsfjellet Mountain, Etnefjella Mountains and the Trollvassnipen Mountain; they are ideal for all-year round hiking trips.
For beachcombers and island-hoppers, the idyllic Røvær and Utsira islands are the place to be. With a short trip by boat from the town, one can take a break, relax and enjoy fresh air, and feel serenity and a slower pace of life.
Fishing and tasting local seafood are not to be missed.
Meanwhile during winter, Haugesund opens its ski resorts. Located in the nearby mountains, one can find downhill runs, cross-country tracks and snowboard parks.
Haugasund area has many beautiful buildings and historic monuments
One can visit Norway's oldest seat of kings, located in Avaldsnes, where you can see King Harald's monument, Viking farm, a Medieval stone church and ancient burial mounds. Aside from that, tourists can also visit Haugesund's charming lighthouses - the Ryvarden and Geitungen.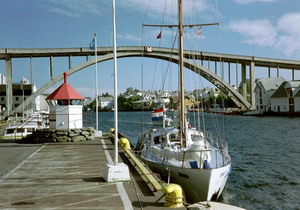 Old historic churches are also scattered in the town, such as Nedstrand Church, Stodle Church and Grindheim Church; Haugesund has a quaint charm with these historical places.
One can also visit the town's numerous museums and galleries. These include the Dokken Museum, Norwegian Motoring Museum, Village Museum, Ryvarden Gallery, Vigsnes Mining Museum, Arquebus War Museum, Nedstrand Rural Museum, Industrial Worker's Museum, Nordvegen History Center, Karmsund Civic Museum and many others.
There are also the famous festivals held annually in the town. For those who want to absorb some culture, Haugesund holds the Viking Festival, Haugesund International Jazz Festival Sildajazz and the Norwegian International Film Festival every year.
One can never run out of Norwegian culture to be intoxicated with. The town also celebrates numerous other festivals every summer, such as the Blues Festival, Roots Festival, Boat Festival, Fish Festival, Food Festival, Village Fetes, Haugesund Harbor Days, County Fairs and the annual regatta.
Tourist accommodation in and around Haugesund ranges from large 4 star hotels to cozy family owned and run Bed and Breakfast establishments.
About the Author: Eric OM is owner of RoomRateCompare.com. A hotel comparison site that searches over 1 million hotels from 32 different suppliers to guarantee you the lowest prices everytime.