Search this site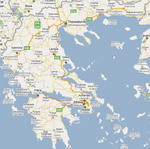 View map of Greece
Enjoy your time this summer with holidays to Paphos. Find yourself in the historic town which has plenty of modern attractions too!.

Santorini, Greece
Buy at AllPosters.com


Santorini Island, Greece
Buy at AllPosters.com

Copyright © All World Vacation Station




Looking for the Right Hotel in Greece? Try Beautiful Crete! by Chris Robertson
Crete Featured Hotels / Crete Self-Catering/Vacation Rentals
If you're planning a vacation to Greece, you should make it a point to visit the beautiful island of Crete. Whether you're an avid outdoors enthusiast or are more interested in the culture and traditions of the Greece, Crete has something for everyone. Best of all, Crete offers splendid accommodations to anyone looking for a hotel in Greece.
Mountains and Seashores
The defining geological features of Crete are its mountains, made up of three ranges: the White Mountains, the Idi Mountains, and the Dikti Mountains.
Aside from the beautiful scenery, the mountains in Crete feature plateaus, caves, and gorges. The Ideon Andron, or Zeus Cave, overlooks the fertile farmlands of the Lasithi Plateau, while the Samaria National Park showcases the Samaria Gorge, filled with a breathtaking array of flora and fauna. If you're a nature lover, travel in Crete means trekking through gorgeous scenery and the opportunity to view a wide variety of birds and other wildlife.

If you're the type who hears the siren song of the water, the beaches in Crete are unparalleled. The clear waters make snorkeling and scuba diving a memorable experience, while the Vai beach is perfect for relaxing in the sun. There are also wonderful wilderness beaches where you can explore rock formations and find the perfect escape.


Morning Sunlight on Buildings on Harbour Hania, Crete, Greece
Buy at AllPosters.com
Food and Drink
A vacation to Crete wouldn't be complete without indulging in the local cuisine. Even if you're not up to tasting the islands traditional snail dishes, you can enjoy fresh squid and octopus, smoked ham and sausage, skewers of souvlaki, and a myriad of local cheeses.
When it comes to beverages with a kick, you'll enjoy tsikoudia (similar to Italy's grappa), Greek beer, and Cretan wine. Of course, ouzo is also a must when you're in Greece. For a morning jumpstart, you'll delight in strong Greek coffees that you can order sweetened or unsweetened.


Doorway in Old Venetian Quarter, Hania
Buy at AllPosters.com

Hotel Accommodations

When you're looking for the right hotel in Greece, it's important to first decide what amenities you'd like. Do you want to be in a hotel on the beach, with easy access to the water, green parks, and local villages? If you're going on vacation with your family, would you like a spacious suite with four beds so that everyone can stay in the same room? Do you want access to nearby restaurants and nightlife?

If you're going to travel to Crete, you can arrive either by airplane or by boat. Once you get there, however, you may want to consider staying near the flawless sandy beach of Georgioupoli. With unparalleled beauty and breathtaking views, Georgioupoli offers visitors the perfect Greek experience.

When it comes to booking your hotel in Greece, consider doing so with an online reservation directly with the hotel of your choice. Many visitors who travel to Crete report that booking directly with their hotel, rather than a tour operator, saved them both money and time.
The best online reservation systems are available in a multitude of languages, incorporate multimedia - like photos, video, and flash - into their websites, and are accessible to those with vision impairments.
However you arrive in Crete and wherever you stay, be sure to soak in the sun, the landscape, and the local culture and cuisine. Enjoy!
Featured Hotels in Crete / Crete Self-Catering/Vacation Rentals
About the Author - Chris Robertson is an author of Majon International, one of the worlds MOST popular internet marketing companies. For tips/information, visit Majon's Travel directory.


| | |
| --- | --- |
| FEATURED CRETE ISLAND, GREECE HOTELS & BEACH RESORTS | |

Search for more hotels in Crete
Galaxy Iraklio Hotel Crete
The Galaxy Iraklio is a modern resort hotel located in the centre of Heraklion, within one kilometre of the fortress and archaeological museum. Enjoy some relaxation time in the hotel's outdoor pool and sauna. The hotel offers a number of dining options: the Apollo Restaurant serves a range of regional and international dishes accompanied by a local wine list in a relaxed, contemporary setting with pool views and an aquarium; Pergola is an informal, poolside restaurant serving local and international dishes and the Galaxy Café offers snacks, drinks and light refreshments in a Viennese-style setting with a terrace area.
Kalypso Cretan Village Resort & Spa, Crete
The Kalypso Cretan Village Resort & Spa is situated at Plakias, 31 kms south of Rethymnon and 115 kms of Heraklion Airport. The Hotel is located in the grandiose environment of a small isolated gulf. It lies in 50.000 sq meters full of gardens and hanging rocks and has been created with respect to nature beauty and keeping the traditional Cretan style. Situated under the Terrace and overlooking the swimming pool, the Restaurant is the place were breakfast, lunch and dinner are served. Whether you choose the outdoor Tavern or the air-conditioned Lounge, one thing is sure; you will love the buffet! Prepared in a "home like" way inside the hotel, meals are a delicate recipe of Greek and European cuisine.
Minos Imperial Hotel Crete
Located one kilometre from Milatos village, the Minos Imperial Luxury Beach Resort is a large, contemporary, beach front resort, built from local materials and boasting panoramic views of the Cretan Archipelagos. The resort's smart main restaurant serves Greek and international dishes and has sea views and an outdoor terrace, while themed Greek evenings and barbecues are on offer at the Luna D'Oro restaurant. Guests can relax in the elegant piano bar by night, or enjoy a cold drink from the beach bar by day. The resort offers a choice of three swimming pools, as well as a children's pool with slides..
Pilot Beach Resort Crete
The Pilot Beach Resort is located on the north-western coast of Crete, one kilometer from the pretty fishing village of Georgioupolis. Set in 150,000 square meters of grounds, the resort is surrounded by olive groves, avocado trees and a fantastic private sandy beach, stretching 400 meters. Accommodation is in quiet, spacious bungalows scattered throughout the gardens and around the swimming pools. An American style buffet breakfast is served every day and guests can enjoy an impressive range of eating and drinking options. Jalos restaurant serves breakfast and lunch with views over the seashore pool. There is a Greek restaurant, offering typical Greek cuisine and a range of entertainment, open every evening.
Porto Platanias Beach Resort Crete
The Porto Platanias is a beachfront hotel in the Platanias resort, six kilometres west of the town of Chania and 25 kilometres from the airport. The 147 air-conditioned rooms have modern decor and light-wood furnishings and open onto balconies or terraces. Guests can spend their day lounging on a sunbed by the outdoor pool, sipping cocktails at the covered pool bar, or doing a spot of souvenir shopping at the gift shop. A separate pool is provided for children, alongside a playground and a kids' club offering supervised activities and special events. Fitness enthusiasts can work out at the gym and then unwind in the sauna or steam room.
Continue browsing hotels and resorts in Crete