Oba Saray 2, Turkey, Alanya, Kestel
2 bedroom (sleeps 4/6) furnished Alanya apartment in Turkey overlooks pool, 5 minutes walk from beach.
The complex offers 24 hour security and is ideally situated on the ground floor with access via a few shallow steps or ramp.
Alanya centre is 10 minutes away by bus, which run every 5 minutes.
or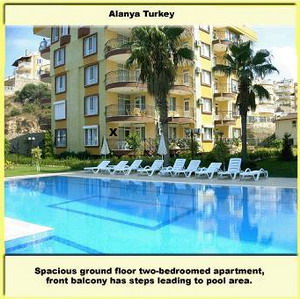 Activities:
Now one of the Mediterranean coast's major resorts, Alanya is a booming place that has fortunately managed to hold on to much of its character. Alanya has a rich history, from a pirate stronghold in the centuries BC, to a gift for Cleopatra from Rome. Dominating the long sandy beach is a tongue of land pointing out to the sea. The crown of this promontory is Alanya Castle, with the old city's fortified walls rising and falling with the land. Once at the castle the views are worth the climb, and you soon discover just how large this fortified complex is. The Alanya museum is filled with local archeological finds and ethnological ephemera, its garden a former Ottoman graveyard. Other points of interest are the Damlatas caves, where stalagmites meet stalactites, and a particularly humid atmosphere is said to benefit the lungs.
The surrounding area boasts local restaurants, bars and supermarkets. Alanya offers entertainment for all ages from water parks to boat trips, pubs, clubs, shops and restaurants.
£100 to £200
or