Exploring the beautiful Amalfi Coast of Campania, Italy
Whether travelling as a romantic couple, going solo or on a family holiday, planning the ideal getaway to Italy offers a multitude of choice. However, some Italian destinations stand out for their sheer rugged beauty, amazing scenery, pretty beaches and quaint villages. One such destination is the Amalfi Coast in the Campania Region, nestled on the Sorrentine Peninsula of Italy.



Photo: Amalfi Coast panorama via Flickr by tomfkemp/CC BY-NC-ND 2.0


This popular destination reveals fishing villages, with their homes and buildings tinted in a rainbow of pastel hues, while overlooking the sheer rugged cliffs and gorgeous shoreline with its tiny beaches and coves. Italy4Real offers a range of tour and travel options in the Amalfi region covering several wonderful destinations along the coast.

The cities of the Amalfi Coast

Along the 50 km Amalfi coastline, visit popular cities like Salerno, with its busy port, or Sorrento, balanced on a cliff top, with its terraced vineyards, scented lemon groves and impressive villas. Positano started out as a fishing village, but today is a popular resort, well known for the winding stairways connecting the town and its many hotels, as it spreads over the hillsides with lovely views.

However, there are also slightly lesser-known places to visit on the Amalfi Coast, well worth exploring.

Furore and its famous 'Fiordo'

Furore, located between Positano and Amalfi is one such destination. This tiny village hangs on a hillside above the blue Mediterranean Sea and is quaint in itself; however what makes this spot unusual is Italy's only fiord, or "Fiordo" as it is known in Italian.

The Fiordo is located in the oldest area of the village, down near sea level, where a group of the original fishermen's homes hug the cliffs of a high rocky gorge which heads inland from the sea. However visitors are warned, during the busier summer months the tiny beach in the fiord can often get a little busy with both locals and visitors.


Photo: "Fiordo" in Furore via Flickr

by

Fiore Silvestro Barbato

/

The gardens and music of Ravello
Ravello is another pretty village, perching high up on the cliffs above Amalfi and the Mediterranean Sea. Each summer Ravello hosts a popular music festival, where classical music concerts can be enjoyed in the town's gardens, surrounded by spectacular views. A clip from one of the concerts is included below, to give a taste of how wonderful it is to listen to beautiful music in such lovely surroundings.

Attractions in the town include its cathedral, the Duomo, with its Museo del Cuomo located in a crypt. However Ravello's most popular attractions are its public gardens. The Villa Rufolo and Villa Cimbrone offer the chance to stroll through beautifully landscaped panoramic gardens, filled with colourful tropical plants, while enjoying lovely views over the coastline.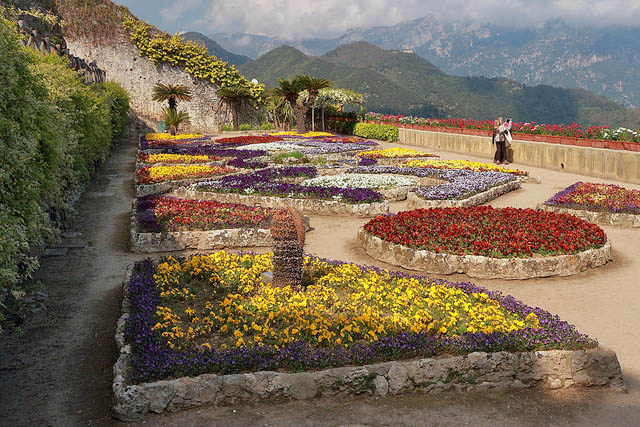 Photo: Villa Rufolo via Flickr by Bruno Mori/ CC BY-NC 2.0


Needless to say, wherever you travel on the Amalfi Coast you will get the opportunity to enjoy the delicious cuisine of the area, including freshly-caught fish, delightful desserts and excellent wines. Take some time out this year to explore the Amalfi Coast.


top
Home - Italy Travel Guide - Travel Blog