Melbourne Tourist Attractions: Immigration Museum Melbourne
Things to do in Melbourne, Australia's Spectacular City
Where are the Best Place to Ski in Australia? by George Pettit
When most people hear the word Australia they will often think of the Outback or the large cities such as Melbourne. However, Australia is known for something so much more that makes it truly unique, great skiing. As there are numerous resorts and runs that the beginner to the most advanced skier will find challenging. As a result, there are numerous places to ski that can provide you with that sense of rigid beauty that Australia is known for with the traditional winter feel.
Charlotte Pass
Located in the Snowy Mountains this ski area the resort is in the town of Charlotte Pass Village. The area is completely snowed in during the winter which means that over snow transport is necessary to go in and out of Charlotte's Pass. However, once at the resort it is clear that the entire town has become virtual ski area as you can literally ski from your front door to the lifts. This provides visitors from all walks of life that winter experience which is difficult to find in many areas of the world as large interests have commercialized the sport. At Charlotte Pass, you can see what it felt like to skiing 50 years ago when many areas were known to be inaccessible during the winter.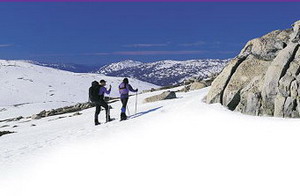 Dinner Plain
This ski area is located a little over 5.5 hours from Melbourne. However, the skiing is well worth the trip with the resort catering to mainly beginners as evidence by all of the runs at such skill levels. The resort is nestled in the high Victorian Alps and can provide everyone with that overall unique feel of classic Australian architecture with the wondrous beauty of Victoria.
Clearly, Australia has outstanding skiing for skiers of all skill levels. During the winter the various snow reports indicate snow fall amounts similar to what is experienced at the popular areas in the Northern hemisphere. This along with the one of a kind feel is what makes Australian skiing the well kept secret that only continues to build a vast grass roots following.