The wonders of the UAE: Dubai Miracle Garden and Ski Dubai


Photo: Dubai Marina skyline by
Stefano
CC BY-NC-ND 2.0


As most people know, there is nothing small or insignificant about Dubai in the United Arab Emirates. The city is always coming up with something new and unique. However, while most people immediately think of the 830m-tall Burj Khalifa – towering over the modern city's skyline – or the Palm Jumeirah – the artificial archipelago of islands off the coastline of the city, there are yet more fascinating aspects of the UAE capital.

With a range of excellent hotels and other accommodation, Dubai is an original and upcoming holiday destination, offering its many theme parks and shopping malls, and the following, rather more unusual, locations are also worth a visit.
Dubai Miracle Garden
The latest project undertaken by the city is Dubai Miracle Garden, which is believed to be the largest – and probably the most unique – flower garden in the world.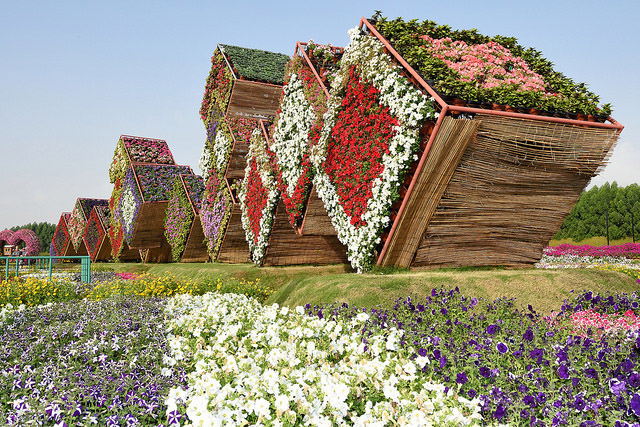 Photo: Dubai Miracle Garden by
Tim Adams
CC BY 2.0


The incredibly colourful garden is planted on more than 775,000 square feet of land, with an amazing 45 million separate flowers of 70 different plant varieties, growing in incredible shapes and designs, and at varying angles. Using a combination of relatively normal garden beds, with trellises built up in different shapes and sizes, and even flower covered buildings, the effect is startlingly beautiful.




Considering Dubai's harsh and dry desert climate, this is no mean feat and reportedly the garden's caretakers say irrigation using a drip, rather than spray, method, plus the careful re-use of wastewater, makes it all possible. Apparently the Dubai Miracle Garden is an ongoing project and is only in its first phase, as the city has plans to include a shopping mall and a full-scale plant nursery.

While definitely worth a visit, bear in mind that the gardens are closed during the excessively hot summer days. The video included below takes you on a tour of the Dubai Miracle Garden in all its colour and splendour.
Ski Dubai – the indoor skiing resort
If Dubai can grow millions of flowers in a harsh and hot desert environment, it only makes sense that people can go skiing too, despite the up to 120 degree Fahrenheit weather. While this may sound a little crazy, developers in the city have built their very own snowy 279-foot mountain inside of the equally huge Mall of the Emirates. And yes, there are even ski lifts.




This amazing feature offers multiple ski runs, including the first indoor black diamond-rated course in the world. For those who don't want to ski or snowboard, tobogganing is an alternative option, you can roll down a slope in a huge plastic ball, or simply enjoy a visit with the local penguins. There are lots of fun options for the kids, too, in their own special area.

Naturally with such a hot environment, most visitors aren't equipped with cold weather clothing, so the centre includes the rental of snow gear and coats in the entrance fee.



top