Search this site





| | |
| --- | --- |
| SWEDEN TRAVEL INFORMATION | |

Örebro is a city, the seat of Örebro Municipality and the capital of Örebro County in Sweden.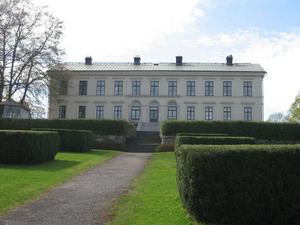 Örebro's old town Wadköping is located on the banks of Svartån (black stream). It contains many 18th and 19th century wooden houses, along with museums and exhibitions. The water tower of Örebro, named Svampen (The Mushroom), is a popular destination as an outlook tower. In 1958, a replica of the tower was built in Riyadh, Saudi Arabia.
Örebro University is one of Sweden's most recent, being upgraded from högskola (university college) in 1999. It currently has around 14,070 students and a staff of 1,100. Gustavsvik, the largest water park in the Nordic countries, is located just a kilometer south of central Örebro. With more than 700,000 visitors per year, it is one of the most popular tourist and leisure establishments in Sweden. Only Liseberg, Gröna Lund and Skansen are more popular. In the summer the manor of Karlslund is a very popular place to visit.



| | |
| --- | --- |
| FEATURED HOTELS IN ÖREBRO, SWEDEN | |


Search for hotels in Örebro
Clarion Hotel Örebro
The Clarion Hotel Orebro is perfectly situated in the center of Orebro, in the midst of the shopping and business district. The hotel is located near popular tourist destinations, such as Orebro Castle, Wadköping village and Gustavsvik water park, one of Sweden's most-visited tourist attractions. Karlslund Manor House, Orebro University and Orebro Airport are just minutes away. This Orebro, Sweden hotel is less than one mile from the local train station and near area restaurants. Be sure to stop by the restaurant and cocktail lounge located on the premises. Room service is available.
Elite Stora Hotellet Örebro
Elite Stora Hotellet is beautifully situated near Örebro Castle by the Svartå River and is one of the most illustrious in the country. The hotel was constructed in 1858 and is one of the country's most historic hotels. As our guest you will experience the atmosphere of a classic city hotel with stylishly appointed rooms and a real sense of service. The sights of the city such as, Wadköping, the Örebro Art gallery and the concert hall are all within walking distance. In addition to our own conference facilities at the hotel, we also operate the conference department at Örebro Castle. Elite Stora Hotellet is not only beautifully located, it is also easily accessible and offers ample parking.
Quality Hotel Örebro
The Quality Hotel Örebro is conveniently located north of the city, close to Svampen water tower. This Örebro hotel is minutes from Wadköping wooden village, Örebro Castle and Örebro University. The Örebro Airport, Sweden's fourth largest airport, is about 15 minutes away. Örebro literally means a bridge over gravel banks, which is how the geography looks, with the river Svartån draining into the lake Hjälmaren. Its attractive position makes Örebro a popular business region and an ideal place for conferences and trade fairs. Also known as the Town of Cycling in Sweden, Örebro offers many cycle lanes and bicycle rentals are available. Örebro has a rich cultural life with several concert halls, museums and galleries in the area.
Scandic Grand Hotel, Örebro
The Scandic Grand Hotel brings Örebro attractions to your doorstep. Örebro's 17th-century castle, Behrn Arena and the old wooden town of Wadköping are all within 10 minutes' walk. At the end of the day, relax in the hotel's Jacuzzi, bar and restaurants. Unwind in the Grand Bar, dine in our 3 restaurants or do business in our 9 meeting rooms. The Conventum convention centre is just 1 block away. Feel at home in this 17 sqm Nordic-style room with wood laminate flooring. Catch up with work at the desk, enjoy cable TV and pay-per-view movies, or take in the city view from your large windows. Includes sauna and Jacuzzi access. Some rooms have wireless internet access.
Continue browsing hotels in Örebro & surrounding areas