Search this site



Stellenbosch Wine Tour from Cape Town

Copyright © All World Vacation Station



| | |
| --- | --- |
| TRAVEL READING ON THE CAPE WINELANDS, SOUTH AFRICA: | |

A Guide to South Africa's Winelands
A Wine Drenched Tour Along The Red Route of Paarl, South Africa by Gregory Hudson
The wine tradition in Paarl is older than the roots of the aging Oak Trees that line its Cape Dutch streets. The first European settlers arrived at the Cape of Good Hope in 1652, planting the seeds that solidified the Cape's reputation as a wine growing heaven.

Now that the work has already been done, what else can you and I do but savour the delicate fruits pressed with decades of winemaking experience and travel the newly formed routes leading us to the finest wines in the world.

Forget the majesty of the Drakensberg Mountains, try to ignore the historic monuments perched loftily upon pearly hills, the kind of wine tasting to be done in Paarl will require every ounce of your concentration.


Buy at AllPosters.com
Now that we know what we are going to be doing in Paarl, apart from enjoying the scenery, let's make a journey into the winelands, delving into present day winemaking communities, uncovering their interesting attributes and tracing those lively wines to hideaways so often missed by the multitude.
Along the way, if we're lucky, we may make the acquaintance of a genuine Garagiste, a class of heretic garage winemakers shunned in France by the old school traditionalists because of the stir their independently crafted wines create. There might be a hint along the way as to where we might discover one of those who make these "Vins de Garage". The mixture of Paarl's perfect climate and their special skills is sure to be very rewarding.
We start our journey at the entrance of the Hugenot Tunnel, the breach to the longest wine route in the world, also known as Route 62. But we go no further; what we are mostly concerned with is the infamous Red Route...


Buy at AllPosters.com

The Red Route

The Red Route, as you can imagine, is named because of the large amount and quality of red wines along its relaxing meander. It was formed by a collaboration of wine producers known as the Paarl Vintners (Wine Merchants). The Vintners diligently plotted a wine route for an estimated 24 participants, all found within the Paarl Valley.

One or two of these include the De Zoete Inval Estate owned by the Frater family, who have been making wine here for more than 115 years. The Rhebokskloof Estate has also been producing wine since 1692. Unfortunately, the wine from that early period has already been consumed.
The Red Route is without question a collection of the most renowned wine producers in the world. Any effort made in finding them would not in any way be an inconvenience to your taste buds. The Red Route's Cabernet Sauvignon and Shiraz are undoubtedly the best in the world.
Fairview
Not strictly a wine route, the Red Route is also, by happy coincidence, a cheese route. Which brings us to our next stop along our journey - Fairview.
Fairview is South Africa's largest producer of speciality cheeses. For over 25 years, dairy goats have supplied milk for a variety of cheeses ranging from Jersey Milk, Brie and Camembert to a wide variety of Italian and French-style cheeses. If however that is not enough of an incentive to visit Fairview, a little historical rundown should serve to amplify your interest... Fairview not only produces speciality cheeses, but also award-winning wines. In 1693, Simon van der Stel, the second governor of the Cape of Good Hope, allocated the original land at Fairview to Steven Vervey, a French Huguenot. The first wine was made on Fairview in 1699 and a long tradition has long since developed. Fairview started its own bottling in 1974 and auctioned its first bottled wines at the very first wine auction ever held in the country, pre-dating the now famous Nederburg Auction.
The Nederburg Auction
The Auction is Paarl's largest wine festival and is like the World Cup for winetasters. Held at the end of every summer, the auction epitomises what fine wine is all about. The very essence of the event lies in the tasting of 147 award winning wines, perhaps even those of the Garagistes, but you will have to wait and see!
The auction is a benchmark of quality for South African Wines and serves as a showcase for African wines to the international trade. Because of this, any label proclaiming "sold at the Nederburg Auction" is regarded as having an official stamp of approval, worldwide.
Too much talk about wine is liable to make a person a little obsessed. It is after all only fermented grape juice. But Paarl makes it well and the Red Route is the best place to find it.
Good wine naturally goes well with good food and Paarl offers some of the best restaurants in the Cape, serving a variety of foods that mingle well with a bottle of your favourite tipple.
Paarl is also a place rich in history with its architectural wonders. They seem to represent the concrete and stone versions of its fine wines. Each wine estate has a unique attraction - a gable, a special goat tower like the one at Fairview or even a gargoyle waiting for the flash of your camera.
Olive Tasting
Because tunnel vision limits the mind, many things can be missed along the Red Route. Take olive tasting for instance. This is becoming a major attraction on some of the estates, many of whom now grow Olive Trees for the export of olive oil.
The rest is up to you. Whether you get down to the specifics and finer details of wine tasting or broaden your horizons gazing over the Paarl Valley from Paarl Rock depends on which side of the tunnel you're on. Enjoy Paarl!
About the Author - Oak Tree Lodge is centrally located in the historical Cape Winelands town of Paarl, South Africa.

| | |
| --- | --- |
| SOMERSET WEST ACCOMMODATION - CAPE WINELANDS, SOUTH AFRICA | |

Somerset West (Afrikaans Somerset-Wes) is a town in the Western Cape province in the Republic of South Africa. It is situated in the Hottentots Holland area, about 50 km (30 mi) southeast of Cape Town and 10 km from Strand. It was named after an English governor of the Cape Colony during the 1800s, Lord Charles Henry Somerset, with the suffix 'West' being added to differentiate it from Somerset East, another South African town in the Eastern Cape. Somerset West lies within easy reach of several beaches bordering the Atlantic Ocean and lying within False Bay. The nearest, the beach at Strand, approximately 6 km from the centre of the town, is popular with those having young children and holidaymakers, as is Gordons Bay, a quaint village complete with harbour and other innocent attractions.
The town is overlooked by the imposing Helderberg (meaning "clear mountain"), a part of the Hottentots Holland range of mountains but clearly distinct from the continuous aspect of its contemporaries. The town also boasts the wine farm of Vergelegen (meaning "far lying", or "far situated"), a beautiful 18th century farmhouse built in the historic Cape Dutch style. The farm is now owned by a subsidiary of the large mining company Anglo American, who have restored the farmhouse to its original magnificence and continue to produce some of South Africa's best wines there.

Bezweni Lodge, Sir Lowry's Pass Village, SOMERSET WEST
Bezweni Guest Lodge is situated on the Hottentots Holland mountain range overlooking the Cape Peninsula. In amongst beautiful fynbos, this lodge offers you 5 spacious suites with luxurious bathrooms, in-house private dining, room service, heated jacuzzi and swimming pool, underfloor heating and cooling in all rooms. 24 hour security, and transport at all times, VIP off-site security. In addition private massage and beauty treatments, cookery classes. Nearby you may go whale watching, cray fishing, wine tasting, horseback riding – some of SA's top golf courses are within 30 minutes' drive.

NH the Lord Charles, SOMERSET WEST
Nestled amid the breathtaking surroundings of the famous Cape Winelands, NH The Lord Charles is situated conveniently a mere 30 minutes from Cape Town International Airport. Guests are able to enjoy all the attractions of city life, such as the best shopping and variety of restaurants, without losing the appeal and peacefulness of the countryside. Our property boasts 188 air-conditioned rooms and 9 luxurious suites, all tastefully decorated in a harmonious setting for relaxation or business. A large number of rooms have their own private terrace, leading out onto our splendid 9-hectare estate. All rooms have a magnificent view of our manicured gardens, majestic Helderberg Mountains or a panoramic sea view over False Bay.
Southern Cross Guesthouse, Boutique Guesthouse, SOMERSET WEST
Nestled in the tree-filled haven of Somerset West, close to the world class golf courses, historic wine estates, the majestic False Bay, 20 minutes from Cape Town Airport and only 30 minutes from Cape Town is an idyllic guesthouse in a lush park-like garden with breathtaking views of False Bay and the Cape of Good Hope. The Southern Cross offers you the best in accommodation and comfort: newly renovated rooms, self-catering units and rooms, set in a huge garden with old trees and beautiful flowering beds, a big Koi-pond, waterfalls and stunning views.

Willowbrook Lodge, SOMERSET WEST
An Exclusive 4* Country lodge situated close by to Erinvale Golf Estate in Somerset West, between the Winelands and Garden Route. Nestled on the banks of the historic Lourens River on the outskirts of Somerset West, 20 min from the airport and half an hour from Cape Town, Willowbrook Lodge is a haven of peace tranquility. Each of our twelve ground-floor en-suite rooms have separate bath and shower, under floor heating, TV, mini bar, Air conditioning, direct dial telephone and private patio and are sited in an enchanting Cape 'discovery', garden which leads down to the river. All rooms are individually decorated to create an elegant and restful ambience; you wake to the sound of birdcalls and the burble of the river as it winds its way downstream.
More Somerset West Accommodation

| | |
| --- | --- |
| STELLENBOSCH ACCOMMODATION, CAPE WINELANDS, SOUTH AFRICA | |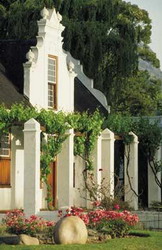 Stellenbosch is South Africa's second oldest town, after Cape Town and is the sentimental heart of the Winelands. Lined with shady oaks and beautiful gabled, white-washed buildings the streets of Stellenbosch still have small irrigation channels on either side of the older roads. In the past, these were used to water gardens, as each householder had a time slot in which to divert the town's irrigation into their plot.

It is very cultural and somewhat venerable, while also displaying a decidedly young and vibrant air. There are some interesting museums and many of the buildings, including some of the hotels and restaurants, are national monuments and deserve a second look. There is good mountain biking just outside the town, and there are golf courses aplenty, but Stellenbosch is really all about wine.

The town is virtually surrounded by fabulous cellars where you can do a tasting, join a cellar tour, stock up your own personal cellar, and perhaps enjoy a lovely leisurely lunch in the shade of some typical Stellenbosch oaks. Some of the wine farms have become multi-purpose resorts with theatres, restaurants, equestrian centres and much much more.

Stellenbosch is close to Cape Town so it can be visited on a day trip, or you could do a day trip to Cape Town or the Overberg from Stellenbosch. The nearest beach is at Strand.

Caledon Villa, Guest House, STELLENBOSCH
Set in lush gardens, this Edwardian-style guest house in Stellenbosch is decorated with antique furniture. It offers an outdoor swimming pool, a library and a spacious terrace. Free private parking is available. Guests of the Caledon can enjoy a range of continental dishes for breakfast. Refreshing drinks can be enjoyed in the relaxing gazebo. The attentive staff can help arrange visits to Stellenbosch, wine-tasting events and musical concerts. The guest house is a 5-minute walk from Stellenbosch city centre. Cape Town International Airport is 25 km away. The rooms at the Caledon Villa are decorated in warm colours and include wooden furnishings. They have a TV and a spacious seating area with a work desk. The private bathrooms are equipped with toiletries.
Fynbos Villa Guesthouse, STELLENBOSCH
Welcome to Fynbos Villa Guest House, located in central Stellenbosch, 3 minute walk to the historic town, University, River, Coetzenburg Sports Grounds, Conservatoire, Botanical gardens, coffee shops and restaurants. Spacious and elegant en-suite rooms, B&B or self catering. Reasonable tariffs. Free Wi-Fi access, safe and secure parking. Swimming pool, lush garden, bird watching. Great hospitality and breakfasts (also halaal and vegetarian). Walking distance from University, Sports facilities, botanical gardens, restaurants and coffee shops as well as Conservatoire. Bird watching and solar heated pool on the premises. Honesty bar. Free Wi-Fi. Various museums in close vicinity. Tours to the wine lands can be arranged.
Protea Hotel Stellenbosch, STELLENBOSCH
Situated in the heart of the winelands, in one of the most beautiful and heritage- conscious towns in Southern Africa, Stellenbosch. With its Mediterranean climate, scenic environment and well-maintained facilities, Stellenbosch is the second-oldest town in South Africa and affectionately referred to as the "Town of Oaks". Whether it is the magnificent backdrop of mountain ranges you seek, perhaps just a scenic drive, wine tasting at wine farms or an adventure-filled ride in a hot air balloon - you will never run out of things to see and do. Flanked by two international class golf courses and a fine selection of wine farms.
River Manor Boutique Hotel and Spa, STELLENBOSCH
River Manor Boutique Hotel & Spa is a graciously restored retreat at the leafy heart of historic Stellenbosch in the Cape Winelands. 18 rooms, B&B. River Manor nestles quietly under Stellenbosch's ancient oaks beside a river, just 2 mins walk from the town's historic centre. Just 30 mins from Cape Town, its calm ambience will lull you – as will River Manor's pampering spa. For the more active, mountains, vineyards, golf & cheetahs await. Breathtaking golf and hiking are just 10 mins drive away – as are Stellenbosch's 100 or so wine farms.
The Village at Spier, Accommodation on Wine Estate, STELLENBOSCH
An escape for body, mind and soul, Spier offers a combination of sybaritic experiences - fine food, wine, music, art... a destination of great variety that needs time to explore. Starting as a wine farm in 1692 in the shadow of the Helderberg mountains near Stellenbosch, it has a cultural heritage which it proudly preserves. The Village has been built in Cape Malay style with 'homes' clustered around courtyards, swimming pools, gardens and waterways. The 155 rooms are decorated in an unassuming manner but furnished in luxury and providing a peaceful environment..
Yellow Lodge Guest House, STELLENBOSCH
Yellow Lodge Guest House is situated on the edge of the beautiful and historic town of Stellenbosch off the Main Road, only 15 minutes from the False Bay Beaches, and 30 minutes from Cape Town. Spacious en-suite bedrooms, and 1 self catering apartment individually decorated have TV, bar fridge, underfloor heating and private telephones. Enjoy breakfast Al Fresco or in the breakfast room overlooking the pool area. Secure parking. German, Afrikaans and English is spoken.
More Stellenbosch Accommodation

| | |
| --- | --- |
| WELLINGTON ACCOMMODATION - CAPE WINELANDS, SOUTH AFRICA | |

Wellington is a town in the Western Cape Winelands just to the north of Paarl, in South Africa with a population of approximately 55 000. Wellington's economy is centered around the wine and brandy industry. With a picturesque environment and numerous award winning wineries, Wellington's tourism industry has started to blossom. The town is located 75km north-east of Cape Town, reached by the N1 motorway and R44 highway. The town is at the base of one of the oldest mountain passes in the country, Bain's Kloof Pass, built by master road-builder Andrew Geddes Bain. The town is the home of the Boland Rugby Union and the professional rugby team the Boland Kavaliers. The town is also an academic centre, with Huguenot College, Cape Peninsula University of Technology, Bible Media and Huguenot High School amongst others.

The pass up to Bains Kloof winds thru pine tree plantations, to the summit where on a clear day you can see forever (where forever consists of the swartland to the right, home of the vast wheat fields, the cape flats and Cape Town to the right, and the sun glimmering on the sea).

Monte Vidéo Guest House, Bed & Breakfast, WELLINGTON
On a gentle slope, nestling beneath the foothills of Bain's Kloof Pass - with a panoramic vista of imposing mountains and the lush farmland of historic "Wamakersvallei" - you'll find Monte Video Guest House, an upmarket new country retreat, designed to suit the diverse needs of casual vacationers and corporate visitors alike. Monte Vidéo Guest House boasts nine spacious, well-appointed bedroom-suites as well as a conference venue (accommodates 40 seated guests) ideal for a wide spectrum of functions and events, from seminars and workshops to private parties and wedding receptions.

Mooi Bly Landgoed Estate, Between PAARL & WELLINGTON
A 60 minutes drive from Cape Town, somewhere between Paarl and Wellington, on the slopes of the Du Toit Kloof Mountains, you'll find the beautiful estate called Mooi Bly Landgoed. You will be able to enjoy four fully equipped cottages with all comfort available. Each cottage has a kitchen that is situated next to cozy lounge and a terrace to watch the sunset while having a barbeque.
Seidelberg Wine Estate, Between PAARL & WELLINGTON
"A little bit of heaven in the Winelands" was how one visitor to our historic Wine Estate summarized his experience. Elevated high on Paarl Mountain the farm has one of the most scenic and magnificent views over the Cape flats and Table Mountain. Three newly renovated historical country houses on Seidelberg Wine Estate offer luxury and spacious accommodation combined with old fashion hospitality. All private situated country houses are equipped with wireless internet, satellite TV, safe, fire place and air-condition. The recreation facilities offer swimming pool, sauna and tennis court.
More Wellington Accommodation