Search this site

Copyright © All World Vacation Station




| | |
| --- | --- |
| THE ELEPHANT COAST - KWAZULU-NATAL, SOUTH AFRICA | |


The Elephant Coast of KwaZulu-Natal
One of South Africa's most unspoilt and beautiful areas, the Elephant Coast is a narrow strip of land - about 200 kms long and 70 kms wide, running down the coast of Kwazulu-Natal.

The area is home to an incredible 21 different eco-systems, with dense evergreen forests of fig trees, lush ferns and wild orchids, and palm savannahs with wild date and lala palms. Visit swamp forests with large raffias and greenery which is home to many exquisite birds and view mountainous sand dunes.

Fresh water ecosystems include major rivers, flood plains and large coastal lagoons and lovely clear coastal lakes. Game includes hippo, crocodile and many small game and bird species. Over 2000 plant species, many of which are endemic to the region, brighten the landscape. The Elephant Coast runs from the north west, by the Ubombo Mountains, to the east and the warm Indian Ocean, and in the South by the Unfolozi River, just below the famous St Lucia Estuary, part of a World Heritage site. Many paleantological sites of scientific importance can be found in the area.

A holiday destination with something for everyone - gorgeous sandy beaches, game reserves, fishing and deep sea fishing, water sports including diving on various reefs, mountain trails, historic sites and cultural activities. Imagine viewing the Big 5 in a game reserve, then driving a short 30 kms to watch the dolphins and whales!

| | |
| --- | --- |
| HLUHLUWE - ELEPHANT COAST KWAZULU-NATAL | |

Hluhluwe - Elephant Coast - KwaZulu-Natal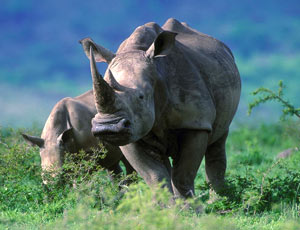 Hluhluwe is a tiny town surrounded by fabulous game reserves and some wonderful cultural attractions. You could visit a traditional Zulu weaving operation where you could buy baskets, mats and other woven goods, or do a tour of Dumazulu Cultural Village – a living museum of traditional Zulu culture and lifestyle. The nearby Hluhluwe-Umfolozi Game Reserve is the oldest game reserve in South Africa and is renowned as the place where an eleventh-hour conservation push rescued the white rhino from the very brink of extinction in the 1960s. Think about it – we came a hair's breadth from never ever seeing a white rhino, and every one in southern Africa is descended from those few that survived in Hluhluwe.

Things have changed, though. Now it's the black rhino under threat – so get in there and have a look at one while you still have a chance. Another claim to fame of this fabulous park, which was originally two different parks, Umfolozi and Hluhluwe, is that it was here the first wilderness safaris were run. It took a couple of years, but eventually the idea caught on and now many other reserves, among them the Kruger National Park, now offer this exciting experience.

Hluhluwe is at the southern end of the Greater St Lucia Wetland Park, where you can do a boat ride to see hippos and crocs, kayak on the lakes, or do a hike or a horse trail. Keen birders should visit Mkuze, which has the reputation of being one of the best birding spots in South Africa, and divers will love the nearby Sodwana Bay, with its lovely coral reefs, extensive dive infrastructure and party atmosphere.

Note: If you are planning to travel to Hluhluwe/Umfolozi please be aware that this region is malarial. Consult your doctor or travel clinic for advice and refer to our article on malaria.

| | |
| --- | --- |
| FEATURED HLUHLUWE - GAME LODGES / SAFARI LODGES / GAME RANCHES & FARMS | |

Gooderson Bushlands Game Lodge, HLUHLUWE
Centrally situated in Zululand within 300 acres of bush and game area and surrounded by over 300 000 acres of national parks, including Hluhluwe, Umfolozi, Mkuzi, Nduma, Sodwana Bay and The Greater St Lucia Wetland Park. Bushlands Game Lodge offers guests the ultimate African bush experience. Fully air-conditioned, en-suite accommodation blends seamlessly with the African bush and includes a telephone, air-conditioner, radio and tea/coffee making facilities. The rooms are connected by raised wooden walkways which lead to the main dining room, bar, swimming pool and Boma.
Bushwillow Collection, Lodge, HLUHLUWE
Bushwillow is a stylish, unique bush lodge, situated in 150 hectares of beautiful indigenous sand forest. The lodge is fully serviced and offers a bush experience where the only disturbance will be that of the game visiting the lodges' own small waterhole. Guests may enjoy walks on the self-guided walking trails where they are likely to have encounters with zebra, giraffe, wildebeest, nyala, warthogs and other 'safe' game. The abundance of bird life and the variety of trees and other flora makes for a great African experience but with the luxury and comforts of a 4-star graded establishment. Bushwillow is ideally situated for visitors exploring the splendour of The Elephant Coast, KwaZulu Natal.
Emdoneni Lodge & Game Farm, HLUHLUWE
Situated in the heart of Zululand and the newly proclaimed St Lucia World Heritage Site. Emdoneni Lodge is situated on a small game farm, with sand forest vegetation. Walk with the wildlife including Impala, Nyala, Grey Duiker and other antelope. Birdlife is abundant. Approximately 2 hours drive from Durban and 5 hours from Johannesburg. Only 4 hours drive from the Kruger National Park via Swaziland and 30 minutes from the Hluhluwe-Umfolozi Game Reserve and Lake St Lucia. Accommodation is in the form of 3 self-catering rondavels and 12 chalets. Our accommodation offers intimacy and comfort and is set in a lovely well-maintained garden with swimming pool and braai (barbeque) facilities.
Falaza Game Park & Spa, Lodge, HLUHLUWE
Falaza Game Park is a privately owned, owner run game farm centrally situated 15km from Hluhluwe, bordering the St. Lucia World Heritage Site. Accommodation is in luxury en suite tents, with all the modern convieniences and luxuries. there are 15 tents each sleeping two persons. Meals of very high standard are served in the tatched restaurant, reed walled boma or under the stars - at a bush dinner. Game Drives, guided walks, boat cruises and horse trails are offered on the property. Friendly white rhino graze on the lawn daily. Great for game viewing and birding with over 300 different bird species.
Leopard Mountain Safari Lodge, HLUHLUWE
There is a place for you in the heart of Africa - Leopard Mountain Game Lodge is the ideal getaway where everybody from the old to the young, will enjoy a fascinating experience in the wild. Close to 'Big Five' country - the place to see elephants, leopards, rhino, buffalo and giraffe in the wild. Discover them all in the unspoilt wilderness that surrounds our luxurious lodge. You can track elephant on foot, or follow them in air-conditioned comfort. You can climb mountains, go on trails or enjoy leisurely walks...
Shayamoya Tiger Fishing & Game Lodge, HLUHLUWE
Shayamoya is a true gem offering genuine hospitality, unique settings with stunning panoramic views across the Pongolapoort Lake (also known as Jozini), Lebombo Mountains, and the Phongolo Nature Reserve. Our speciality is the challenging sport of tiger fishing where the record is 8.3kg, however we also offer game drives, boat cruises, canoeing, elephant tracking and rhino and bush walks. 10 Luxurious thatched chalets are individually situated with their own private viewing deck, ensuite wooden bathroom and enclosed outdoor showers that makes the experience truly romantic. A central lodge accommodates the lounge, bar, cellar, sundeck, and the restaurant which serves scrumptious SA cuisine.
Thula Thula Exclusive Private Game Reserve & Safari Lodge, HLUHLUWE

Only 2 hours north from Durban, and 45 minutes from Richardsbay, in a malaria free area, Thula Thula, the oldest private game reserve in Kwazulu Natal, once part of the private hunting grounds of legendary Zulu King Shaka, founder of the Zulu Empire, is today home to the Big 4 with buffalo, elephant, rhino, leopard, giraffe, hyenas, crocodile, nyala, kudu, wildebeest, zebra and many more, as well as 370 species of birds, including raptors. Exclusive bush experience and absolute luxury, with only 8 thatched chalets decorated in flavours of ethnic and colonial elegance, the Elephant Safari Lodge offers superb accommodation with as much privacy and comfort you could wish for...
More Hlhuluwe accommodation

| | |
| --- | --- |
| FEATURED MKUZI ACCOMMODATION - ZULULAND / ELEPHANT COAST | |

Ghost Mountain Inn, MKUZI
At the foot of the legendary Ghost Mountain lies the privately owned 4 Star Ghost Mountain Inn, a perfect setting for taking time out to relax and experience the charms of Africa in comfort and style. Unwind by the pool or indulge your senses with a skin or body treatment in our Spa. For the more adventurous our Safari company offers a variety of guided tours to explore this diverse region with a variety of game drives, birding walks, hikes, tiger fishing, boat rides and Zulu cultural trips. Relax in one of our 52 tastefully appointed, en suite bedrooms complete with television, telephone and air conditioning or take in the golden African sunset from your very own garden patio.
Pakamisa Private Game Reserve, MKUZI
Pakamisa Private Game Reserve - this unique new holiday resort, majestically positioned on top of the Pakamisa Mountain, counts to the top addresses for the gourmet traveller. Whether you desire an activity based holiday or simply wish to relax, each guest selects his or her favourite and personal holiday itinerary. We offer horseback safaris for experienced and inexperienced riders, guided bush-walks and game drives, riding, mountain biking, clay target shooting, birding, swimming, fishing, cultural and botanical seminars. Pakamisa Private Game Reserve is a malaria free area, Children welcome, special rates.
More Mkusi accommodation

| | |
| --- | --- |
| SODWANA BAY ACCOMMODATION - ZULULAND / ELEPHANT COAST | |

Mseni Beach Lodge, Self- and Fully Catered, SODWANA BAY
Featuring a garden and year-round outdoor pool, Mseni Beach Lodge is located in Sodwana Bay, just 0.6 km from Sodwana Bay National Park. ISimangaliso Wetland Park is 12.9 km away. Free private parking is available on site. Some units feature a dining area and/or balcony. Some units also have a kitchen, fitted with an oven, a microwave, and a toaster. There is a private bathroom with a shower in each unit. Towels and bed linen are provided. Guests can enjoy a meal at the on-site restaurant or a drink at the bar. A variety of activities are available in the area, such as snorkeling and diving.
Sodwana Bay Lodge, SODWANA BAY
Sodwana Bay Lodge and Hotel Resort is placed in the heart of Maputaland on the western shore of Lake Shazibe, bordered by the world's highest naturally vegetated dunes which shelter the golden beaches of the lush interior. The area is surrounded by fertile swamps and sand forests with rare and protected animal and plant species, as well as wide lakes and extensive river estuaries which are full of life. The careful design of the lodge has been done in order to match the rustic, Eco-orientated nature of the Kwa Zulu Natal region. There is a full range of dive courses offered and is run by the fully equipped PADI five star IDC scuba centre.
More Sodwana Bay accommodation