Spain Travel Guide - Home page
Scuba diving in the Canary Islands guide
With their temperate climate, gorgeous surroundings and many activities on offer, it is no surprise that the Canary Islands are one of the first destinations Brits consider when looking to alleviate their winter blues with a week or two somewhere hot. Tenerife, Fuerteventura, Gran Canaria and Lanzarote are all big favourites with Brits, who are drawn to the islands' party atmosphere and numerous family amenities.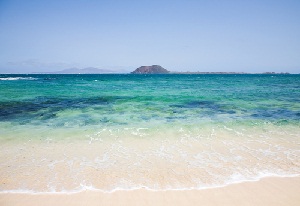 The Canary Islands also offer a host of sports and activities for holidaymakers to enjoy, with many tourists opting to take part in a spot of scuba diving. Many divers believe that the Canary Islands are Europe's best option for warm water scuba diving. The water temperature is usually around 17 degrees C in February, soaring to a peak of 24 degrees C by August.
People wanting to indulge in a bit of scuba diving while in the Canary Islands can choose between exploring caves, tunnels, sheer walls and wrecks in the depths of the turquoise sea, with a whole host of colourful marine life also on show. Keen wildlife enthusiasts should not pass up on the opportunity to descend to the depths of the seabed while on holiday in the Canary Islands as once down there they are likely to see fascinating marine life including angel sharks, octopuses and lobsters. Other sea creatures they may observe swimming around include rays, moray eels, garden eels, cuttlefish, jacks, barracuda, grouper, trumpetfish, scorpionfish, parrotfish and wrasse. With a variety of experiences available, there is something for everyone, from beginners to experienced divers, and people can go on several trips to experience as much as they can.
All diving schools on the Canaries will have equipment for hire, with most providing the standard 5mm full wetsuit. Both boat and shore dives can be done on Gran Canaria, although those taking a trip to Las Palmas will be best going by boat, while in resorts on the east coast of the Canaries, all the marine life is close to the shoreline, and shore-based dives tend to be superior. Divers who are fascinated by shipwrecks will want to head to Las Palmas, with the Kalais, Arona and Frigorifica sites being particularly popular.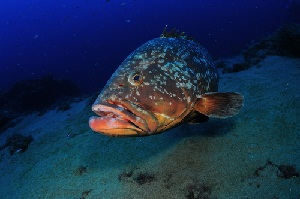 Beginners should take a few classes though, which generally start in a swimming pool and build up to getting in the sea. This will teach people the basics such as how to breathe underwater, and all the hand signals they need to communicate with others while diving.
Scuba diving enthusiasts heading to the Canary Islands with the main aim of exploring life on its seabed may want to take their trip between June and October when the water is at its warmest. However, those who go at a time when the temperature is particularly warm should remember to use a high factor sun cream and stay hydrated with plenty of water.
Gran Canaria is listed among the world's top 100 dive sites, predominantly because the crystal clear waters around the island team with marine life from the Meditteranean, the Caribbean, the Atlantic and Africa. Furthermore, there are eleven species which can only be found in the Canaries, and it is possible to dive on all sides of the island. Most destinations are surrounded by a shelf which sits at around 20 metres deep, making it ideal for recreational diving. Gran Canaria has also achieved the accolade of UNESCO World Biosphere Reserve because of its diversity both above and below sealevel.
When choosing a diving school in Gran Canaria, it is important to choose one that is a member of the "Association de Buceadors Professional de Gran Canaria".
People visiting Gran Canaria will not want to pass up on the opportunity to dive at the world-renowned "El Cabron" or Arinaga Marine Reserve either. It is no surprise that this is one of the most popular diving sites on the island, gaining numerous fantastic travel reviews, with its combination of warm waters, colourful underwater landscape and diverse marine life. People choosing to head to this resort will want to stay in the Playa del Ingles area of the island, so they can dive in both the east and west coasts easily.
Tenerife is the largest island in the chain, and according to tenerifedive.com, diving off the island is a "fabulous experience" for both novices and the experienced scuba diver. The diving school explains that the island offers abundant marine life along with plenty to explore, including shipwrecks, caves and walls. The average water temperature is between 20 and 24 degrees C, while the mean air temperature lies from 23 to 28 degrees C. Because the climate is temperate all year round, holidaymakers can indulge in a spot of diving whenever they like.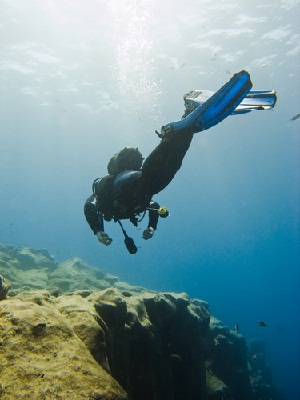 People who have never tried their hand at scuba diving before but have always fancied trying it can experience a Discover Scuba experience with the diving school - which will ensure they are not left out of their depth. The experience includes a shallow dive to a maximum of six metres with an instructor or certified assistant, an explanation and demonstration of equipment before entering the water and a cylinder of air which will last approximately 30 minutes. Other courses cater to more advanced divers and will allow people to explore the depths of the ocean surrounding Tenerife safely.
One of the advantages of taking a diving holiday in Tenerife is that as well as some fantastic scuba opportunities, there is so much to do above sea level too, with paragliding, hiking, cycling, horse riding and jet skiing all on offer. After a hard morning's diving, it can also be nice just to relax on the beach too. The island is famous for its party atmosphere as well, which means that visitors can dance the night away after a day spent exploring the seabed.
Lanzarote is another popular spot for water sports, with jet skiing, banana boats, fishing and scuba diving all on offer. At Puerto del Carmen, just twenty minutes from the airport, there is a steep wall dive and harbour wrecks. However, Lanzarote is definitely the destination for those who want to see reefs with a difference. Divers can also take a short boat trip to enjoy some offshore reefs and the marine life that surrounds them. Near the shore the beach is sandy, but this quickly gives way to steep volcanic walls, which makes for a breath-taking underwater landscape. The rocks are littered with soft corals and sponges, and play home to many types of fish.