Search this site





| | |
| --- | --- |
| SCOTLAND TRAVEL INFORMATION | |

Scotland Travel Guide
Ayr - South Ayrshire - Scotland's Main West Coast Resort by Simon Haughtone
Ayr - South Ayrshire - has long stone quays running out towards the sea, which are a reminder that Ayr was once the chief port of Western Scotland. Today it is Scotland's principal west coast resort, with two and a half miles of safe, sandy beaches and a variety of seaside amusements. Early in the morning the beach is a favourite exercise ground for horses that compete at the local racecourse.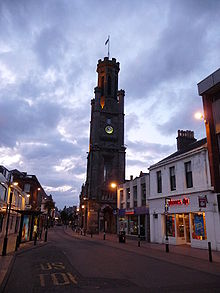 A swimming pool complex close to the beach includes a sauna, Turkish baths, and a fully equipped gymnasium. Sea anglers catch flounders, dabs, dogfish, cod, and mullet on the Newton shore, and there is a fishing festival held in September. Boats may be hired at Ayr Bay, and there are sailing clubs around the busy working harbour. You can easily purchase some fish to take home for your dinner.
The River Ayr cuts through the centre of the town, where it is crossed by two bridges close together - the Twa Brigs. The Auld Brig dates from the thirteenth century and was the scene of a battle between the Kennedys of Cassillis and the rival Kennedys of Bargany in 1601. The bridge is very narrow, as Robert Burns observed in his poem The Brigs of Ayr. He also described the town in his poem Tam o'Shanter as "Auld Ayr wham ne'er a town surpasses for honest men and bonnie lasses".
Benefactions from wealthy residents have given Ayr a number of public parks. Craigie Park has scenic riverside walks; Belleisle Park includes a walled garden, an aviary, a deer park, and two of Ayr's three golf courses. Rozelle Park has a pond with swans, wooded walks, nature trails, and an art gallery. A three day flower show, the largest in western Scotland, is held in Ayr in August.
On Tuesdays and Thursdays Ayr becomes a bustling market town, when farmers from around arrive to sell their livestock.
About the Author: Check here for a wide selection of Ayr hotels.



| | |
| --- | --- |
| FEATURED HOTELS IN AYR, SCOTLAND | |

Search for Ayr hotels
Canterholm Guest House - B&B, Ayr
Canter Holm Bed and Breakfast is Ideally located a few minutes walk from Ayr town centre/Ayr Train Station, and in close proximity to Ayr seafront. In mid 2010, each guest room, the entrance hall and lounge / dining room have received a professional redesign and refurbishment to even high standards. Wifi, flat screen TV, and exquisite décor and furnishings complement our contemporary ambience within this fine, Ayrshire building. Our well-appointed ground guest floor room is most suited for the less mobile guest, and this en-suite, delightfully furnished room provides direct access to our garden area.
Greenan Lodge - B&B, Ayr
Situated on the beautiful west coast of Scotland, in the heart of Burns Country, Greenan Lodge offers guests excellent modern facilities and warm hospitality recognised both locally and internationally. Our family-run guest house is situated in a quiet location 5 minutes south of Ayr town centre, nestling at the foot of the Carrick Hills adjacent to Greenan Castle, and a short walk from Greenan Shore. You get the best of both worlds here, a quiet locale that is ideal for relaxing after a long trip, yet within five minutes drive you can reach notable restaurants, local golf courses, Burns Cottage, Brig O'Doon, coastal walks and town centre shopping. The famous Culzean Castle Country Park is a 15 minute drive south.
Holiday Inn Express Ayr
The Express by Holiday Inn Ayr Hotel is located just 3.5 miles from Glasgow Prestwick International Airport and from some of the best Golf Courses in Scotland. These include the 2009 Open Championship venue of Turnberry and another Open Golf Championship Course, Royal Troon and many more. The hotel is just minutes walk away from Ayr Racecourse which holds the Ayr Gold Cup every September. The Express by Holiday Inn Ayr is a stylish hotel offering complimentary breakfast including a hot option and free Wi-Fi access in the Great Room.
Ramada Ayr
Stay at the seafront Ramada Ayr in the heart of Scotland's Burns Country, with sweeping views of the Isle of Arran. Explore the Ayrshire coastline from your base at the Ramada Ayr hotel, overlooking the seafront promenade and a few steps away from the bustle of Ayr High Street. Work out in the gym, take a yoga class or enjoy a swim and sauna in our Sebastian Coe Health Club. Golf lovers can tee off with more than 20 clubs on our doorstep, including the championship courses at Turnberry, Troon and Prestwick. Sample malt whiskies and catch a game on TV in the Arts Bar, dine brasserie-style or tuck into an indulgent afternoon cream tea at the Ramada Ayr hotel.
The Savoy Park Hotel, Ayr
The Savoy Park has been under the stewardship of the Henderson family for over forty years. You'll experience genuine hospitality, friendly, professional service and excellent fresh homemade food. At the Savoy Park you are only minutes walk from the town centre and train station, with frequent links to Glasgow and Prestwick Airport, only a 15 minute drive from the hotel. A short stroll along tree lined avenues brings you to Ayr's seafront, with spectacular views over to Arran. We genuinely desire that your stay with us will be comfortable and relaxing whether you are here for business or pleasure. Rest assured, we will do everything possible to make it so. Please feel free to make our hotel your home from home.
The Old Racecourse Hotel, Ayr
Excellently located close to the town centre and the beach, the Old Racecourse Hotel is a great base for visiting some of Scotland's greatest golf courses, Burns Country, excellent fishing and the beautiful vistas of Arran and the Clyde Estuary. Of course our name associates us with racing. The old course is no more but the "new" course, home of the Scottish Grand National and the Ayr Gold Cup, is only a few minutes drive away. Whether you are staying in one of our newly refurbished bedrooms or simply visiting to enjoy our cosy bar and excellent and highly rated menu, a warm welcome to our guests is always guaranteed from your hosts.
Continue browsing Ayr hotels