Sri Lanka Travel Guide - Home


Places To Go and Things To See in Exotic Sri Lanka [Photo Essay]

Formerly known as Ceylon, Sri Lanka is an island country in Asia and a popular destination for tourists worldwide, offering activities and attractions to suit everyone.

With exciting cities, national parks bursting with wildlife and incredible beaches, Sri Lanka is a great place to visit and bear in mind that when travelling out of season, there are many late holiday deals in the UK to save a bit of money on your trip. The following are a few of the best places to go and things to see in this lovely country.

Visit the Cities of Sri Lanka:

1. Colombo

Colombo still retains much of its colonial feel, with its attractive garden and tree-lined boulevards, but on the more modern side, offers stylish restaurants and hotels, along with fascinating galleries and museums to explore.
A stroll on the beachfront promenade is pretty pleasant too. Colombo is definitely worth a day or two on your Sri Lanka tour.
2. Kandy

Up in the hill country of Sri Lanka and surrounding a beautiful lake, Kandy is a pretty place to visit with its colourful houses and hotels. A smaller and more attractive city than its big sister Colombo, Kandy has much in the way of culture and history on offer, along with colourful street markets, good restaurants and hotels and a much cooler climate. As can be seen in the image below, the city is often shrouded in mist.
There is plenty on offer in the city in the way of temples and historic sites, including the must-see Temple of the Sacred Tooth, which contains Sri Lanka's most important Buddhist relic, a tooth of the Buddha.
Visits to the surrounding countryside, where some of the best boutique hotels are to be found, and the lush green tea plantations roll down the hillsides are also highly recommended.
3. Galle

Galle is a must-visit destination in the south of Sri Lanka. The town is exotic, with its scent of spices around every corner, but is also unique for its collection of Dutch-colonial buildings.
Galle is primarily a city of trade and, to a great extent, art, with the Fort area of the town offering boutique shops, hotels and cafes owned by both local and foreign artists, designers, poets and photographers.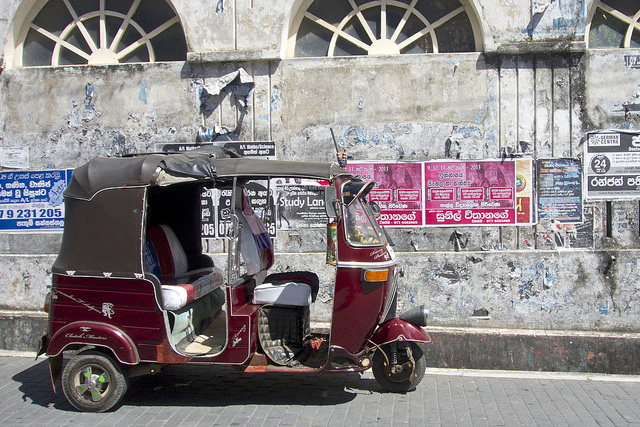 Photo: Dutch Fort in Galle CC BY 2.0
Stew Dean
Wild Sri Lanka
Uda Walawe National Park

For those wishing to escape from city life, Uda Walawe National Park is a great option. This lovely park rivals some of the best African game reserves with its herds of elephants, sambar deer, leopards and wild buffalo. Along the way, jackals, water monitor lizards, crocodiles, sloth bears and mongooses can be seen.

The park overlooks the Uda Walawe Reservoir and offers a stark beauty, with little in the way of dense vegetation to block the view of the animals. Guided tours are available with knowledge guides.

Bundala National Park

While in a wildlife frame of mind, Bundala National Park is another fascinating visit, with its lagoons, waterways and dunes. The park is home to thousands of colourful birds. In fact, almost 200 species are on view in the 62-square-meter area.
There is also a small population of the Sri Lanka elephants, along with crocodiles, giant squirrels and civets. In the coastal area, five different species of marine turles lay their eggs between October and January. Bundala is open all year around.
Arugam Bay

Surfers will simply love Arugam Bay, a moon-shaped bay with a famed point break on the Sri Lanka Coast.

While the village itself is tiny, Arugam Bay is a great destination for not only surfers, but also other beach lovers, offering Oceanside restaurants and beachfront guesthouses.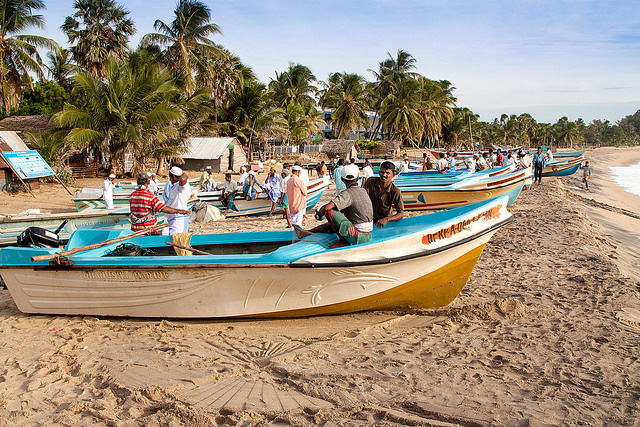 Arugam Bay beach CC BY-NC-ND 2.0
AlGraChe
Arugam Bay is surrounded by beautiful green and lush landscapes, making it a popular place to explore and enjoy.
top