Accommodation in France - Home page
Paris's cheap eats and vibrant hostels
You might not immediately associate the words cheap or hostel with this effortlessly chic and romantic city however there are colourful ways to explore Paris without leaving dust in your pockets. Here are two of Paris's most adventurous and enchanting areas, each with the best hostel to stay at and a list of scrumptious French eateries that won't cripple your wallet.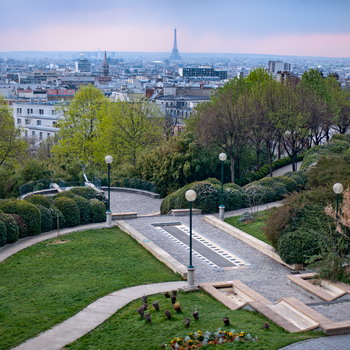 Belleville
This 'beautiful town' lives up to it appellation; with views from Belleville hill of leafy streets and medieval church spires. It is a colourful hodgepodge of mixed cultures and boasts the city's largest Chinatown. Visit the Parc de Belleville for an afternoon of picturesque gardens and a rejuvenating walk along the edge of the fragrant flower beds.
The Loft Hostel Paris
70 Rue Julien Lacroix
This boutique hostel has been recently renovated and has both a vibrant, trendy interior and affordable prices. The Belleville neighbourhood is on your doorstep, with its whimsical bars, packed clubs and delicious restaurants. The central location means sightseeing is a doddle and only requires a speedy metro ride. The rooms are fresh and vividly painted, with a choice of room types and some even have private balconies. All of the rooms edge a large patio where you can go day or night and hang out drinking with friends. If the weather's inclement loll around in the lounge bar instead and make use of the free Wi-Fi.
Le Sainte Marthe
32, rue Sainte-Marthe
Hidden away on one of the busiest boulevards is this little gem of a restaurant. A tranquil corner in the city, this place has an old Mediterranean atmosphere with its combination of Paris bistro and Spanish tapas.
Bar aux Folies
8, rue de Belleville
With its garishly dazzling lights this trendy bar attracts a potpourri crowd and has featured in four different films. You won't get food here but drinks are plentiful and the outside terrace is always buzzing with people.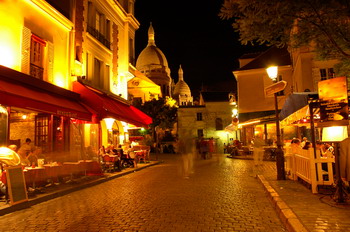 Getting to Paris
With a journey time of little over 2 hours from London, Eurostar is a great option and can be cheap if you book in advance. Low cost airlines also offer relatively cheap air fares to the French capital if booked within a suitable amount of time before your departure date.
Montmartre
Little introduction is needed for this dynamic area of Paris coated in history and full of diverse ways to spend your day. The Moulin Rouge and red light district is an interesting district and shabby-chic; though some may not care for its seedier side, it is fun and a little outrageous. The actual Montmartre is a must-see and offers panoramic vistas of the outlying suburbs and city, plus the architecture is awe-inspiring. Wander down the serpentine cobbled streets on your way back and admire the many poster shops and art markets.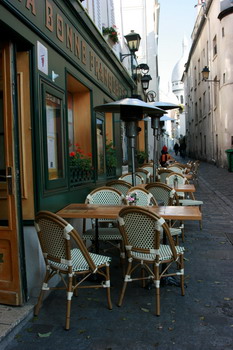 Le Village
20 Rue d'Orsel, 75018 Paris, Paris, France
Firstly there are amazing views of the Sacre Couer Basilica from the huge outdoor terrace. This hostel has its own library, which is great for resident bookworms plus the café is open until 2 am and provides a perfect place to meet and greet. The rooms are very clean and there is no curfew, a very important fact when you are in the best area for vivacious nightlife. Le Village is part of the Hip Hophostel family, which means although it has its own personality it does conform to an overall standard with value for money in an authentic area.
Katabar
37 rue Fontaine
An animated place to sip cheap cocktails and listen to electronic music.
Chez
20 rue Germain Pilon
Pretty décor, serves tasty French cuisine with tiny prices.
A La Place Saint Georges
60 rue Saint-Georges
A sanguine and welcoming place to enjoy hot, black coffee and flaky croissants while admiring the walls of theatre posters.