| | | |
| --- | --- | --- |
| | The Paradores of Spain - Paradores de España | |
Luxurious hotels situated in Castles, Palaces, Monasteries, Convents and other historical buildings throughout Spain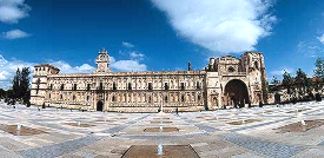 It was in 1910 that the government assigned the Marquis de la Vega Inclán the task of creating a hotel infrastructure-practically non-existent in Spain at the time - that would house travelers and improve Spain's image abroad.
In 1926, through the Royal Tourism Commission established in 1911, the Marquis de la Vega Inclán initiated the establishment of a hotel in the Gredos Mountains that would make the wonders of the area's landscape accessible to tourism.
His Majesty King Alfonso XIII was very enthusiastic about the idea, and he personally chose the location. Construction began in August of 1926 and was completed on the evening of October 9th, 1928. The hotel was inaugurated that same day, and would become the first establishment of the future Paradores de España Network: The Parador de Gredos.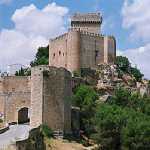 After the opening of the Parador de Gredos , the "Board of Paradores and Inns of Spain" was formed and efforts were channeled into perfecting the original idea and into making use of selected historical-artistic monuments and beautiful landscapes for the establishment of new Paradores.
Successive Parador openings in Oropesa (Toledo-1930), Úbeda (Jaén-1930), Ciudad Rodrigo (Salamanca-1931) and Mérida (Badajoz-1933) are clear examples of how the characteristics of hospitality were harmoniously integrated with the restoration of castles, palaces and convents, rescuing from ruin and abandonment monuments representative of Spain's historical and cultural heritage.
Choose your region from the menu above or the links below... and begin exploring these wonderful, historic and luxurious hotels!

[ Andalucía ][ Aragón ][ Asturias ][ Basque Region ][ Canary Islands ][ Cantabria ]
[ Castilla La Mancha ][ Castilla y Leon ][ Cataluña][ Extremadura ][ Galicia ][La Rioja][ Madrid ][ Murcia ]
[ Navarra ][ Spanish North Africa ][ Valencian Community ]