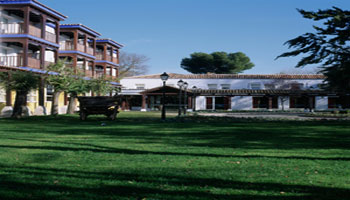 LANDSCAPED COUNTRY HOUSE WITH LA MANCHA CHARACTER
This Parador is located in a La Mancha style country house in Manzanares, between three of the most beautiful nature reserves of the country: Cabañeros, the Ruidera Lagoons and the Tablas de Daimiel. Trees, shrubs, gardens and plants fill the space with green, and, along with its swimming pool, make it a very desirable spot in the La Mancha landscape.

The common rooms and bedrooms have wooden furniture, leather chairs and wrought iron wall lights, which contribute to an affable and friendly atmosphere.

The most representative dishes of the restaurant are 'migas ruleras' (fried breadcrumbs), 'gachas', (similar to liver pate), 'galianos manchegos' , 'duelos y quebrantos' (egg dish), 'tiznao de bacalao' (cod), 'mojete de conejo' (rabbit with pine nuts) and 'caldereta manchega' (lamb stew).


Hotel Facilities:

Banquet facilities
Cocktail bar
Conference facilities
Currency exchange
Parking facilities
Restaurant
Swimming pool

Room Facilities:

Air conditioning
Cable / Satellite TV
Mini bar
Private bathroom / Ensuite
Telephone

Additional Information:

Distance to airport: 190 km
Distance to railway station: 3 km

How to get there:

The Parador is 1 km from the town of Manzanares. The town is reached by the Madrid-Andalusia dual carriageway, turning off at km 174. Manzanares is located 63 km. from Ciudad Real, the capital of the province.


Click above to view map

Activities:

Carriage rides
Hiking
Horseback ride
Mountain bikes
Swimming

Places to visit:

Manzanares (1.5 km). Plaza Mayor
Valdepeñas (20 km). Wineries
Tablas de Daimiel (30 km)
Almagro (32 km). Open-air theatre, Plaza Mayor
Ruidera Lagoons (50 km)
Cabañeros National Park (140 km)
Villanueva de los Infantes (45 km)
San Carlos del Valle (38 km).
Campo de Criptana (48 km).

Typical festivals

Regional Country Fair from 10 to 20 July, Manzanares, 1 km.
Ntro. Padre Jesús Perdón 14 September, Manzanares, 1 km.
Almagro Theatre Festival from 1 to 30 July, Almagro, 32 km.
Theatre Festival Manzanares, September

Distances to nearest paradors

Almagro: 35 Km.
Toledo: 123 Km.
Chinchón: 146 Km.
Albacete: 154 Km.
Jaén: 159 Km.
Ubeda: 161 Km.