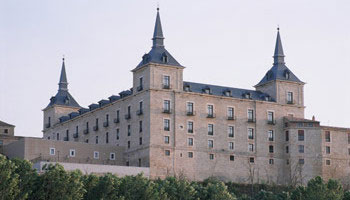 17TH-CENTURY DUQUE'S PALACE
At the highest point of the town of Lerma is found the Ducal Palace. It was constructed on the site of a 15th c. castle and built according to architect Francisco de Mora's plans in successive phases between 1601 and 1617. Francisco Gómez de Sandoval y Rojas, first Duke of Lerma, ordered the castle built as a place of lodging, rest an general enjoyment for King Felipe III.

THE PARADOR
This building features a central courtyard surrounded by columned arcades in altenating sections: the first has 20 Tuscan columns with semi-circular arches, and the second has 20 Ionic columns. The palace was restored and converted into a Parador rooms that have a capacity of 133 persons. Aside from the usual hotel services such as restaurant and convention rooms, the Parador is also equipped with Internet access.

The Parador's gastronomy is based on natural flavorful products found locally. The blood sausage with rice and Burgos fresh cheese stand out, without forgetting the fresh river fish, such as trout, as well as arriero-style soups and stews (made with garlic, peppers, onion and often paprika), such as 'ajo carretero' (a lamb stew with tomato, onion and garlic) or 'ajo pastor', always accompanied by the traditional 'Torta de Aranda', a round bread made with olive oil.
The lamb, roasted in a wood-fired oven slowly and with care, should not be missed, nor should desserts from the palace's recipe books such as the 'Cañas del Duque rellenas de crema de vainilla' (tube-shaped pastries filled with vanilla cream), 'Pastel de membrillo' (quince cake) and the 'Dulcería en sartén' (pan fried sweets).
The fields of the Ribera del Arlanza provide the area with some magnificent wines that have a very distinct character; the tempranillo or 'tinto fino' grape, as it is referred to locally, is king in these delicious reds.


Hotel Facilities:

Cocktail bar
Currency exchange
Disabled facilities
Golf course
Parking facilities
Restaurant

Room Facilities:

Air conditioning
Cable / Satellite TV
Internet access
Mini bar
Telephone

Additional Information:

Distance to airport: 200km

Distances to nearest paradors

Santo Domingo de la Calzada: 104 Km.
Cervera de Pisuerga: 140 Km.
Tordesillas: 140 Km.
Argómaniz: 161 Km.
Limpias: 170 Km.
Benavente: 180 Km.
León: 210 Km.

Typical festivals

BAROQUE MONTH IN AUGUST: - Two-organ concert at the Collegiate church, performed on instruments dating from the year 1615. - 17th-century theatrical performance in the Plaza Mayor. Conferences and exhibitions.
Local Medieval festivals in August.

How to get there:

The Parador is situated in the city of Lerma's plaza mayor. Lerma is from 36 km from Burgps, its main access road being the A-I motorway, and is 199 km from Madrid. The nearest cities to Lerma are: Palencia (55 km), Vitoria (145 km) and Logoño (165 km).


Click above to view map

Places to visit:

22 Km away: Covarrubias, where one can visit the Collegiate Church of San Cosme y San Damián (15th c.), the Church of Santo Tomás (12th c.), and the squares of Doña Urraca and Doña Sancha.
31 Km from Lerma: 18th-century Monastery of Santo Domingo de Silos, where one can enjoy listening to the GREGORIAN CHANTS sung by the monastery's monks. The nearby gorge of La Yecla can also be visited.
In Lerma: Plaza Ducal, Convent of San Juan, Santa Clara Plaza, Convent of Santa Clara, San Pedro Collegiate Church, La Piedad Sanctuary, Arco de la Cárcel (entrance gate through the old medieval wall. 11th c.), Convent of Carmen, Convent of San Blas.
Burgos (36 km): Burgos's old neighborhoods are dominated by the Gothic cathedral that enchants with its many small towers and spires. Around the cathedral, the Gothic churches of San Esteban, San Gil, San Nicolás and Santa Águeda can be found. On the outskirts of town are the splendid Royal Monastery of Las Huelgas and the Miraflores Carthusian monastery.
Covarrubias (22 km): A lovely town founded by Count Fernán González in 987. The collegiate church stands out as an important example of a Gothic church and the best of the Burgos school.
Quintanilla de las Viñas (35 km): This town features an 11th century Visigoth church. Not far away and worth a visit is the Romanesque San Quirece abbey, founded by Count Fernán González.
Sierra de Atapuerca (51 km): Important archeological sites are located in this mountain range, with human remains dating back more than a million years, where the first settlers of the continent of what we now call Europe lived.
Sierra de la Demanda (45 km): This is a unique mountain range in the southeastern part of the province. In the shadow of its majestic and forever snow-capped peaks, a series of scenic and human elements converge to make the area an attractive natural and tourist paradise. Glacial lakes and sites with dinosaur prints and fossilized trees are also found here.
Road to Santiago: The strategic geographical situation of what is today the province of Burgos made it a necessary step on the pilgrim's road to Santiago, traveled by people from all over Europe in search of the tomb of Saint James