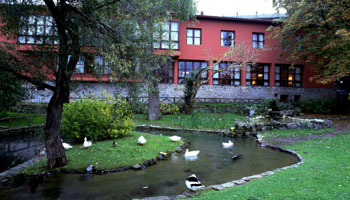 FORMER MILL IN THE ISABEL LA CATÓLICA PARK
The Parador occupies hundred-year-old mill, located in the Isabel La Católica Park, one of the most beautiful spots in the town of Gijón. It has a beautiful pond, which offers great harmony and tranquility. The closeness of San Lorenzo beach and of the Cimadevilla sailors' quarter, convert it into an ideal place to enjoy unforgettable days.

It has a spacious, friendly and bright interior which recreates the warmth of the setting in bedrooms and common rooms, while the closeness of the sea can be felt from their windows.


'Fabada' (rich stew of beans, pork, etc.) is the dining room's star dish, although beans ('fabes') are included in other preparations. The 'caldereta de marisco' (seafood stew), 'chopa a la sidra' (fish in cider), 'pote asturiano' (vegetable and pork broth) and 'merluza con cocochas' (hake) also stand out. The dessert menu includes rice pudding, 'frixuelos' (cream-filled crepes) and 'casadielles' (fried sweet with dried fruit).


Hotel Facilities:

Cocktail bar
Currency exchange
Disabled facilities
Parking facilities
Restaurant
Safe deposit box

Room Facilities:

Air conditioning
Cable / Satellite TV
Mini bar
Private bathroom / Ensuite
Telephone
Activities:

Cave exploring
Climbing
Golf
Horse riding routes
Mountain bikes
Paragliding
Rafting
Trekking
4x4 Routes

How to get there:

The Parador is located in the residential area of Gijón, in the middle of the Isabel La Católica park, next to the El Molinón football stadium and the Asturias Trade Show enclosure.

Gijón is 28 km from Oviedo along the A-66 motorway and 30 km by the N-630 main road.

Visits

Gijón. Cimadevilla Peninsula, Revillagigedo Palace, Jovellanos House-Museum
Route to the Covadonga Sanctuary and Enor and Ercina lakes (85 km)
Muniellos Reserve (174 km)
Oviedo (28 km)

Typical festivals:

El Antroxu Shrove Tuesday, Gijón
San Mateo 21 September, Oviedo, 28 km.
San Miguel 29 September, Gijón
Nuestra Señora de Begoña, 15 de Agosto.
International festival cinema in November.

Distances to nearest paradors

Cangas de Onís: 96 Km.
Santillana: 163 Km.
Santillana Gil Blas: 163 Km.
Ribadeo: 170 Km.

Additional Information:

Distance to airport: 45 km
Distance to railway station: 2 km


Click above to view map