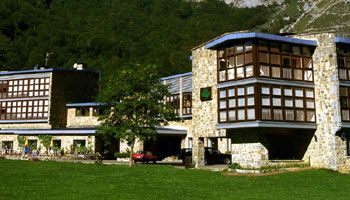 SHELTERED BY THE PICOS DE EUROPA
This modern mountain refuge located on the foothills of the Picos de Europa and opening onto the fertile Liébana valley, shows nature in total freedom. It is surrounded by the dramatic slopes of the Picos de Europa, woods and hillsides, in a region which is split into modest hamlets. The building is located at the bottom of the cable car which goes up to the Áliva viewpoint, at a privileged meeting point for lovers of outdoor activities.

The classical mountain style and the warm wood and leather furniture recreate the much-appreciated home warmth, to which are added the homemade dishes of traditional Cantabria cuisine.


Typical Cantabrian cuisine
This is an ideal shelter for mountaineers and hunters, where you will enjoy the traditional Cantabrian cuisine. With such dishes as Liébana stew, cockerel salad, sirloin steak with Tresviso cheese, venison with blueberries sauce, veal chop, and tea mousse.


Hotel Facilities:

Banquet facilities
Cocktail bar
Conference facilities
Currency exchange
Parking facilities
Restaurant
Safe deposit box

Room Facilities:

Air conditioning
Cable / Satellite TV
Mini bar
Private bathroom / Ensuite
Telephone
Activities:

Horseback ride
Mountain bikes
Paragliding
Trekking
4x4 Routes

Visits:

Potes (23 km). Lebeña (26 km). Piasca (26 km)
Caín-Poncebos. Route to the Divine El Cares Gorge
Cable car-Áliva-Naranco de Bulnes. The cable car offers access in 3.5 minutes to the foothills of the Picos de Europa

How to get there:

The Parador is located at the end of the road leading from Potes to Fuente Dé.
To reach this road from Santander, follow the A-8 motorway to Unquera. In Unquera, you will exit the A-8 and take the N-621 highway towards 'Potes-Parque Nacional de los Picos de Europa', and follow the 'Desfiladero de la Hermida' mountain pass to Potes and Fuente Dé.

From Madrid, take the N-1 highway to Burgos, where you will then turn onto the N-623 highway, heading towards Aguilar de Campoo. From Aguilar, take the P-212 road towards Cervera de Pisuerga until you reach Potes and Fuente Dé. The Parador is 135 km from Santander.

Typical festivals:

Procession (La Santuca) 2 July, Puertos de Áliva, 15 km.
Livestock fair 2 November, Potes, 23 km.
La Cruz 14 September, Potes, 23 km.


Additional Information:

Distance to airport: 130 km
Distance to railway station: 130 km

Distances to nearest paradors

Cervera de Pisuerga: 80 Km.
Santillana: 101 Km.
Santillana Gil Blas: 101 Km.
Cangas de Onís: 109 Km.
Limpias: 156 Km.


Click above to view map