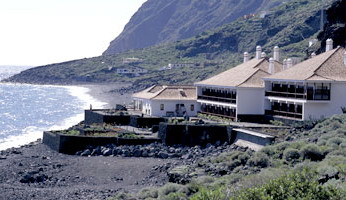 THE MEETING OF SEA AND MOUNTAINS
The Parador is located next to the sea, opposite the Roque de Bonanza, in a heavenly setting where the sea and the volcanic mountains meet. This modern building, dotted with beautiful balconies, is ideal for rest and tranquillity. Its elegant, colonial interior preceded by a fascinating garden with swimming pool, is cheerful and friendly.

The very comfortable bedrooms look out over the ocean, offering magnificent views which define its impressive immenseness, from which you can enjoy the tempting murmur of the waves.

In this ideal setting, the guest is comforted by the cheerful, suggestive dishes of the Parador's restaurant. The 'caldo de queso herreño' (poultry and cheese soup), 'alfonsiños con burgados' [fish with bigaros (periwinkles)], 'quenafas de viejas' (fish rissoles) with limpet and sea urchin sauce and the fig biscuit stand out.


Hotel Facilities:

TV
Hairdryers Available
Laundry Service
Exercise Gym
Radio
Room Service
Bus Parking
Guest Laundromat
Mini Bar
Outdoor Pool
Parking
Handicapped Rooms/Facilities

How to get there:

The Island may be reached by boat or by plane. There are two boats daily, which leave from Puerto de los Cristianos in the south of Tenerife.

Upon reaching Puerto de la Estaca (El Hierro), located 12 kilometres from the Parador, visitors must take the only existing motorway by taking the turn-off to the left at the first crossroads (500 metres).

The island can also be reached by boat from La Gomera (1 boat daily). By plane: from the Tenerife Norte Airport (3 flights daily) and from Las Palmas and La Palma there is one flight on Fridays and Sundays.

From the El Hierro airport take the Valverde road and continue toward Puerto de la Estaca, where you will follow the route mentioned above.

Activities

Boat trips
Diving
Fishing
Hiking
Miniature golf
Mountain bikes
Paragliding
Snorkeling
Swimming
Trekking

Places to visit:

Viewpoints of Isora (32 km), Bascos (52 km)
Faro de Orchilla (67 km)
Valverde (27 km)
Valle del Golfo (53 km)
Restinga Route (55 km)
Al Árbol Santo (Garoe, 31 km)

Typical festivals

Bajada de la Virgen de los Reyes once every 4 years, all over the island (for 35 Km), 21 km. from Valverde, the closest point

Additional Information:

20 kms to city centre
20 kms to the nearest airport (Tenerife-Reina Sofia)
11 km to the nearest station (Harbour la Estaca)
Close to the beach


Click above to view map