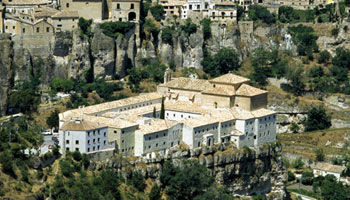 16TH C. CONVENT NEXT TO THE 'CASAS COLGADAS'
The former convent of San Pablo occupies a privileged position in the Hoz del Huécar gorge, a compendium of sheer walls and luxuriant vegetation on the outskirts of Cuenca, next to the 'Casas Colgadas' (Suspended Houses).

The glazed cloister, and the former chapel, now an inviting café, complement an interior which combines traditional elements with more contemporary details such as wicker, leather and upholstery. The comfortable, welcoming bedrooms stand out, some of which have splendid views of the 'Casas Colgadas', in addition to the conference rooms, the bar and a wonderful dining room decorated with exquisite taste.

Well-seasoned dishes make up the basis for the traditional cooking of Cuenca, such as 'morteruelo' (rich game-animal paté made with olive oil and spices ), 'pisto con lomo de orza' (tomato-based ratatouille with marinated loin), roasts and 'alajú' (dessert made from almonds, walnuts and honey).


Hotel Facilities:

Cocktail bar
Currency exchange
Gymnasium
Parking facilities
Restaurant
Safe deposit box
Sauna
Swimming pool

Room Facilities:

Air conditioning
Cable / Satellite TV
Mini bar
Private bathroom / Ensuite
Telephone

Additional Information:

Distance to airport: 167 km
Distance to railway station: 2 km

How to get there:

The Parador is located in the middle of the Hoz del Huecar gorge, opposite Cuenca's Suspended Houses, whose access, like that of the old centre, is the extraordinary metal bridge. The N-III is the reference road from Madrid, at the turn-off from Tarancón, or from Valencia through Motilla del Palancar.


Click above to view map

Activities:

Canoeing
Cave exploring
Climbing
Golf
Horse riding
Paragliding
Rafting
Shooting
Swimming
Tennis
Wing delta


Places to visit:

Cuenca. World Heritage City Cathedral, Plaza Mayor, Suspended Houses
Ventano del Diablo (20 km)
Ciudad Encantada (35 km)
Río Cuervo Nature Reserve (82 km)
Las Torcas de los Palancares (22 km)


Typical festivals

Religious Music Week Holy Week, Cuenca
Holy Week Cuenca


Distances to nearest paradors

Alarcón: 86 Km.
Chinchón: 130 Km.
Albacete: 142 Km.
Teruel: 153 Km.
Saler, El: 238 Km.
Toledo: 238 Km.