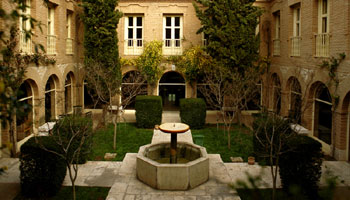 17TH CENTURY AUGUSTINIAN CONVENT
Founded by the Lords of Chinchón in the 17th c., this former Augustinian convent protects its monumental heritage in that of the old quarter of Chinchón, with its emblematic Plaza Mayor. In this framework, the cypress trees, roses and privets of the garden offer a beautiful picture, with the addition of a splendid cloister and softened by the blue of its swimming pool.

Walls with a Renaissance stamp, large windows and vaults, classical and Castilian style furniture, and its pleasant, spacious bedrooms make up the inner space, which is characterized by an atmosphere of peace and quiet.

Visit either of the Parador's two restaurants: 'El Convento' and 'El Bodegón'.
El Convento offers exquisite creations based on traditional cooking, with a personal touch. We recommend the Tasting Menu and dishes prepared using quality products from the Chinchón river valley.
El Bodegón, open weekends and holidays, offers theme-based cuisine, with two tempting types of seasonal fare: El Cocido completo de Taba (Taba chickpea and sausage stew served in two courses) based on an original recipe from the late 19th century, and La Cocina de la Vega, which features dishes prepared according to traditional, age-old recipes from the Chinchón river valley."


Hotel Facilities:

Cocktail bar
Conference facilities
Dining room
Parking facilities
Restaurant
Swimming pool
Tennis court

Room Facilities:

Air conditioning
Cable / Satellite TV
Heating
Mini bar
Private bathroom / Ensuite
Telephone

Additional Information:

Distance to airport: 55 km
Distance to railway station: 50 km

How to get there:

Chinchón is 60 km from Madrid along the N-IV, at the junction with the main 404 road, through Ciempozuelos. Another option is the A-3 dual carriageway, near the Puente de Arganda, linking up with the M-311 road.






Click above to view map

Activities:

Carriages
Country festivals
Frontenis
Golf
Horse riding
Horse riding routes
Ping Pong
Swimming
Tennis

Places to visit:

Chinchón. Plaza Mayor
Aranjuez (21 km). Royal Palace and gardens, Casa del Labrador
Colmenar de Oreja (6 km). Ulpiano Checa Museum, Old Quarter
Madrid (50 km). Museums and Monuments. Las Descalzas and La Encarnación monuments (National Heritage)
El Pardo Palace (National Heritage)

Typical festivals

Procession Good Friday, Chinchón
Representation of the Passion Easter Saturday, Chinchón
Patron saint's day festivities 12 to 18 August, Chinchón

Distances to nearest paradors

Alcalá de Henares: 50 Km.
Toledo: 69 Km.
Cuenca: 130 Km.
Segovia: 133 Km.
Manzanares: 146 Km.
Alarcón: 153 Km.
Avila: 159 Km.