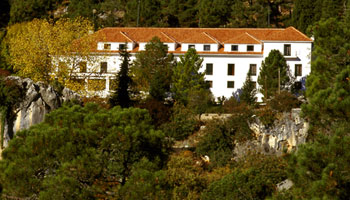 IN THE HEART OF NATURE
The Parador is located In the heart of the Cazorla Nature Reserve, in the spot known as Sacejo. Its height offers it unsurpassable panoramic views of the surroundings, in which hillsides covered with pine trees native to these mountains abound. The atmosphere of tranquility and beauty of enclaves like the Cañada de las Fuentes, or the 'Salto de Linarejos', makes it a meeting point for lovers of nature.

The building revives the tradition of the typical Andalusian country house, which is a distinguishing feature of the exterior. Its swimming pool, with impressive views of the Nature Reserve, and the interior, with a pleasant living room with chimney, is characterized by the brightness offered by its large windows.


| | | |
| --- | --- | --- |
| | Game in season and Andalusian dishes such as 'gachamiga' (flour, breadcrumbs and bacon), 'pisto' (tomato-based ratatouille) and 'pipirrana' (tomato and cucumber salad) make up the gastronomic display of the restaurant. | |
Hotel Facilities:

Cocktail bar
Parking facilities
Restaurant
Swimming pool

Room Facilities:

Mini bar
Private bathroom / Ensuite
Telephone
Activities:

Cycling tours
Fishing
Hiking
Hire of bicycles
Horse riding routes
Hunting
4x4 Routes

Additional Information:

Distance to airport: 130km
Distance to railway station: 110km

Distances to nearest paradors

Ubeda: 70 Km.
Jaén: 138 Km.
Córdoba: 220 Km.
Granada: 224 Km.
Málaga Golf: 330 Km

Places to visit:

Cazorla Nature Reserve, Segura and Las Villas. Torre del Vinagre. La Iruela. Villacarrillo. Beas de Segura. La Puerta de Segura. Quesada
Cazorla (24 km). Museums, convents, source of the Guadalquivir

Typical festivals

Cazorla fairs and festivals 17 September, Cazorla, 24 km.
La Iruela fairs and festivals 28 August, La Iruela, 20 km.
Local San Isidro festival 15 May, Cazorla, 24 km.
Local San Blas festival first Sunday of February, La Iruela, 20 km.

How to get there:

The Parador is located in the heart of the Cazorla Nature Reserve at an altitude of 1400 meters, and just 26 km from the town of Cazorla.

The approach road to the Parador is conveniently signposted, with signs always on your right as you ascend after passing through the security gate in the town of Burunchel, where you gain entrance to this protected area.

You can reach the security gate by taking the N-322 highway, which connects Ubeda with Baeza, and which then joins the A319 road, which leads to 'Peal de Becerro-Cazorla'.


Click above to view map