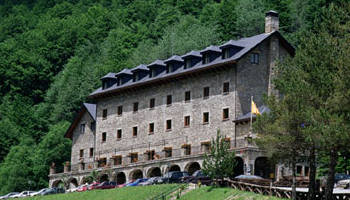 PYRENEAN REFUGE AT THE FOOT OF MONTE PERDIDO
This welcoming mountain hotel is located in one of the now classical enclaves for outdoor sports and activities, the western slopes of the Ordesa National Park and Monte Perdido, declared a World Heritage Site by Unesco in 1997. The pure air of the Pyrenees and of the Monte Perdido, the clean waters of the river Cinca and the tradition of the Romanesque hermitage of Nuestra Señora de la Pineta, offer a warm feeling of well-being, peace and quiet.

Floors, walls, beams and columns lined with wood contain modern and comfortable furniture. The bedrooms have beautiful views of this lovely natural enclave.

| | | |
| --- | --- | --- |
| | The cooking of Upper Aragón, strong and spicy, offers simple but tasty dishes: 'migas aragonesas' (fried breadcrumbs), Cinca river trout 'a lo fino', roast young lamb, leg of wild boar and the puff-pastry dessert from Aragón, 'teresicas'. | |

Hotel Facilities:

Cocktail bar
Conference facilities
Currency exchange
Parking facilities
Restaurant
Safe deposit box

Room Facilities:

Air conditioning
Cable / Satellite TV
Mini bar
Private bathroom / Ensuite
Telephone

Additional Information:

Distance to airport: 220 km
Distance to railway station: 118 km

How to get there:

The Parador is located at the bottom of the Valle de Pineta, 200 m from the Ordesa National Park and the Monte Perdido, within the municipal boundaries of Bielsa, 14 km from the town centre. This town is 135 km from Huesca, passing through Barbastro, a key point and compulsory deviation from the main roads from Madrid, Aragón and Cataluña. From there, take the N-123 to El Grado, 18 km away, and then the A-138, passing the Torreciudad Sanctuary. After 50 km, you come to Aínsa, where you should take the international road to France which passes through Bielsa (34 km).

Distances to nearest paradors

Vielha: 163 Km.
Artíes: 170 Km.
Sos del Rey Católico: 304 Km.

Activities

Canoeing
Canyoning
Cross-country skiing
Horse riding
Mountain bikes
Mountaineering
Paragliding
Rafting
Swimming
Trekking
4x4 Routes

Places to visit:

Bielsa. Photographic and Ethnological Museum (14 km)
Romanesque Routes in the province of Huesca. Tella (34 km), Bestue (48 km), Fanlo (56 km)
Valleys of Gistain and Plan (40 km)

Typical festivals

Bielsa Carnival February Bielsa, 14 km.
San Lorenzo 10 August, Huesca, 148 km.
Fiesta Mayor 15 August, Bielsa, 14 km.