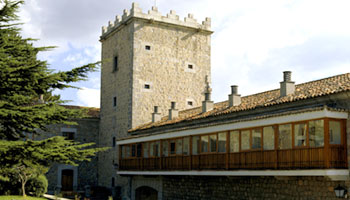 16TH CENTURY PALACE
This Parador rises up on the former 'Piedras Albas' palace in the historical centre of monumental Ávila, backing onto the majestic city walls. In harmony with its surroundings, the interior conserves a warm, intimate air in a splendidly recovered atmosphere which enriches all the common rooms.

Beautiful decorative elements, granite and abode floors, bright colours and spacious bedrooms, some with four-poster beds, make up a harmonious and bright whole. The garden also stands out, with archaeological remains, as does the magnificent glazed patio, the modular rooms and the cafeteria.

In the dining room, which offers beautiful views of the garden and walls, it is possible to sample 'pucheretes teresianos' (vegetable and pork stew), roast suckling pig, veal steak, 'judías de El Barco' (beans) and the excellent 'yemas de la Santa' (a typical dessert made from egg-yolk).


Hotel Facilities:

Banquet facilities
Cocktail bar
Conference facilities
Currency exchange
Parking facilities
Restaurant
Safe deposit box

Room Facilities:

Air conditioning
Cable / Satellite TV
Heating
Mini bar
Private bathroom / Ensuite
Telephone

Additional Information:

Distance to airport: 125 km
Distance to railway station: 3 km

How to get there:

The Parador is located on Calle Marqués de Canales de Chozas, in the historical centre of the city, opposite Plaza de Concepción Arenal. It is reached by crossing the walls through the Puerta del Carmen. Ávila is 115 km away from Madrid.

Distances to nearest paradors

Gredos: 60 Km.
Segovia: 65 Km.
Salamanca: 97 Km.
Tordesillas: 110 Km.
Chinchón: 159 Km.
Toledo: 184 Km.
Ciudad Rodrigo: 185 Km.

Activities Places to visit:

Ávila. Museums, Basilica of San Vicente, cathedral, monasteries, convents of St. Teresa and of St. Thomas, Cuatro Postes, City walls
Arévalo (50 km).
Gredos Mountain Range (79 km).
Madrigal de las Altas Torres: (75 km). Palace of Juan II. 15th Century. Mudejar Churches and remains of ancient walls.
Las Huelgas Monastery (Burgos). National Heritage.
Santa Clara Convent (Tordesillas). National Heritage.
Riofrio and La Granja de San Idelfonso (Segovia). Palaces. National Heritage.

Typical festivals

Summer festivals July.
Santa Teresa 15 October