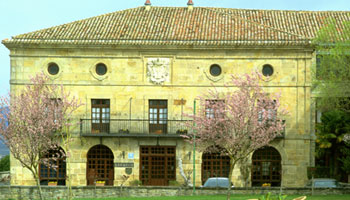 NOBLE STONE PALACE
The Parador occupies a splendid Renaissance palace, from which it dominates the natural beauty of the Plains of Álava, the Gorbea mountain range and the Ullibarri Gamboa reservoir. The surroundings invite you to wander around the small, pleasant village of Argómaniz, also ideal for enjoying the beautiful natural spaces.

The palace, where Napoleon regained his strength before attacking the town of Vitoria, boasts the Larrea family coat of arms on the façade of the building and a wonderful interior atmosphere, with the spacious living rooms standing out.

The rest of the common rooms, floors, furniture, large chests and other details are enhanced by the charm of its wood, a noble material which is also present in its unequalled dining room. It offers traditional recipes, including dishes such as 'perretxikos' (mushrooms), snails and 'goxua', a sponge cake with cream, whipped cream and caramel.


Hotel Facilities:

Banquet facilities
Cocktail bar
Conference facilities
Currency exchange
Disabled facilities
Parking facilities
Restaurant
Safe deposit box

Room Facilities:

Air conditioning
Cable / Satellite TV
Heating
Mini bar
Private bathroom / Ensuite
Telephone

Additional Information:

Distance to airport: 60 km
Distance to railway station: 2 km

How to get there:

Located 12 km from Vitoria/Gasteiz, the Parador de Argómaniz is located in the Larrea Palace. From its summit you can make out the Plains of Álavesa and the mountains of Urbasa and Gorbea. The Parador is easily reached from the N-1 main road--Madrid-Irún--which it is next to; you then take the Km 363 turn-off and from here, the town of Argómaniz is 1 km away.

Distances to nearest paradors

Santo Domingo de la Calzada: 75 Km.
Calahorra: 120 Km.
Olite: 120 Km.
Hondarribia: 125 Km.
Limpias: 127 Km.
Sos del Rey Católico: 139 Km.
Lerma: 161 Km.
Santillana: 209 Km.
Santillana Gil Blas: 209 Km.

Activities

Basque Pelota
Canoeing
Golf
Horse riding
Mountain bikes
Paragliding
Sailing
Trekking
Water-skiing
Wing delta

Places to visit:

Vitoria/Gasteiz (12 km). Santa María Cathedral, Museums
El Gorbea Ullibarri and Urrunaga. Salvaterra reservoirs (12 km), Gaceo (8 km) and Añara (8 km)
Garaco Nature Reserve (5 km)
Rioja Alavesa (40 km)

Typical festivals

White Virgin festivals 4 August, Vitoria/Gasteiz, 12 km.
Aste Nagusia/Semana Grande 15 Agosto, Bilbao/Bilbo, 70 km.
Semana Grande 8 August, San Sebastián/Donostia, 100 km.
San Fermines 7 July, Pamplona/Iruña, 85 km.