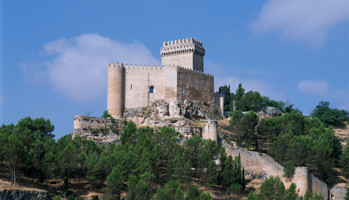 MEDIEVAL ARAB STRENGTH
This castle of S. VIII, authentic medieval strength, is based in a meander of the Júcar river, on a promontory in the contiguous manchego-levantinas.
The architecture of the Parador, which occupies the medieval castle of the Marquises of Villena, is the result of more than three centuries of history. Founded by the Muslims in the 8th century, it was captured by King Alfonso VIII in the 12th century. Inhabited by the notable man of literature Don Juan Manuel, it has been the scene of sieges and revolts.

The monumentality of the Inn is appraised in the Tower of the Tribute, the battlements and the interior. The Parador reopened its doors to the public on 15 June, after 8 months of works. Emphasis has been placed on the severity and sobriety of the building, eliminating paneling and offering an image which shows greater respect for the original building.

Regal oak wood and a mix of modern and classic have made this a new Parador, where the fabrics accentuate its medieval character. The use of reds and oranges contrasts with the sobriety of the space, and serves to frame a true collection of paintings which echoes the famous museum of abstract art in Cuenca.
Tapies, Redondela, Sempere, Amadeo Gabino, Alvaro Delgado, Martínez Novillo and Menchu Gal are just some of the painters whose work decorates the former Castle of the Marquises of Villena, a peaceful refuge on the Castilian plateau.

Game meat is protagonist
This territory straddling Cuenca and Albacete has always based its gastronomy traditions on the quality of the food. And if you lodge here during the winter, you may taste some elaborated dishes where the meat of hunted animals is the protagonist.


Hotel Facilities:

Cocktail bar
Currency exchange
Parking facilities
Restaurant

Room Facilities:

Air conditioning
Cable / Satellite TV
Private bathroom / Ensuite
Telephone

Additional Information:

Distance to airport: 132 km
Distance to railway station: 86 km

How to get there:

To the entrance of the same town, the inn of Alarcón is to 3 km of the N-III Madrid-Valencia, in km 187.


Click above to view map

Activities:


Places to visit:

Alarcón. Plaza de Don Manuel,churches, fortifications, towers.
Cuenca. (89 km). Hung Houses, Cathedral, Historical Helmet.
Dam of Alarcón (6 km).
Belmonte (75 km).
Ciudad Encantada (119 km).


Typical festivals

Moors and Christians 8 of January, Valverde de Júcar, to 40 km
Semana Santa Cuenca, to 85 Km
Ferias 8 September, Albacete to 90 km


Distances to nearest paradors

Cuenca: 86 Km.
Albacete: 90 Km.
Chinchón: 153 Km.
Saler, El: 186 Km.
Teruel: 208 Km.