Search this site
Copyright © All World Vacation Station




| | |
| --- | --- |
| SOUTH PACIFIC TRAVEL GUIDE | |

Papua New Guinea, officially named the Independent State of Papua New Guinea, is a country in Oceania that occupies the eastern half of the island of New Guinea (the western portion of the island is a part of the Indonesian provinces of Papua and West Papua) and numerous offshore islands. It is located in the southwestern Pacific Ocean, in a region described since the early 19th century as Melanesia. The capital is Port Moresby.

Papua New Guinea is one of the most culturally diverse countries in the world. According to recent data, 841 different languages are listed for the country, although 11 of these have no known living speakers.


Buy This at Allposters.com

Sights and sounds of Papua New Guinea by warrs

The country of Papua New Guinea, a striking land with untouched sceneries, presents new visitors with a trip like no other. Drizzles that wrap around the mountains of this third world country entertain those who visit this captivating location. Considered to be the last frontier for travelers, this island nation is located just north of Australia's East Coast, densely populated at 4.5 million people on 180,508 square miles. Papua New Guinea allows its visitors to be amid the abundant wildlife, smoking volcanoes, captivating culture along with offshore diving and snorkeling.

Although not many folks don native clothing during daily activity, visitors can get a glimpse of the native costume at special occasions or performances. An eventful sight like the mud men and the Chimbu players exhibit new experiences to tourists. 40,000 people journey to this place yearly seeking new experiences that will last them a lifetime.

Around 750 languages can be found in Papua New Guinea. Schools and even the government still promote English as the official language.


Buy This at Allposters.com

Asians populated Papua New Guinea formerly about 50,000 years ago its recent citizens assume. A Portuguese explorer who was the first European in the vicinity was responsible for naming it Ilahas dos Papuas or Island of Fuzzy Hairs.

Majority of our time in Papua New Guinea was spent getting familiar with the different surprises in the country, like hiking, going to the local markets, meeting friendly locals and even riding their local rides. We stayed at a lodge that was through a dirt road from Mount Hagen about six miles named house of friends in English. Every day a generator is turned on from 6 to 9 am and from 5 to 11 pm to provide electricity. To give guests a hot shower, wood would be burned daily. Climate is characterized as wet in Papua New Guinea so experiencing rain falls during the afternoon was nice making up for the warmer day.

Many mosquitoes swarm places that are both cold and hot and with them come diseases so to be on the safe side, we took malaria tablets.

What was so unique and fascinating about Mount Hagen is the fact that the first white man arrived only 62 years earlier. Going into the Highlands in 1938, three Australia bothers wanted to discover what Papua New Guinea had to offer. They were not only successful with their discoveries but also met 1 million locals. Only then did these ancient people discover that a land outside of their land existed.

Now these people have changed with the times wearing western inspired outfit to having religious beliefs and being commercialized. Although Papua New Guinea heritage is still preserved, especially in the rural areas, a western influence is obvious in the cities. Most people live in thatched huts and simply live on a day to day basis.

We finally made it to a friend's place, the farthest guest house on the mountain. Vibrant and helpful was our host who has stayed in Papua New Guinea all her life. She now makes a small living on the mountainside with her husband.


| | |
| --- | --- |
| GOROKA HOTELS & RESORTS, PAPUA NEW GUINEA | |

Goroka is the capital of the Eastern Highlands Province of Papua New Guinea. The town has an airport (in the centre of town) and is on the "Highlands Highway", about 285 km from Lae in Morobe province and 90 km from the nearby town of Kainantu also in the Eastern Highlands. Other nearby towns include Kundiawa in Simbu Province and Mount Hagen in Western Highlands Province. It has a mild climate, known as a "perpetual Spring".


Pacific Gardens Hotel, Goroka
Located in the grounds of an expat's residential estate, the hotel has been upgraded recently into a lovely eco-lodge. Sitting on a vast, hilly property with lovely lawns and an river close by. The hotel offers meals-inclusive packages and has a great restaurant. The hotel offers a roundtrip airport shuttle. Guests can also enjoy drinks as there is a bar/lounge. Wireless Internet access is available for a fee. Other amenities include gift shops/newsstands, free parking, dry cleaning/laundry services, currency exchange, a garden and laundry facilities.
More hotels & resorts in Goroka

| | |
| --- | --- |
| MADANG HOTELS & RESORTS, PAPUA NEW GUINEA | |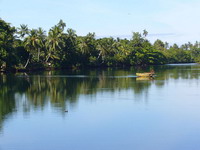 Madang is the capital of Madang Province and is a town with a population of 27,420 (in 2005) on the north coast of Papua New Guinea.

It was first settled by the Germans in the 19th century. Madang is the home of Divine Word University. The University accepts local and international students. In Madang province 173 regional languages are spoken, some of them being extremely different from the others.

Madang is a totally unexpected montage of immense physical beauty, tribal cultures, friendly people and pristine diving. An absolute must to discover, whether you're a diver, an adventurer or just wanting to relax and let the world go by. This delightful tropical garden township is a place where travellers can experience a diverse range of cultural and natural attractions.


Kalibobo Village, Madang
Set along Dallman Passage at the entrance of the Madang Harbour, Kalibobo Village is a secure village style resort complex with a selection of de-luxe rooms, waterfront executive bungalows with 2 presidential suites. Resort facilities are without equal in PNG and include a fully accredited PADI Dive Shop is located near the Resort Marina. In the main resort complex you will find shops, an art gallery specializing in authentic local artifacts, an MTS tours office, a modern business centre, wireless internet, hair salon, 3 first class restaurants, well equipped gym, bars and direct access to the Sana Convention Centre and Conference Rooms, the most comprehensive conference facility in PNG.
Madang Lodge Hotel
A charming 3-star property set in a prime location in the centre of Madang. Rooms include ceiling fan. Housekeeping services are also available. Dining facilities at Madang Lodge Hotel include a restaurant and a cafeteria. Breakfast is available - a surcharge will apply. There is also room service available. Other hotel amenities include garden and gift shop/newsstand. There is an outdoor swimming pool at the hotel.
Madang Resort Hotel
Madang Resort is ideally located at the entrance to the beautiful Madang Harbour, with absolute water frontage onto Dallman Passage and Yamilon Lagoon. You have a range of dining choices including the traditional style Haus Win Restaurant set along the waterfront with magnificent carved posts and bearers. The Haus Win features bistro and buffet meals, Western and Chinese a-la-carte and occasionally seafood bonanza buffets. For more formal dining the Janek Aben Restaurant, provides an excellent venue for that special occasion. The resort has a large fleet of sailing catamarans, kayaks and bikes available for guests, including tennis racquets and golf clubs.
More hotels & resorts in Madang

| | |
| --- | --- |
| PORT MORESBY HOTELS & RESORTS, PAPUA NEW GUINEA | |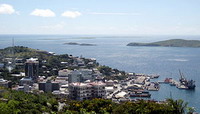 Port Moresby is the capital and largest city of Papua New Guinea (PNG). It is located on the shores of the Gulf of Papua, on the southeastern coast of the Papuan Peninsula of the island of New Guinea. Port Moresby is served by Jacksons International Airport, the biggest international airport and Papua New Guinea Defence Force Air Wing base in the country.


Airways Hotel Port Moresby
Airways Hotel is Papua New Guinea's leading hotel, Australasia's leading airport hotel and one of the most unique airport hotels in the world. Nestled into the mountainside in its own botanical gardens with stunning views from crystal clear waters of Bootless Bay to the majestic mountains of the Owen Stanley Ranges, it is located just 2 minutes from Jacksons International Airport, Port Moresby. The cuisines of the world unite at Bacchus to provide the finest dining experience in the South Pacific. Starched linen, Villeroy & Boch, a grand piano and crystal glassware complement fine produce, superbly cooked and served with style.
Holiday Inn Port Moresby
Holiday Inn Port Moresby is located in Port Moresby, close to Hubert Murray Stadium, Parliament House, and Port Moresby Golf Club. Nearby points of interest also include Lloyd Robson Oval and University of Papua New Guinea. Set in 5 hectares of landscaped gardens, the Holiday Inn Port Moresby offers a secure environment combined with international service standards and Papua New Guinea friendliness. Dining options at this Port Moresby hotel include a restaurant and a bar/lounge.
More hotels & resorts in Port Moresby