Off the beaten path in beautiful Croatia


Croatia has become a popular travel destination with its long and lovely coastlines right on the Adriatic Sea and its many islands. The country's inland capital, Zagreb, is fascinating to visit with its medieval buildings and many diverse museums. Croatia's major coastal city of Dubrovnik is also a popular location with its 16th-century walls and its fascinating Old Town comprised of Gothic and Renaissance buildings.

However, there is another side to Croatia that is well worthwhile heading a little off the beaten track to see. This article covers a couple of these interesting places to include on your itinerary when you travel in Croatia. Visit the home of scientist Nikola Tesla, a monument that reminds strongly of the "Star Wars" films and view the incorruptible body of a 4th-century saint.
Nikola Tesla's home and museum in Smiljan
The famous scientist, Nikola Tesla, was born on July 10, 1856 in the small city of Smiljan in Croatia and lived in a simple family homestead comprising a small, whitewashed house, a barn and the Serbian Orthodox Church of which Tesla's father was minister.




Back on July 10, 2006 to celebrate the 150th anniversary of Tesla's birth and during Croatia's "Year of Nikola Tesla," his humble birthplace and home was opened as a public museum. The museum is split into the two halves of Tesla's self, namely his idyllic country upbringing and his scientific adult life.

In the multimedia center of the museum, there are hands-on science exhibits and a playground for future scientists and this has become a surprising and popular tourist attraction in the area.




One of the most noteworthy exhibitions in the multimedia center is a demonstration of rotating magnetic field principles, illustrated with a jumping-and-jittering iron egg. It was the idea of Tesla, the man who wanted to give the world free electricity, that two or more magnetic currents interacting with each other alternatively take control of the iron egg and make it spin in seemingly random directions and at varying speeds.

This is a fascinating place for budding scientists and anyone interested in aspects of Nikola Tesla's life. To reach the museum take the main highway Zagreb to Split and close to Smiljan, take the Gospic exit. Then follow the signs for the museum for approximately five kilometers into Smiljan.
Podgaric Monument in Podgaric
"Star Wars" fans will enjoy viewing this fascinating architectural feat, located at the top of a hill in the small town of Podgaric, as it looks incredibly similar to the famous Millennium Falcon, Hans Solo's well known space ship. The monument towers over an artificial lake below. However this fascinating monument has no relationship whatsoever with science fiction and the popular "Star Wars" movies. The monument was erected in 1967 by Dusan Dzamonja as a memorial to a 1941 uprising in Croatia.

The structure is an impressive architectural feat and was commissioned by Tito, the long-time dictator of Yugoslavia, who commissioned a number of similar monuments throughout Yugoslavia. While the monuments were intended to symbolize power and triumph, most have been poorly maintained since Yugoslavia fragmented, but the Podgaric Monument is still worth a visit.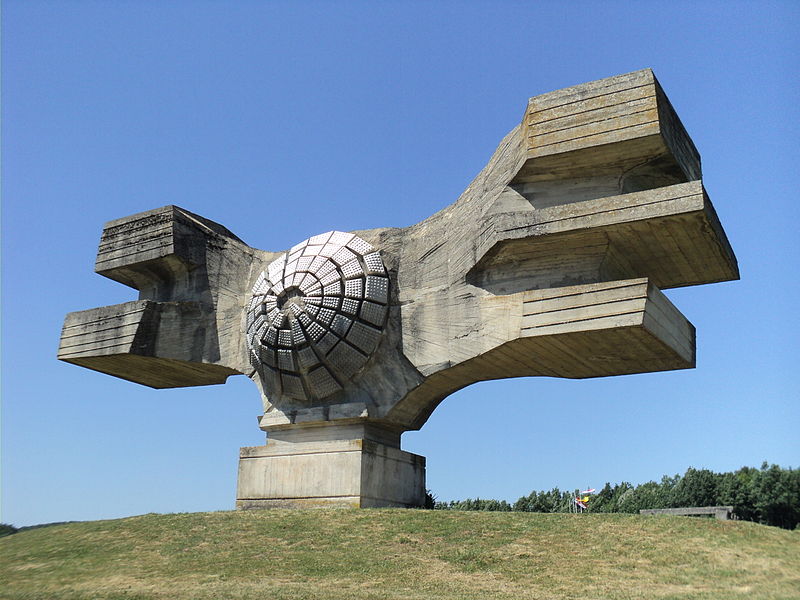 Podgaric Monument, Croatia in the Public Domain by Plamen
The Relic of St. Silvan in Dubrovnik, Croatia
A rather more gruesome visit is to the Church of Saint Blaise in Dubrovnik where under the altar of the church lies a waxy, reportedly incorruptible, body of a 4th century martyr. In the image below, St. Silvan can be seen with his head thrown back on the pillow, revealing a bloody gash on his neck, the apparent means of his martyrdom.

While not much is known about St. Silvan, his rather impressive and incorruptible body has earned him a special display in the church. According to people who have seen this site, the face does not appear to have been made out of wax and the gash on the neck does not appear to have been painted on. According to experts, St. Silvan has never decayed in the over 1,500 years since his death.




Enjoy your off the beaten path in fascinating Croatia, where they are many more interesting and exciting destinations to visit and watch some beautiful scenes of Croatia in the video included below, taken from the air with a DJI Phantom 3 Professional.