Search this site
Copyright © All World Vacation Station




| | |
| --- | --- |
| SOUTH PACIFIC TRAVEL GUIDE | |

New Caledonia: Detailed travel guide to water activities by Dennis Connor
When you talk about water activity based travel guide to New Caledonia, P&O cruises blog and articles would be the ultimate source to explore. New Caledonia is an island offers water sport activities in very novel way worth spending of your money.

Sailing

New Caledonia is the right place to enjoy the seasoned marine and sailing life. Here your dream of sailing come true on the Caledonian lagoon. It is most charming destination for nature lovers to capture the enchanting beauty in their cameras.

It is the world's biggest island with more exciting and untouched choices where tourist would love to sail around exploring this biggest archipelago. Merely everything is available to satisfy sailor's need.

Buy This at Allposters.com
You can sail in world famous cruises, yacht charter, with/without skipper, with/without a host. You can book your travel in southern seas with great experience of whale route or drive water taxis towards the closest islands to Noumea.
There are several modern and latest marinas offering all kinds of boats. You can book Hulls which are less than 15 feet long can move in the southern port in Noumea, Grande Terre and all other islands. Port Moselle Marina located in the capital is also worth visiting which accepts 25 meters long boats. Finally, the Super Yachts can moor at the Quai des Scientifiques or at the Quai des Paquebots or at the Quai du Musee Maritime.
Diving
Caledonia has very beautiful and biggest lagoon worldwide. It is ultimate destination for diving lovers to feel the glorious silence of sea. The serenity of ocean is accessible for fresh and experienced divers.
The services are rendered from basic information to scuba potholing, through internships, licensing, baptisms, photo essays and night diving. Loyautte islands are full of novel and wonderful experiences with the opportunity to discover natural beauty, color and enthusiasm all around the clock. Your visit to fauna like blue grouper, parrots, eagle rays, grouper, reef sharks, turtles, dugongs lobsters would be amazing. Other worth visiting sites are Casy Islet in the Bay of Prony, the Reef Abore in the Dumbea pass, Epave de la Joliette in Thio, the rift of Bayes in Poindimie and the garden of Eden (jardin d'Eden) in the Ile des Pins.
The surfing submarine life of New Caledonia is full of shellfish, wonderful porcelain Cyprae Niger and the Conch. Marine life is very luxuriant with full of colors flora, caves channeled with bryozonas and sea fans, sponges in unexpected forms, balls or bushes, corals in corollas, urchin tiaras, crinoids and starfish.
It is favorite amongst tourists but some of the places remain unpolluted clean and unspoiled. It all depends on the ability of divers how they keep unspoiled. Pleasant scenery, peaceful and pleasant surroundings gives you remarkable experience, decending by the cable to arrive at the coral and multicolored fish give an unique sensation of freedom.
Watersports
Caledonia holidays are also famous for water sports like surfing, kite, windsurfing, and many more for freshers and experienced.
Visiting and surfing in New Caledonia is just like winding up the heart of the wave in secluded sites on high-class breaks. Here surfing is practiced for decades longer. A town opposite to Bourail located on the west coast is famous for surfing Roche Percee beach formed by the waves in its largest channel and coastal reef. Du grand recif surfing is very hard and challenging. Surf camps offer lodging, food and transfers to the "hot spot"? the West Coast and especially to Dumbea pass situated 17 km away from south-west of Noumea.
New Caledonia is the main attraction on the windsurfing circuit where several international champions have earned their name in windsurfing. The parade of sailboards brings the waters of Cote Blanche and Anse Vata to life.
Another spectacular sport named Kite surfing is organized since last 10 years. Kite surfers surf on mini-surfboard with speed crossing and freestyle jump several meters long. Kite surfing has become highly popular in New Caledonia especially fun to explore the islets of nearby lagoons. Other great varieties of sport activities include wake boarding, water skiing, paddle boarding and lot more.


| | |
| --- | --- |
| ILE DES PINS HOTELS & RESORTS, NEW CALEDONIA | |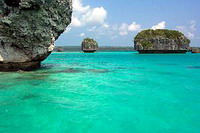 The Île des Pins or Isle of Pines is an island located in the Pacific Ocean, in the archipelago of New Caledonia, an overseas collectivity of France. The island is part of the commune (municipality) of L'Île-des-Pins, in the South Province of New Caledonia. The Isle of Pines is nicknamed l'île la plus proche du paradis ("the closest island to Paradise"). It has snorkeling and scuba diving in and around its lagoon. Species of tropical fish and corals can be seen in the transparent water. The island lies southeast of Grande Terre, New Caledonia's main island and is 100 kilometres (62 mi) southeast of the capital Nouméa. There is one airport (code ILP) with a 1,097 m (3,599 ft) runway. The Isle of Pines is surrounded by the New Caledonia Barrier Reef.


Le Meridien Ile Des Pins
Located on the beach on Isle of Pines, Le Meridien Hotel is only a 10-minute drive from Moue Airport. This property is close to Natural Aquamarine Pool, Kuto and Kanumera beach. Some of the city attractions include Natural Aquamarine Pool, Tour on Outrigger, Scuba Center, Kanumera Bay and Kuto Bays. Guests can enjoy the ultimate tropical dining experience at La Pirogue Restaurant set near the glittering waters of Oro Bay which offers exquisite French/Melanesian dishes. Guests can relax and enjoy a drink at La Boussole Bar Lounge. Enjoy a dip in the outdoor pool or indulge in activities such as volleyball, cycling, tennis and snorkeling.
Oure Tera Beach Resort, Ile Des Pins
Situated on the beach in Isle of Pines, close to Kanumera Beach and Kuto Beach. Dining options at this beach resort include a restaurant and a bar/lounge. Guests are served a complimentary breakfast. The staff provides tour/ticket assistance, wedding services, and event catering. Additional amenities include an outdoor pool, gift shops/newsstands, and dry cleaning/laundry services. The 30 air-conditioned guestrooms at Oure Tera Beach Resort include coffee/tea makers and irons/ironing boards. Complimentary wireless high-speed Internet access is provided. Rooms are equipped with flat-panel televisions with satellite channels.
More Hotels in Ile Des Pins

| | |
| --- | --- |
| NOUMEA HOTELS & RESORTS, NEW CALEDONIA | |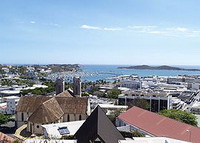 Nouméa is the capital city of the French special collectivity of New Caledonia. It is situated on a peninsula in the south of New Caledonia's main island, Grande Terre, and is home to the majority of the island's European, Polynesian (Wallisians, Futunians, Tahitians), Indonesian, and Vietnamese populations, as well as many Melanesians, Ni-Vanuatu and Kanaks that work in one of the South Pacific's most industrialised cities. The city lies on a protected deepwater harbour which serves as the chief port for New Caledonia.


Casa del Sole Apartments, Noumea
A beachfront hotel in Noumea. Noumea Harbour, Noumea Cathedral and Place des Cocotiers are within easy reach. Moreover, Stade Numa-Daly Magenta is close to the hotel. The hotel offers an outdoor pool, gift shops/newsstands and dry cleaning/laundry services. The front desk is available 24 hours-a-day and can provide tour/ticket assistance, express check-in and express check-out. Wireless Internet access is available for a fee. The lobby offers a TV, free newspapers and a safe deposit box at the front desk. Other amenities include air conditioning in public areas, free self parking, currency exchange, an elevator (lift), beach/pool umbrellas and a garden.
Hotel Le Lagon, Noumea
A family run New Caledonia hotel recently rebuilt from the ground up. The hotel has a pool, health spa and a brand new wing making it oneof the most modern and comfortable in Noumea. A restaurant offers fine cuisine in a South Pacific ambiance. A fully-equipped gym for your daily work-out. A heated pool, sunbathing area and spa pool to relax and enjoy our sunny climate. A range of services to enhance your stay even more. Accommodation provides you with every convenience to ensure an enjoyable stay. Luxurious, air conditioned and fully sound proofed, the studio and one-bedroom suites are self-contained with kitchenettes. 14 of the suites can be adjoined to studio rooms via the balcony, perfect for up to six guests
Ramada Plaza Noumea
An "Apart-hôtel" in the heart of Anse Vata, offering everything from studios to 3 bedroom apartments, the rooms & suites are modern, spacious, fully furnished and equipped with kitchens. Throughout the hotel and in the rooms you have free access to the Internet. Relax on a sun lounger by the pool amidst our tropical garden, pamper yourself at the Ramada Spa, get active in our fitness room, enjoy a buffet breakfast at the restaurant "Le 360" with breath-taking views over the bays of Noumea! The restaurant also offers a set weekly menu and there is a bar to relax and enjoy a drink.
More Hotels in Noumea