Bari (Barium in Latin, Bàrion or Vàrion in Greek, Bare in Barese Dialect) is the capital city of the province of Bari and of the Apulia (or, in Italian, Puglia) region, on the Adriatic sea, in Italy. It is the second economic centre of mainland Southern Italy and is well known as a port and university city, as well as the city of Saint Nicholas. The city itself has a decreasing population of 328,458 over 116 km², while the fast-growing urban area counts 653,028 inhabitants over 203 km². Another 500,000 people live in the metropolitan area.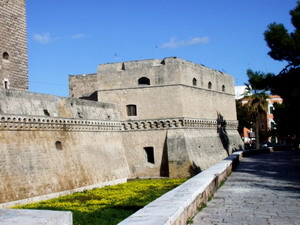 Bari is made up of four different urban sections. To the north, the closely built old town on the peninsula between two modern harbours, with the splendid Basilica of San Nicola (Saint Nicholas), the Cathedral of San Sabino (1035 - 1171) and the Castello Svevo of Frederick II, is now also one of the major nightlife districts. The Murattiano section to the south, the modern heart of the city, is laid out on a rectangular gird-plan with a promenade on the sea, and the major shopping district (the via Sparano and via Argiro). The more modern city surrounding this center was the result of chaotic development during the 1960s and 1970s over the old suburbs that had developed along roads splaying outwards from gates in the city walls. Finally, the outer suburbs have been in rapid development during the 1990s. The city has a redeveloped airport named after Pope John Paul II, Karol Wojtyla Airport, with connections to several European cities.
Bari is now mostly a modern industrial city. Nevertheless, some of Italy's most interesting and undiscovered areas lie within the province of Bari, and the region of Puglia. Bari itself is a proud and hard-working port city with strong traditions based on its Saint Nicholas. Bari is known throughout Italy for its strong, often crude, spoken dialect, particularly in the Old Town, parts of which originated from a pidgin between Italian and Greek fishermen in the past, and which fishermen in Greece can still understand today. Bari is also known for its culinary traditions, in particular Orecchiette with Cime di rape, little ear-shaped pasta with turnip tops, and its common Sunday dish "pasta al forno", which varies from family to family including anything from eggs to Octopus.
top / Bari Featured Hotels / Apulia Self-Catering Accommodation