---
| | | |
| --- | --- | --- |
| | ul. Grodzka 51, 31-001 Kraków | |
Hotel in the heart of Krakow, Poland
We are very pleased to welcome all our guests who wish to rest after a long and tiresome journey or enjoy exquisite food and drinks. We are all here to serve you offering cosy and comfortable rooms where you can relax after long conferences and business meetings or stretch your legs after a round Krakow sightseeing tour.

There are 20 single and double rooms including two LUX rooms on three floors and in the penthouse. Each bedroom is provided with en suite bathrooms or shower, telephone, satellite TV, free access to DVD channels and the Internet, and mini bars.

The windows overlooking Grodzka Street offer a breathtaking view of the 17th c. monumental Church of SS Peter and Paul built in Baroque style and the 11th c. St. Andrew's Church, one of the oldest temples in Krakow. The windows of the other side of our hotel overlook the historical buildings of the former Wawel Chapter and the Kosciuszko Mound.




Restaurant

Krakow attracts tourists like a magnet. Known as "the city of living stones", Krakow has witnessed Polish history for over a millennium. Hotel Senacki, restored in meticulous detail, is part of the ancient structure of the town. Here in deep cellars of the hotel medieval merchants stored barrels with wine, beer and mead for the royal family. Legend has it that the dragon that lived in a cave underneath Wawel Castle drank water from the Vistula to quench its thirst. Our mission is to be a haven on the royal route where the need for comfort, peace and taste is lavishly satisfied. We invite you to the Senacka Restaurant located in the Column Lounge where you can order exquisite old Polish style dishes and European meals. We also recommend a wide selection of alcoholic beverages and wines from renowned vineyards of France, Italy, Spain and the New World.

Cafe - Pub

The hotel cellars - formerly used for merchant stalls - are located on the medieval street level and house a fine cafe and pub in five stylish chambers: Baroque, Beer, Merchant, Portal and King Ladislas the Elbow High Halls. Hiding from the scorching summer heat you can listen to good music and talk to friends over a glass of beer. All chambers are equipped with the latest in audio-visual equipment to meet the needs of the most discerning clientele. A glass of quality drink before retiring to bed is highly recommended.

Football fans can watch Polish and European Premier League matches on a plasma screen.

Training Courses

Our hotel offers facilities for business meetings, training courses, conferences, board meetings and all types of conventions. The Column Lounge and underground lounges are all equipped with state-of-the-art audio-visual equipment. Whatever the event, we will provide a total service from start to finish including filming and commemorative photos. All arrangements are individually made to suit your particular requirements and to ensure that your special occasion is a complete success. Our prices for room and equipment rental, catering and additional features are particularly attractive for conference and training course participants who stay at Hotel Senacki. For parties over 35 persons we can reserve accommodation in adjacent hotels and meeting venues within Krakow's Old Town.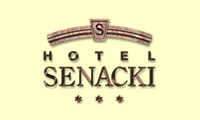 ul. Grodzka 51, 31-001 Kraków