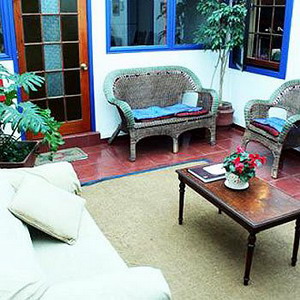 Hostal Reloj de Flores is a beautiful, recently renovated, hostel and bed & breakfast with a new style, focused on giving you a fun and pleasant stay in Vina del Mar. It is a charming house, built at the beginning of the century, located one street away from the beach, the Flower Watch, and the Sheraton Miramar HOtel.

The hostal is also a few steps away from Vina del Mar's mall, banks, ATM, the best pubs, bars, discos and restaurants, a few metres from public transportation to any point in the region.

The hostal has over 100 films to watch, books to exchange, card games, chess, dominoes, checkers, chub, backgammon, poker, cribbage and a complete programme of local activities, discos, pubs, restaurants etc.
Our tasty breakfast, with fruits, cereals, yoghurt, cake, coffee, tea, chocolate and milk, will give you the required energy to walk along the seaside, go the Renaca and Con Con...

Enjoy the best sea food of the region, or take a bus to Horcones, a fishermen village where you can relax. 7 minutes from Valparaiso city, with its magic hills and arquitectonic diversity.