---
Hale Alana Vacation House
Kihei, Maui, Hawaii
---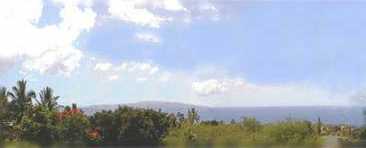 We are only a minute drive from the exquisite beaches of Wailea, Hawaii, yet perched on the hillside of Maui Meadows.

On this property are beautiful statues, pagodas, tables and benches, and a six foot flowing fountain on a half acre of paradise. The pathways throughout the yard lead up to a deck with a hot tub, lounge chairs, and a magnificent panoramic ocean view of neighboring islands.

We have also provided three outdoor dining areas with tables, chairs, and chaise lounges for total, luxurious relaxation. We are very proud of the beautiful environment we've created. We thought of everything we wanted in a vacation place and created it! In addition to the tranquility and privacy you will experience, we have organic fruit trees such as papayas, bananas, oranges and tangerines. And to make your stay even more pleasurable, we have provided all the fun things for the beach, such as towels, umbrellas, chairs, snorkel gear, and boogie boards, all free of charge.
Rates available on inquiry
Your Name:

Your E-Mail:

Confirm Email Address:

Tel. No:

Address:

No in Party:

Arrival date:

Departure Date:

Second choice arrival date:

Second choice departure date:

Your budget should this option not be available:

Additional comments and requests: