Search this site
Copyright © All World Vacation Station




| | |
| --- | --- |
| SOUTH PACIFIC TRAVEL GUIDE | |

Guam is an unincorporated territory of the United States in the western Pacific Ocean. The island's capital is Hagåtña (formerly Agaña). Guam is the largest and southernmost of the Mariana Islands.

Places to visit:

Two Lovers' Point: Two Lovers' Point, also known as Puntan Dos Amantes and forming the northern tip of Tumon Bay. Legend says that a pair of star-crossed lovers whose parents would not allow them to marry tied their hair together and jumped to their deaths from this 378-foot cliff. Visitors have a splendid view from this point of the gleaming white-sand beaches and lush hillside along the Philippine Sea and in central Guam.

Chamorro Village: Located next to the Hagatna Boat Basin and Paseo Stadium, the Chamorro Village offers visitors a glimpse into the island's culture, lifestyle and guam restaurants, guam food places, guam coffee shops, guam fast food and best guam foods and guam food guy. This little shopping "village" features a variety of local restaurants on guam, guam fast foods and handicrafts. Vendors sell everything from clothing to handicrafts, bananas to betel nuts.


Buy This at Allposters.com
And the aroma of freshly cooked local foods emanates from small booths where cooks stir steaming pots of seafood.
Tumon Bay: Many of Guam's most elegant hotels, bars and grills are situated on the strip of white sand bordering the sparkling aqua waters of Tumon Bay. Guam's favorite playground is bordered at both ends by towering green cliffs. There are a number of public parks and beaches to explore along Tumon Bay, as well numerous shops for you to go shopping.
There are a number of small islands off the coastal waters of Guam, the most notable of these being Cocos Island. Remaining islands are much more smaller than Cocos island. Many islands make for some excellent diving spots to see tropical fish.
Hagåtña, formerly English Agana and in Spanish Agaña, is the capital of the United States territory of Guam. It is the island's second smallest village in both area and population. From the 18th through mid 20th century, it was Guam's population center. Today, it remains one of the island's major commercial districts in addition to being the seat of government.


| | |
| --- | --- |
| TAMUNING HOTELS & RESORTS, GUAM | |

Tamuning is a municipality or village located on the western shore of the United States territory of Guam. The village of Tamuning can be viewed as the economic center of Guam, containing Tumon (the center of Guam's tourist industry), Harmon Industrial Park, and commercial districts in other parts of the municipality. Its central location along Marine Corps Drive (the island's main thoroughfare) has aided in its development.

Hotel Santa Fe Guam, Tamuning
Hotel Santa Fe is that it is the most photographed hotel on Guam. This 105 rooms property reflects Guam's warm and colorful Spanish Heritage in its architecture and sunny atmosphere. A Beachfront Boutique Hotel located on Beautiful Hagatna Bay, which in itself is renowned for the beauty of its spectacular Sunsets. Guests enjoy the soothing pace of the tropics while lounging by the infinity pool or partake of one of our myriad of ocean activities, and culminating the day with Dinner and Live entertainment at the Santa Fe Grille.
Onward Beach Resort, Tamuning
Onward Beach Resort boasts the best waterpark on Guam, a privately secluded beach area and a relaxing room with an area of more than 44 square meters. Guests who stay at the Onward Beach Resort has free access to enjoy Guam's best waterpark. The culinary skills of the Japanese chef shines in the classic dishes and our chef from Japan with his sharpened Italian specialty is preparing legendary cuisine waiting for you, At the overpowering Polynesian Dinner show, you will experience the tropical resort atmosphere to the fullest.
Sheraton Laguna Guam Resort, Tamuning
Sheraton Laguna Guam Resort is a business-friendly hotel located in Tamuning, close to Statue of Liberty, Paseo Baseball Stadium, and Cathedral of Dulce Nombre de Maria. Additional points of interest include Plaza de Espana and Agana Shopping Center. Recreational amenities include an outdoor pool and a 24-hour fitness facility. The property's full-service health spa has massage/ treatment rooms. Complimentary wireless Internet access is available in public areas. This Tamuning property has 4 meeting rooms. Room service is available 24 hours a day.
More resorts and hotels in Tamuning

| | |
| --- | --- |
| TUMON HOTELS & RESORTS, GUAM | |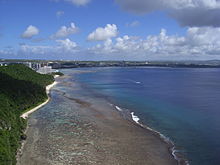 Tumon is an area located on the west coast of the United States territory of Guam. Located in the municipality of Tamuning, it is the center of Guam's tourist industry. Tumon, as being Guam's premier shopping district has many malls and shopping arcades. Tourists flock to the beaches to enjoy the clear water and a day full of activities. The beaches in Tumon are all wildlife preserves. Fishing is allowed in certain areas, but fishermen must stand on the beach to cast their nets or fishing lines. Walking into the water to fish is illegal.

Fiesta Resort Guam, Tumon
Located directly on Tumon Bay, the Fiesta Resort Guam features an ideal location for any vacation. In the tropical islands of Micronesia, as in many countries around the world, the word Fiesta represents fun, celebration and a warm cultural tradition. This is the focus of the Fiesta Resort Guam. Carefully designed to offer a memorable vacation experience, guests will discover the warm hospitality and culture of the islands through modern tropical design. The new rooms feature nature colors of the sand and sea, inviting guests to relax in fresh contemporary surroundings unlike any others in Micronesia.
Grand Plaza Hotel, Tumon Bay
Conveniently located on the 1st floor of the hotel are shops, boutiques of every kind. When visiting Guam, treat yourself to the best that the island has to offer by staying at the beautiful Grand Plaza Hotel. When you first walk in and experience the comfort of our lobby, you'll know at once that you've made the right choice. Our comfortable guest rooms will ensure that whether you're ready to retire for the night, or just need a short rest from time to time during your fun filled days, you'll experience total and complete relaxation.
Pacific Bay Hotel, Tumon Bay
Boasting tranquil ambience and luxurious accommodation, this charming hotel is an ideal place to reside when you are in Guam for vacation. The Pacific Bay Hotel is situated in Tumon area, where most of Guam's entertainment and shopping centres gather. The hotel is just one block from the beach and 10 minutes drive from Guam International Airport. This property offers elegantly decorated guest rooms that are spacious air-conditioned and comes with all comfort to satisfy the needs of discerning travellers.
More resorts and hotels in Tumon