Search this site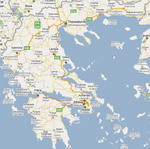 View map of Greece

Santorini, Greece
Buy at AllPosters.com


Santorini Island, Greece
Buy at AllPosters.com

Copyright © All World Vacation Station




Lake Vouliagmeni and its medicinal waters by Jakob Jelling
Vouliagmeni Featured Hotels
The Lake Vouliagmeni is not only famous as a very beautiful spot but also but also as containing medicinal waters. This spot has been visited by people who wish to enjoy its waters for centuries, and is one of the most attractive areas in the Greek region of Peloponnese. Visitors approach in order to enjoy its beautiful shores, practice different water sports, relax in front of unique landscapes, taste excellent local dishes, and have a great time in a picturesque environment.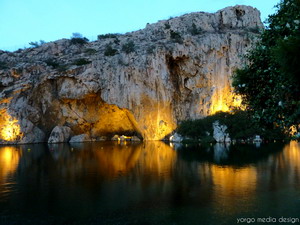 Lake Vouliagmeni has an extension of about 26 km or 15 miles, and is located within the municipality called after it, Vouliagmeni, at about 20 kilometers from the central area of Athens. This lake provides an ideal destination for all those who enjoy water related activities, and it is very common to see visitors fishing, swimming and even windsurfing in this region.
The municipality of Vouliagmeni has a population of about 4000 inhabitants, and offers a very beautiful scenery which combines the attractive of the water which the charm of an appealing mountainous background provided by the Hymettus mountains. This municipality has many beautiful beaches and shores, some of them by the sea and some others provided by Lake Vouliagmeni, but all of them beautiful and ideal for relaxing while observing unique sights.
Lake Vouliagmeni's waters partially come from underground currents from Mount Hymettus. This lake is at about 40 cm from the regular level of the ground and one of its most peculiar and appealing characteristics is based on the fact that its waters offer a constant temperature of about 24º C, a fact placed among the first qualities in the list of the lake's attractions.
Before the middle Ages, Lake Vouliagmeni was a cavern. This cavern became the actual lake after an important earthquake caused it to collapse and take the actual shape and characteristics. Nowadays, the lake can be still traced into Mount Hymettus, and it is possible to see, now and then, some experienced divers exploring it, although it is not recommendable to amateurs due to the important risks it implies.
About the Author - Jakob Jelling is the founder of Eurotomic.com.

| | |
| --- | --- |
| FEATURED VOULIAGMENI, GREECE HOTEL ACCOMMODATION | |

Search for more hotels in Vouliagmeni
Amarilia Hotel Vouliagmeni
Offering comfortable accommodation and convenient facilities, the Amarilia Hotel Vouliagmeni is an ideal place to spend your relaxing vacation. The Amarilia Hotel is located in Vouliagmeni, one of the most peaceful and green suburbs of Athens. The distance from the centre of Athens is close enough for clients who need to transfer and far enough to enjoy the tranquillity, cleanliness and picturesque area. The hotel boasts 90 luxury rooms and 5 suites, all of which have sea or pool view. The comfortable onsite restaurant of 370 seats offers a wide choice of international and Greek cuisine and satisfies all dietary needs. The hotel also has a cafe bar that serves snacks, as well as a pool bar.
Arion Resort and Spa Vouliagmeni
Situated on a Vouliagmeni beach, this luxury resort is close to Vouliagmeni Spa Lake. Arion Resort And Spa has a private beach, a health club, an outdoor pool, a sauna, and a fitness facility. Arion Resort And Spa features a full-service spa. Business amenities at this 5.0-star property include wireless Internet access, meeting rooms for small groups, and secretarial services. There are 7 restaurants as well as a bar/lounge. 24-hour room service is available. This property provides an airport shuttle (surcharge). The staff can arrange dry cleaning/laundry services, tour assistance, translation services, and currency exchange. Additional amenities include a coffee shop/café, a concierge desk, and an arcade/game room.
Plaza Vouliagmeni Strand Hotel Vouliagmeni
Just a stone's throw away from the sandy beaches of Vouliagmeni and a 20 minute drive to Athens Center, Plaza is the ideal place to relax and to conduct business at the same time. Our unique location means you are near the center of Athens and the Acropolis, very close to the Airport (ideal for stopovers) all while staying in a resort area. Inside this gracious Hotel, quiet elegance prevails. The sophistication of the lobby's decor extends to its restaurants and lounges.
The Westin Athens Astir Palace Beach Resort Vouliagmeni
Thanks to its unique setting on a private peninsula in the heart of the Athens Riviera, The Westin Athens Astir Palace Beach Resort offers the best of both worlds. Relax at classic seaside resort, with cosmopolitan city life just a short drive away. Swim or lounge at our Olympic-sized pool and private beach, or take to the sea for a variety of activities. On land, youíll find tennis, volleyball, a fitness center, and plenty of kidsí options, plus a gorgeous new spa just steps away. The ultimate destination in the Mediterranean to find renewal with a private beach, pool, and sports in the heart of the Athenian Riviera.
Continue browsing hotels in Vouliagmeni