Search this site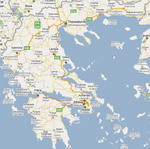 View map of Greece

Rhodes, Greece
Buy at AllPosters.com

Rhodes, Greece
Buy at AllPosters.com

Copyright © All World Vacation Station




Rhodes Island Featured Hotels
Holiday in Rhodes - perfect destination for a Greek holiday by Simon Johnson
Located in east of Aegean Sea, Rhodes is a Greek island and is home to the famous Colossus of Rhodes as well as to one of the world heritage sites too. The Rhodes Island is famous for its hot and sandy whether among tourists across the world.

Holiday in Rhodes can be made more exciting once you know about the things you can do and see in this Greek island. Following are some of the things you must visit when visiting Rhodes:

Beaches of Rhodes

Rhodes Island has beautiful beaches to its platter to make your holiday in Rhodes a memorable one. The Mediterranean coastline of this Greek island has been known for adventure like windsurfing and elements like sunbathing, among tourist and visitors.


Buy at AllPosters.com
Some of the famous beaches of Rhodes Island are Rhodes town beach (it's a European beach rating's winner and is a family place with clean environment), Tsampika beach and Afandou beach. These beaches are equipped with all kinds of facilities for relaxation and entertainment of tourist and visitors. There are also resorts offering all kinds of water sports.


Buy at AllPosters.com

Tranquil Kalithea Bay

This coastline offers a stunning trip to underwater caves and rich marine life beneath Rhodes Island.

Ialyssos

This old city is situated at a distance of 15 minutes from airport and has a touch of ancient Greek era and modern atmosphere. The place is surrounded with history rich sites, remarkable eating places, cluster of shops and a sandy beach. Situated lot near to Rhodes Island, the city also has Philerimos Hill along with many such historical spots with amazing archeologically rich structure. The city has incredible places to visit and to enjoy a great holiday.

Valley of the butterflies

Situated at the distance of 7 km from Theologs villages, the place is a gorgeous tourist spot in whole of Europe and has stunning view of butterflies.
Island of Symi
A holiday in Rhodes is incomplete without a boat trip to island of Symi. The place is known for stunning and gorgeous harbors, making it a heaven for all the local visitors or foreign tourists.

Palace of the Grandmaster

Palace of Grandmaster is metaphorically rich fort situated at the top of the island and has rich historical background to it. The palace was destroyed in 1856 in an accident and was later restructured in 1900. This huge marvelous structure of Greek land has large number of towers and rooms. Every holiday in Rhodes should include a walk on this site.

Hamams

The Turkish baths of Rhode islands offers a great bath under supercilious dome and skylights in star shape. The Hamams are known to have 250 years old history to it.


Buy at AllPosters.com
Best time to visit or holiday in Rhode Island
The best time to holiday in Rhode Island is the months of late summer, late spring and early fall. Avoid visiting Rhode in hot and humid months of July and august.
Featured Hotels on Rhodes Island
About the Author - I hope you found this article of interest, if so, you can find out more at http://www.package-holidays.me.uk . At this site you can watch a variety of holiday videos as well as learn more about holiday destinations and a Package Holiday.


| | |
| --- | --- |
| FEATURED RHODES ISLAND, GREECE HOTEL ACCOMMODATION - INTERNET SPECIALS | |

Rhodes Island/Rodos Hotel Search
Atrium Palace Thalasso Spa Resort Kalathos Beach
Designed to reflect many architectural influences from past civilizations the Atrium Palace Thalasso Spa Resort & Villas is in an idyllic setting, 42 km from Rhodes International Airport on the east coast, just 200m from Kalathos beach. The linked buildings have stunning views of Kalathos Bay and surrounding coastline. This colonial-style palatial building is built around an inner courtyard or atrium complete with palm gardens, pretty water features and a profusion of flowers and shrubs, creating a peaceful and tranquil atmosphere. Cascading waterfalls, sun terraces and lush vegetation wrap around the split-level swimming pools creating its own tropical oasis.
Doreta Beach Hotel, Rhodes Island
The Doreta Beach is located on the west coast of Rhodes near the pretty village of Theologos or Tholos, about 17km from Rhodes town. The hotel is actually situated on a beautiful beach. The hotel has a great atmosphere, not only providing an excellent environment for families, but equally suitable for all guests. The spacious lawns leading down to the tree-lined beach is a fun place for children to play carelessly and safely. The Hotel's beach has been awarded with the European Blue Flag for the last 4 years. The Doreta Beach Rhodes has also been awarded for 7 years for its high standard of service from various Tour Operators, such as Thomson, My Travel, Lastminute.com / Medhotels....etc.
Hotel Marie Rodos Rhodes Island
Marie Rodos is a lovely budget hotel, located on the island of Rhodes, only a few minutes walk away from the famous Medieval city of Rhodes and just steps away from a beautiful beach with gold sand! Marie hotel was built in 1977 and was later on extended and refurbished in 1995 so as to welcome its guests in the best way. Marie Rodos hotel is found opposite the casino of Rhodes and very close to the shopping and restaurant area of the city centre. If you are looking for a friendly hotel to your budget and with an excellent location, Marie Rodos is the place to be!
Kresten Palace Rhodes Island
Kresten Palace is located near the beach in Rhodes Town and close to St. Catherine Hospice, Rhodes Archaeology Museum, and Palace of the Grand Masters. Nearby points of interest also include Rhodes Aquarium and Acropolis of Rhodes. This Rhodes Town property has a private beach. Dining options at Kresten Palace include a restaurant and a bar/lounge. Room service is available during limited hours. Recreational amenities include an outdoor pool, a children's pool, a sauna, and a fitness facility. Wireless Internet access (surcharge) is available in public areas. Guest parking is complimentary. Additional property amenities include a poolside bar, barbecue grills, and multilingual staff.
Continue browsing hotels & resorts on Rhodes Island/Rodos