Search this site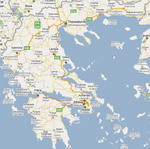 View map of Greece

Santorini, Greece
Buy at AllPosters.com


Santorini Island, Greece
Buy at AllPosters.com

Copyright © All World Vacation Station




Mykonos Greece, Playground island of the Cyclades Islands by S Pappas
Mykonos Featured Hotels / Mykonos Self-Catering Vacation Rentals
Mykonos island has become Greece's best known Playground Greek island, an unsurpassed tourist destination. Much of its history has been fairly peaceful and unnoticed, yet the island has been able to be reinvented as a cosmopolitan center. Here the old and new intersect and delight.
How does an island made of granite, with a shortage of fresh water, and relies on desalination, become a world renown destination? By offering clean beaches surrounded by pristine waters perfect for windsurfing and diving. By offering upscale, expensive amenities as well as traditional tavernas, night clubs and beach bars featuring internationally known DJ's and loud music. By being known for nude beaches. Mykonos Greece has earned the reputation of being Greece's playground island.
Most descriptions of Mykonos island make some reference to the color white...white washed roads, chalk-white beauty, soft, white sands, dazzling white buildings are all included in the many descriptions of this Greek Aegean island.
Not bad for Greek island originally known as a simple supply station and retreat for the ancient people of nearby Delos.
Mykonos island means "Mass of Stones." It was named for Apollo's grandson, Mykonos. Mykonos was the son of the King of Delos.
According to mythology, this Greek island is the site of a great battles between Zeus and the Gigantes. Another legend tells us that the Giants killed by Hercules are buried here. Are these the masses of stones?
What we do know is that archaeologists have found the remains of the settlements of the neolithic Kares tribe here. We know Ionians settled here in 1100 BC. Ancient people worshiped Dionysus, Demetra, Zeus, Apollo, Poseidon, and Heracles.

As did many of the Aegean islands, Mykonos island passed from Roman to Byzantine to Venetian possession. None saw Mykonos island as having much significance since it was never agriculturally important. More modern Greeks, excellent traders and sailors, used Mykonos Greece as a point from which to establish trade with Constantinople, Smyrna, Alexandria, Marseilles. World War I brought a depression which ended much of this business.

But in recent times, the people of Mykonos island in Greece have reinvented this Greek island as the cosmopolitan center of the Cyclades. Myconos island is small and beautiful and easily explored. Narrow paths through he towns both confuse and enchant visitors. Old paths cover much of the island making exploring the natural world easy and enjoyable. One can hike and encounter local lizards sunning themselves on Classical Greek ruins. It is this combination of rural beauty and classical culture that has created modern Mykonos Greece.

The capital city, also the largest town on the island, is called Hora, or referred to as Mykonos or Myconos. It lies on the west coast.


Buy at AllPosters.com
Here the panigyria, the saints' feast days, are still celebrated. These little festivals lend respite from the rhythms of daily life. Local families provide simple foods and wines, then local musicians come and everyone has an opportunity to dance.
Only on Mykonos island will you see a donkey laden with produce, heading to market pass by an internationally known actress. In this playground of old and new, rural and developed, people know they can relax and play.
Mykonos Featured Hotels / Mykonos Self-Catering Vacation Rentals
About the Author - S Pappas greekinfo@gmail.com Apartments rooms in Athens Greece Self catering accommodation.


| | |
| --- | --- |
| FEATURED MYKONOS, GREECE HOTELS & RESORTS - INTERNET SPECIALS | |

Search for hotels in Mykonos
Hotel Madalena Mykonos
Hotel Madalena is a typical Mykonian Hotel with the best view to the city, the port and the islands of Tinos and Syros. It is located just 300 meters northwest the city center. The hotel has a small pool as well as beautiful rooms, the perfect breakfast and the right service to make your holidays pleasant and unforgettable. The complex consists of 30 rooms all with: Private bathrooms, Air-conditioning, Direct dial telephone, Television/Music, Refrigerator and Sea view verandas.
Rhenia Hotel And Bungalows Mykonos
The Rhenia Bungalows are located on the outskirts of Mykonos, Greece, within 700 metres of Agios Stefanos Beach and 2 kilometres from the town centre. Set amid tropical gardens overlooking the Aegean Sea, the Rhenia Bungalows combine traditional Cycladic architecture with contemporary features. Amenities include an outdoor swimming pool complete with a sun terrace. The residence features its own chapel and offers a television in the lobby. A complimentary American buffet breakfast is served each morning. Drinks and light snacks are served throughout the day at the colourful Hurricane poolside bar. The 35 air-conditioned guestrooms have bright, simple decor with tiled floors and Cycladic furnishings.
Royal Myconian Hotel & Thalassospa Myconos
In a secluded bay overlooking its own sandy beach is a luxury Mykonos hotel. Royal Myconian Hotel & Thalasso Spa is an idyllic hideaway which combines authentic Myconian hospitality with distinctive and personalised service. This elegant family-owned luxury Mykonos hotel, constructed on an elevated position facing the Aegean Sea, offers unique facilities including a state-of-the-art Thalassotherapy Spa Center as well as indoor and outdoor pools. Your own exclusive section of the cosmopolitan Elia Beach with its soft gold sand is only few meters away from your accommodation. Guest rooms and suites with private pools reflect the beauty, charm and authenticity, making every visitor feel right at home.

San Antonio Summerland Hotel Mykonos
Mykonos' visitors attribute to the island plenty of exceptional features. That's not far from being true, since Mykonos is an enchanting Cycladic island with excellent tourist services and high living standards. Vivid cosmopolitan nightlife and frenzied rhythms, romantic ambience, organized beaches that tremble under the loud sound of the music and the high spirits of the bathers, peaceful and isolated shores, natural beauties and landscapes, hospitable and smiling local people, taverns with traditional snacks, fancy restaurants with international and Mediterranean cuisine.
San Marco Hotel Mykonos
Despite being one of the most well known and popular destinations in Greece the cosmopolitan island of Mykonos still holds many pleasant surprises. The All New San Marco Hotel is one of them. The San Marco Hotel is built in authentic Cycladic style with traditional whitewashed walls and deep blue wooden shutters. All rooms have private balconies or verandas that overlook the hills surrounding Houlakia bay, the gardens or the Mythical Aegean Sea. Greek & Mediterranean cuisine restaurants, Pool & Lobby bar, Meeting and Conference rooms, newly developed SPA complex, Gymnasium, Tennis court, Children's playground, Laundry, Internet Access and Gift Shop are available in our San Marco Hotel.
Continue browsing hotels in Mykonos