Fun with the grandkids this year at Universal Studios Orlando
For a real adventure with the family, especially with all the great movies coming out these days, Universal Studios Orlando is a really great choice. The theme park gives the kids the opportunity to get right up close and personal with the world of their favourite characters and have a whole load of fun.



Photo: Panoramic view of Universal Studios Florida's lagoon CC by-SA 3.0
Paragmpatre


On a personal note, this year I have to entertain my grandkids for a couple of weeks while their parents are heading off for a romantic holiday in the Caribbean and what better place to do it than at Universal Studios Orlando? I even found a great way of purchasing universal studios tickets online, making the experience even more convenient for me.

OK, I know I will be completely exhausted when it's all over, but with all the things to see and do there, it's going to be an absolute blast and the photos and videos will be something to treasure for a lifetime. They might even make their second-honeymooning parents a little jealous! Here is just a brief breakdown of some of the attractions we are going to experience along the way.
The Wizarding World of Harry PotterTM


I confess, even at my, shall we say, mature age, I enjoyed all the Harry Potter movies (with or without the grandkids present!) and this attraction is one of the most popular. We are going to visit both Hogsmeade and Dragon Alley during our visit.

In Hogsmeade, we'll get to explore the Hogwarts Castle (pictured above) and all the shops of the town, and while I stand by (OK, I'm chicken) the kids will enjoy the incredible rides and attractions with all sorts of magical excitement.

We'll then go for an exciting stroll in the recently opened Dragon's Alley, enjoy a meal at the Leaky Cauldron, visit the Ollivanders wand shop and enjoy an exciting thrill ride inside the Gringotts Bank.
The Amazing Adventures of Spider-Man TM
My grandson, particularly, loves Spider-Man (and has the outfit to prove it), so next stop is The Amazing Adventures of Spider-Man.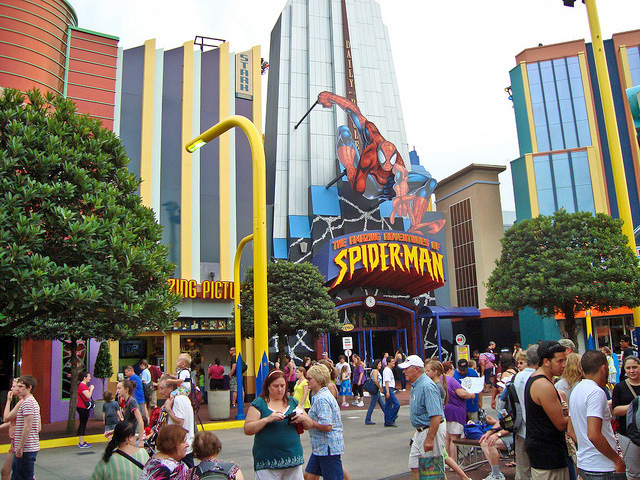 Photo: Spider-Man CC BY 2.0
Jenn


We'll be donning some 3D glasses for a realistic experience with Spidey himself as we follow him through the streets, scaling the skyscrapers and plunging to the streets below in what is a simulated 400-foot freefall. Well, I say "we," but maybe the KIDS will. I think I'll be enjoying a relaxing cup of coffee during that one!
Despicable Me Minion Mayhem
Next is my granddaughter's favourite, Despicable Me Minion Mayhem. This sounds like it will be a whole load of cute fun as we will join the famous Gru, his daughters and the Minions on a really fun 3D ride, ending up becoming actual Minions ourselves!




The attraction includes a trip through Gru's super-villain lab and ends with a Minion-inspired dance party where we, or should I say the kids, will show off their best moves!

There are so many other wonderful attractions to visit at Universal Studios Orlando, including TRANSFORMERS: The Ride-3D , E.T. Adventure® and even the MEN IN BLACK™ Alien Attack™ among others, which will also appeal to their sci-fi loving gran, so all in all its going to be a really fun trip!


Florida Travel Guide - Home - Travel Blog