You will be on an extraordinary belvedere at 800m elevation facing the Pyreneen chain. From morning to the twilight, you will be continually amazed by the beauty of the colors.
A typical mountain barn constructed in 1861, La Bernadole was enlarged and entirely renovated in 1997. You'll find all modern comforts: bathrooms, sitting room with fireplace, swimming pool, television, fax, internet... and a simple mountain welcome and convivial atmosphere.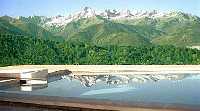 The dining room contains one large family table and several smaller ones, and a handsome fireplace. The window looks out on the magnificent view of the high peaks of the Pyrenees.

There are 2 kitchens, the smaller of which is available out of season to individuals wishing to prepare their own meals. The larger one is used by the owner to prepare guests' meals or by groups out of season.
Activities:
Whether you spend your time relaxing by the pool or exploring the network of walking, mountain bike and horseriding trails, you'll be moved by the beauty and tranquility of this isolated spot.