Search this site
Copyright © All World Vacation Station



| | |
| --- | --- |
| FLORIDA TRAVEL GUIDE - UNITED STATES OF AMERICA | |


| | |
| --- | --- |
| FORT LAUDERDALE BED & BREAKFASTS, FLORIDA, USA | |

Fort Lauderdale is a city in the U.S. state of Florida, on the Atlantic coast. It is the county seat of Broward County. It is a principal city of the South Florida metropolitan area, which is home to over 5,413,212 people.

The city is a popular tourist destination, with 10.35 million visitors in 2006. Fort Lauderdale is sometimes known as the "Venice of America" because of its expansive and intricate canal system. The city is a major yachting center, with 42,000 resident yachts and 100 marinas and boatyards. The city sits 23 miles north of Miami, Florida. Fort Lauderdale and the surrounding area host over 4100 restaurants and 120 nightclubs.

Fort Lauderdale is named after a series of forts built by the United States during the Second Seminole War. The forts took their name from Major William Lauderdale, who was the commander of the detachment of soldiers who built the first fort. However, development of the city did not begin until 50 years after the forts were abandoned at the end of the conflict. Three forts named "Fort Lauderdale" were constructed; the first was at the fork of the New River, the second at Tarpon Bend, in what is now known as the Sailboat Bend neighborhood, and the third near the site of the Bahia Mar Marina.

La Casa Del Mar Bed & Breakfast Fort Lauderdale
The only Bed & Breakfast on Fort Lauderdale Beach recommended by Frommer's, Lonely Planet and The New York Times. La Casa del Mar is a charming Spanish-Mediterranean style bed and breakfast, just steps from Fort Lauderdale's beach walk and famous Las Olas Boulevard and close to shopping, restaurants and local hot spots.

| | |
| --- | --- |
| INGLIS BED & BREAKFASTS, FLORIDA, USA | |

Inglis is a town located in Levy County, Florida, United States. It is located on U.S. Highway 19 near the Cross Florida Greenway, about 5 miles east of the Gulf of Mexico.

During July and August 1961, Elvis Presley spent his summer in Inglis and the surrounding areas filming his movie Follow That Dream. A historical marker on Follow That Dream Parkway in Inglis commemorates this event.

Pine Lodge Bed & Breakfast Inglis
The Pine Lodge Bed & Breakfast is located in the Old Crackertown neighborhood of Inglis, Fla. The peaceful Withlacoochee River, Rainbow River and the Gulf of Mexico are approximately five miles from the inn, offering fishing, boating, canoeing and swimming. This bed and breakfast, occupying a two-story home built in the 1940s, serves complimentary country breakfasts daily. The backyard of the inn contains a gazebo, barbecue grill, patio furniture and a heated pool in an atrium-style complex. Laundry facilities are provided. The Pine Lodge Bed & Breakfast includes guestrooms and cottages, all featuring private bathrooms.

| | |
| --- | --- |
| KEY WEST BED & BREAKFASTS, FLORIDA, USA | |

Key West is a city in Monroe County, Florida, United States. The city encompasses the island of Key West, the part of Stock Island north of U.S. 1 (the Overseas Highway) (east), Sigsbee Park (north, originally known as Dredgers Key), Fleming Key (north), and Sunset Key (west, originally known as Tank Island). Both Fleming Key and Sigsbee Park are part of Naval Air Station Key West and are inaccessible by civilians. Key West is the county seat of Monroe County. Key West is known as the southernmost city in the Continental United States. It is also the southern terminus of U.S. 1, State Road A1A, the East Coast Greenway and before 1935, the Florida East Coast Railway.


Key West, Florida, USA
Buy at AllPosters.com

Key West is a seaport destination for many passenger cruise ships. The Key West International Airport provides airline service. Hotels and guest houses are available for lodging. Naval Air Station Key West is an important year round training site for naval aviation due to the superb weather conditions. It is also a reason the city was chosen as the Winter White House of President Harry S. Truman. The central business district primarily comprises Duval Street, and includes much of the northwest corner of the island along Whitehead, Simonton, Front, Greene, Caroline, and Eaton Streets and Truman Avenue. The official city motto is "One Human Family."

Ambrosia Key West B&B
Come to a Key West bed and breakfast that is nestled in the heart of the Southernmost City's Old Town Historic District. Ambrosia Key West is just minutes from the Duval Street Entertainment District, Mallory Square and the Historic Seaport. Our Key West bed and breakfast is within walking distance to most of the island's attractions, museums, beaches and water sport activities. Enjoy the convenience of a Key West inn that is near to dozens of world-class restaurants, galleries and shops while having the tranquility of a tropical resort. Ambrosia Key West is where luxury and affordability meet. We offer spacious, tropical-themed rooms, two-room suites, two-story town homes, and a two-bedroom, two-bath cottage.
Key West Sailing Adventures
The Key West Sailing Adventures provides a lodging experience in sailboats docked in the midst of the Key West Historic Seaport of Key West, Fla. The dock is located at the west end of William Street, three blocks from restaurants, bars and shops, including bustling Duval Street. 2 yachts offered by the Key West Sailing Adventures are docked in a 360-degree, protected harbor, offering a quiet, motionless berth. The yachts feature sunset views over the water from private cockpits. Portholes and hatches allow tropical breezes to flow through the living spaces. Island-hopping to uninhabited islands, fishing in the Gulf Stream, overnight stays anchored in a lagoon and sunset sails are available (fees apply).
La Pensione Inn B&B, Key West
La Pensione, a Key West Bed and Breakfast is located in the heart of Old Town Key West and is a favorite Guesthouse for many of our repeat clients. Key West, the southernmost point in the continental United States, is an oasis like no other. Set at the end of the Florida's archipelago, Key West's tropical landscape is dotted with stately frame residences, trimmed with scrolls of gingerbread. The island is a visual feast with the mélange of Bahamian, New England and Latin influences that characterize it's famed century-old architecture.

| | |
| --- | --- |
| ORLANDO BED & BREAKFASTS, FLORIDA, USA | |

Orlando is a major city in the central region of the U.S. state of Florida. It is the county seat of Orange County and the center of the Greater Orlando metropolitan region. It is the fifth largest city in Florida by population. It was incorporated on July 31, 1875, and became a city in 1885.





Originally the center of a major citrus-growing region, Orlando is now an urban city with various industries. The area is a major tourist destination and is the home of the Universal Orlando Resort, and SeaWorld. Orlando is also about 21 miles Northeast of Lake Buena Vista, Florida, home of the Walt Disney World Resort. These attractions helped make Orlando the third most visited American city among travelers in the year 2007. Since the establishment of destination tourism in the 1970s, the local economy has diversified, and today the region is the center of operations for companies servicing Central Florida. Orlando is also home to the University of Central Florida, the largest university campus by student enrollment in the state of Florida and among the largest in the United States.

In 2008, Orlando was listed as a "high sufficiency" world-city in the World Cities Study Group's inventory by Loughborough University and is one category away from becoming a Gamma world city. According to Loughborough, Orlando now ranks alongside other cities such as Osaka, Glasgow, and Baltimore.

The Courtyard at Lake Lucerne Orlando
Tucked privately away in an intimate garden setting, The Courtyard at Lake Lucerne is centrally located in Downtown Orlando. Upon arrival, guests are greeted by a 24-hour reservation staff. Settle into one of 30 hotel accommodations comprised of 4 historic homes ranging from charming Victorian rooms, spacious corporate accommodations and romantic getaway suites with double whirlpool tubs. Gather in the parlor with family, friends or business partners for a complimentary cocktail hour. After a comfortable night's stay, enjoy a complimentary expanded continental breakfast including bagels, English muffins, fresh fruit, and danish. Relax with family on the veranda overlooking one of our courtyards surrounded by lush tropical gardens.

| | |
| --- | --- |
| QUINCY BED & BREAKFASTS, FLORIDA, USA | |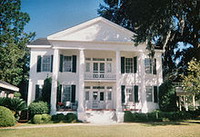 Quincy is a city in Gadsden County, Florida, United States. Quincy is part of the Tallahassee, Florida Metropolitan Statistical Area.

There are several locations in Quincy which have been included in the National Register of Historic Places, most of which are within the boundary of the Quincy Historic District. They are: E. B. Shelfer House, E. C. Love House, John Lee McFarlin House, Judge P. W. White House, Old Philadelphia Presbyterian Church, Quincy Library, Quincy Woman's Club, Stockton-Curry House, Willoughby Gregory House.

Allison House Inn, Quincy
The Allison House Inn is located in the picturesque town of Quincy, FL, just minutes away from Tallahassee. We are in the heart of a 36 block historic district as designated on the National Historic Register. We have received numerous awards; from "Most Historic Inn" to "Best Breakfast in the Southeast" to "Most Affordable Luxury Bed & Breakfast" voted by our guests in competition with B&B's nationwide. Quincy has been known for decades as "the Coca-Cola town" due to it's early financing of the Coca-Cola Company by numermous townspeople. Escape to the charm of an English-style bed and breakfast atmosphere, just minutes away from dining and shopping in North Florida's best antiqueing areas and the city bustle of Tallahassee.

| | |
| --- | --- |
| SANTA ROSA BEACH BED & BREAKFASTS, FLORIDA, USA | |


Hibiscus Coffee & Guesthouse, Santa Rosa Beach
The Hibiscus Coffee & Guesthouse is located approximately two blocks from the Gulf of Mexico in Santa Rosa Beach, Fla. Grayton Beach State Park and Grayton Beach Recreation Center are both approximately one-and-one-half miles away. The Ruskin Place Artists' Colony, located in the neighboring town of Seaside, is approximately two-and-one-half miles away. The Hibiscus Coffee & Guesthouse is surrounded by pathways lined with trees, plants and colorful flower and herb gardens. Complimentary full breakfasts are served daily in the property's vegetarian café, which features breakfast entrees, hot and cold beverages, yogurt shakes and smoothies.

| | |
| --- | --- |
| SAINT AUGUSTINE BED & BREAKFASTS, FLORIDA, USA | |

St. Augustine is a city in Florida and the county seat of St. Johns County, Florida, United States. Founded in 1565, it is the oldest continuously occupied European established city, and the oldest port, in the continental United States. St. Augustine lies in a region of Florida known as The First Coast, which extends from Amelia Island in the north, south to Jacksonville, St. Augustine and Palm Coast. St. Augustine is the headquarters for the Florida National Guard.

Casa De Solana, St Augustine
Casa de Solana Bed & Breakfast Inn is located in the historic district of St. Augustine, Florida a block from Mantanzas Bayfront. This is a Romantic Bed and Breakfast and is perfect for all the taking. The inn's lush tropical gardens draw you into a magnificant splendor of days past. The inn is located on 21 Aviles Street, the oldest european settled street in the country. The cobble stoned streets of old St. Augustine lead you on a historic journey discovering our country's true beginnings. Touring St Augustine with architectural structures from the Gilded Age and beyond is an incredible accomplishment itself.
Castle Garden Bed & Breakfast St Augustine
The Castle Garden Bed & Breakfast is located in St. Augustine, Fla., the oldest city in the United States. The inn is tucked away on a quiet historic street less than one block from the Castillo de San Marcos National Monument. Attractions within one mile include the Oldest Wooden School House, Potters Wax Museum and the Fountain of Youth. This 1860s Moorish Revival inn, formerly the Castle Warden Carriage House, boasts an unusual coquina stone exterior. The foundation and chimney from the old blacksmith's shop still stands. Complimentary country breakfasts are served daily. Every room in the inn is decorated with antiques and period furnishings.
Peace & Plenty Inn B&B, St Augustine
Peace and Plenty Inn B&B is located in the historic district of downtown St. Augustine, Fla., less than two blocks from the Alcazar Hotel (now the Lightner Museum) and Flagler College. The city center, bustling with small bars and shops, and the Plaza de la Constitution are a half-mile walk from the bed and breakfast. Features. This 1890 Victorian home is surrounded by a private walled garden with elegant fountains, a pergola and a loggia with lounge chairs. Complimentary gourmet breakfasts, including Belgian waffles, New Orleans French toast, quiche and Eggs Menendez, are served each morning in the dining room.

St Francis Inn, St Augustine
Brick streets lined with 19th-century historical homes serve as the setting for the St. Francis Inn, situated in St. Augustine, Fla. This inn is located two blocks from the Matanzas River and three blocks from Flagler College. Restaurants, museums, galleries, antique shops, historic sites and shopping are all within walking distance. Horse and buggy rides, evening ghost tours, and bay-front cruises are all available to give unique perspectives on this historical city. The St. Francis Inn was constructed in the Second Spanish Colonial Period and features an expansive garden with banana trees, bougainvillea and tropical flowers. An outdoor pool is available for guests staying at both the St. Francis Inn and the inn's sister property.
The Old Powder House Inn B&B, St Augustine
Escape to a romantic getaway in this charming 1899 Victorian inn in the heart of the historic district, just steps from quaint shops, historic landmarks and fine restaurants. Towering oak and pecan trees shade verandas where guests can sit in rocking chairs and watch horse-drawn carriages pass by, or relax in the flowered courtyard by the fountain. Each morning, a full gourmet breakfast is provided in the formal dining room, including fresh juice, a fruit dish, home-baked muffins, special-blend gourmet cereal, and a hot entrée, such as crepes, eggs Cordova, asparagus Quiche Lorraine, or stuffed French toast.

| | |
| --- | --- |
| SAINT PETERSBURG BED & BREAKFASTS, FLORIDA, USA | |

St. Petersburg (often shortened to St. Pete) is a city in Pinellas County, Florida, United States. The city is known as a vacation destination for North American and European vacationers. St. Petersburg is the second largest city in the Tampa Bay Area, which is composed of roughly 2.7 million residents, making it the second largest Metropolitan Statistical Area in the state.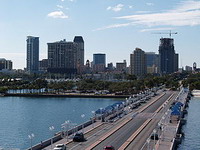 The city is commonly referred to by locals as "St. Pete"; neighboring St. Pete Beach, Florida formally shortened its name in 1994 after a vote by its residents.
The city is located on a peninsula between Tampa Bay and the Gulf of Mexico. It is connected to the mainland to the north, connected with the city of Tampa to the east by causeways and bridges across Tampa Bay, and to Bradenton in the south by the Sunshine Skyway Bridge (Interstate 275), which traverses the mouth of the bay. It is also served by Interstates 175 and 375, which branch off I-275 into the southern and northern areas of downtown respectively. The Gandy Bridge, conceived by George Gandy and opened in 1924, was the first causeway to be built across Tampa Bay, connecting St. Petersburg and Tampa cities without a circuitous 43-mile (69 km) trip around the Bay through Oldsmar.
With a purported average of some 360 days of sunshine each year, it is nicknamed "The Sunshine City." For that reason, the city is a popular tourist and retirement destination, especially for those in the United States from colder Northern climates – particularly New York City, Detroit, and Chicago. However, in recent years the population has shifted in a more youthful direction.

Inn At The Bay, St Petersburg
Built in 1910, Inn at the Bay Bed and Breakfast is more than a Florida bed and breakfast lodging. It is a home away from home. Completely restored in 2001, our romantic getaway St Petersburg bed and breakfast inn is easy walking distance to fine dining, shopping, art galleries, beaches and museums. All rooms offer king and queen feather beds with luxurious, allergy free feather bedding, cable TV, in-room phones, free high speed internet access, luxurious robes and private baths, most with double whirlpool tubs - truly a Saint Petersburg accommodations gem! Couples can enjoy a Florida honeymoon, romantic getaway or Florida vacation.
La Veranda Bed & Breakfast, St Petersburg
Nestled in downtown St. Petersburg, Fla., La Veranda Bed and Breakfast is located one-half mile from the Florida International Museum. The St. Petersburg Pier, located on Tampa Bay, the Salvadore Dali Museum, the Central Yacht Basin, and the St. Petersburg Sunken Gardens are one mile away. Located on an oak-tree lined street, La Veranda Bed and Breakfast features a veranda that flanks two sides of the inn's ground floor and wraparound porches that span the building's length. Full, complimentary breakfasts are served each morning, with the signature dish of pecan praline French toast. Lunch and dinner are available for a fee. Fax and photocopy service, and conference rooms are available.
Mansion House Bed & Breakfast, St Petersburg
The Mansion Bed & Breakfast is located in the Historic Old Northeast district of St. Petersburg, Fla. The BayWalk entertainment complex offers shopping, restaurants, nightlife and the Muvico Theater less than one-half mile away. A beach, pool, picnic areas and outdoor concerts on the waterfront at Straub Park are less than one-half mile from the property. The Museum of Fine Arts is one-half mile away. Bayfront Center and Mahaffey Theater are less than one mile away. Complimentary breakfasts are served in the dining room or at the private courtyard. Homemade snacks, soft drinks and evening wine are also complimentary. The property features a courtyard with gardens, outdoor pool and spa tub, and an on-site spa.
Return to Florida Home Page
Do you have quality vacation lodging in Florida?
Why not join us?