Enjoy a Meditation Retreat to Find Your "Inner Zen"
Instead of journeying outward, a meditation retreat allows you to journey inwards – offering a more meaningful holiday which refreshes and revives not only the body, but also the soul. Where better to do this than in the places of origin on the Asian continent itself.




The stunningly beautiful Himalayas region offers many meditation and yoga retreats in lovely surroundings, with sweeping views and total peace. Just a few of the wonderful retreats on offer for the best meditation holidays in the scenic Himalayas are included in this article.
Ananda Spa Meditation Retreat
One such meditation retreat is Ananda in Uttaranchal, India, nestled on a 100-acre estate overlooking the Ganges River and the temple villages of Rishikesh and Haridwa. Ananda attracts quite the mix of clientele including both jetsetters and the more serious meditation practitioner and includes one-on-one guided sessions, tailored to each visitor's needs, whether outdoors or indoors and lasting an hour or the whole afternoon to suit everyone.




The surroundings are pretty nice too with yoga and meditation pavilions dotted throughout the lush gardens and the chance to visit the former maharajah's palace. On site there is a spa, antique billiards room and a tea lounge as well as attractive and comfortable guest rooms.

Learn more about meditation at Ananda in the video included below.
Blue Mango Spiritual Retreat
Staying in India and the Himalayas, Blue Mango is the highest spiritual retreat in the world, right in the heart of the Trans Himalayan Range bordering on Tibet. The site was particularly chosen for its peace, solitude and seclusion, allowing visitors the chance to visit their inner self and enjoy a life-changing experience through meditation.

The program at Blue Mango has been carefully created to combine a combination of ancient and modern practices and healing techniques. The retreats span around 6 days, leaving participants completely relaxed, renewed and spiritually revitalized.

The cuisine at Blue Mango combines various local, tribal recipes along with south Indian fare, using fresh farm produce, organic vegetables and fruits. Accommodation is offered in cozy, clean and comfortable rooms with all mod cons.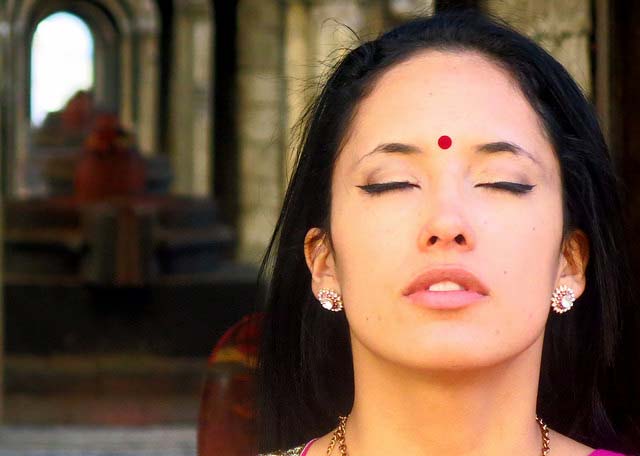 Photo: Woman meditating CC BY-NC-ND 2.0 Amre
Kopan Meditation Retreat, Nepal
Staying in the Himalayas, but heading to Nepal this time, Kopan Meditation Retreat offers meditation and yoga retreats, giving the opportunity to learn about Tibetist Buddhism and how it helps us to understand the root causes of our problems and offering remedies that help us to change and lead a happier more meaningful life. In between the meditation courses, Daily Dharma talks are given, offering a taste of the Buddhist viewpoint and teaching visitors how to experience the joys of meditation.

There is a wide range of rooms available for guests at Kopan Meditation Retreat to suit all budgets and the Monastery kitchen provides all meals. Dining is enjoyed in the guest dining room and on the verandah, with magnificent views over the Kathmandu Valley and mountain range. All meals served are vegetarian, nutritious and delicious, made from fresh local produce and are included in the price.

A video showing scenes at Kopan Monastery is included below.

If you're new to meditation you may want to check out meditativewisdom.com/pages/how-to-use-a-mala to learn more about using a mala while meditating.

top